Life is good for Evan Ravenel. Two years at Boston College, two years at Ohio State and lots of lifetime memories – multiple Big Ten titles and a trip to the Final Four included.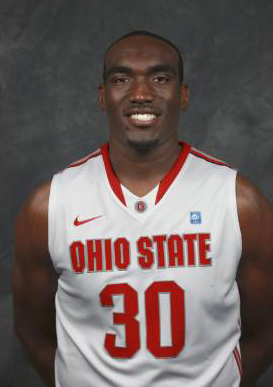 There was some debate entering this season whether he or Amir Williams would start in the vacant five position left empty after Jared Sullinger departed for greener pastures – literally in the case of NBA money. But head coach Thad Matta is big on loyalty and experience, so Ravenel's status as a senior won out over Williams who, as a freshman, received minimal minutes. However, that all changed 12 games into the season.
Following the Buckeyes' loss at home to Kansas, change was in the air. Matta thought a reshuffle of the starting lineup would be good for Ravenel and the team. Being a team-first player, Ravenel went along with his coach's plan – really, what else could he do? – but there was a hint of trepidation.
Energy. Intensity. Enthusiasm.
They are all coaching buzzwords. And, according to Matta, they were absent from Ravenel's on-court demeanor. As coaches tend to be, Mattta's inclination has proved correct.
"It's not always going to be perfect, but if I play hard and play with energy, good things happen," said Ravenel, who wants to get into the coaching profession after his basketball career comes to a close. "In previous games, I think my focus was on what I wanted for myself and my own personal goals."
In his first game off the bench, Ravenel had five points and a career-high 10 rebounds. Now seven games into his demotion, he has averaged 6.5 points, 4.4 rebounds and one block in 21 minutes per game. He's also shooting 54 percent from the field.
"The main goal is to get the win," Ravenel said, "Whatever you've got to do to get your team the win, that's what I want to do."
After Ohio State was pummeled at Illinois, a sense of panic hovered in the air. The team never wavered, though. They've been through Big Ten seasons before and understand the length and complexity involved. One game isn't going to make or break a season. Ravenel, the lone senior, provided leadership in the face of adversity that has resulted in a 3-1 record since the Illinois game, placing Ohio State near the top of the conference standings.
"I think we have a good backbone to lean on with me, Deshaun, Rav and Lenzelle, who have been here for three years and been with some great leaders and seen what it takes to be successful," junior point guard Aaron Craft said.
Said Ravenel: "Some of my personal strengths are leadership, being hard-working and being a team player."
In the 19-point loss in Champaign, Ravenel finished with three points, three rebounds and three fouls in 13 minutes. But he's recovered nicely, scoring 11 points twice and averaging 7.5 points over the past four games. At Purdue, Ravenel had 11 points, four rebounds and three blocks, followed by six points, three rebounds and a block in a triumph over then-undefeated Michigan. The production continued in the Buckeyes' latest win over Iowa as Ravenel tallied 11 points, six rebounds and a blocked shot.
"When he was starting, I thought he had done some good things," Matta said. "Maybe not the consistency we needed, but I think he's really, really played well the last few weeks."
The biggest improvement in Ravenel's game is steadiness. Instead of putting pressure on himself, he's able to come in with the flow of the game already established.  
"When he was starting, I thought he had done some good things," Matta said. "Maybe not the consistency we needed, but I think he's really, really played well the last few weeks."
It's also given the Buckeyes a stronger bench. Ravenel, Shannon Scott and LaQuinton Ross are each capable of being starters. In all three cases, at one time or another, they've received starters minutes. While Matta receives annual criticism for his bench philosophy, to be fair he's looking for players that will make an impact when they're on the floor. If the answer is no, then why play them?
"That was kind of what we were looking for, a little bit more of what Evan had brought to the table last year when he would come in," Matta said. "I thought he was pretty effective, especially down the stretch of the Big Ten season."
Ravenel admitted that maybe he was a victim of his own expectations. Upon his transfer from Boston College, he quickly befriended Sullinger. They roomed together the past two seasons, and when Sullinger departed for the NBA, Ravenel's shoulders became heavier. He wasn't just tasked with replacing Sullinger, but he was also following a who's who of big men during the Matta era.
Terence Dials was named the Big Ten's player of the year, Greg Oden became the No. 1 overall pick in the NBA Draft, and Kosta Koufos, BJ Mullens and Sullinger also were selected in the first round. That's elite company Ravenel was joining.
It was Sullinger who first got into Ravenel's ear, telling him in December to take the court with more authority.
"I kind of felt like I had to do more than I was doing," Ravenel said. "I tried to do more than I was capable of doing. I wasn't trying to do the right thing. Not that what I was doing was wrong for the team, but it just wasn't me."
A trip to the principal's office has acted as a remedy for Ravenel's missteps. Even coming off the bench, he hasn't seen much change in his minutes. Ravenel played 29 minutes in the win over Michigan, the second-most he's seen this season. His influence did not go unnoticed to Michigan head coach John Beilein.
"He is a tremendous ball-screen defender," he said. "He's got great quickness and speed and experience in this league. When he was in the game, their ball-screen defense was exceptional. It's just invaluable to have somebody of that age, that strength, to be able to plug into your lineup."
Strength is something Ravenel has possessed since his high school days in Tampa. But he didn't always utilize it in his game. He began his college career at Boston College, and after two mediocre seasons, Ravenel decided the Northeast wasn't for him, especially when head coach Al Skinner was fired.
Ohio State assistant Dave Dickerson had recruited Ravenel out of high school when Dickerson was the head coach at Tulane. So when Ravenel's name hit the transfer market, a call from Columbus, Ohio, came in. The pre-existing relationship ultimately led to Ravenel's enrollment at Ohio State.
He experienced the finesse style of the ACC at Boston College and wasn't quite sure what to expect in the Big Ten. What he's discovered is it's a basketball player's dream.
"I thought it was going to be a bunch of corn-fed guys," Ravenel said. "But all these guys can move. They're physical and skilled. This conference can play."
It turns out Ravenel can too. Life is good.