Ohio State fans must have been equally mesmerized and horrified Saturday night. Deshaun Thomas, one of the top scorers in the country, had one of those nights that shooters dream of. It didn't matter if he went up for a dunk or attempted a shot from 25 feet; more often than not it was going in the hoop. There's a reason Thomas referred to himself as a "mismatch nightmare" prior to the game.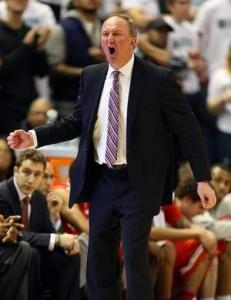 But the other part of that equation involved, well, the rest of the Buckeyes. Eight players are listed in the box score. One of them scored 28 points, the other seven combined for 28 points. Therein lies the problem with the 2012-13 Ohio State Buckeyes. Saturday was just the latest example of Ohio State's inability to create offense sans Thomas.
If you limit a ranked opponent to 59 points in its own arena that happens to double as one of the nation's most hostile environments, your probability of winning rises considerably. But it lowers just as much when your second-leading scorer finishes with six points. 
"Obviously you'd like to have everybody in double figures and all that," Ohio State head coach Thad Matta said. "But (Thomas) was smooth, he was efficient tonight, and it was just a tremendous effort by him."
Michigan State's 59-56 victory might be remembered as the "Shannon Scott Game" due to his ill-advised shot with 3.9 seconds remaining, but that vision is short-sided. Not only did Scott rally Ohio State in the first half when Michigan State roared out to a 13-2 lead, the Buckeyes had far bigger issues than the last possession. 
Eight first-half turnovers compounded by second-half miscues at inopportune moments, 61.5 percent free throw shooting, and rebounding issues all hampered Ohio State throughout the 40 minutes marred by inconsistency.
"You can't start the game the way we started it," Matta said. "We had some malfunctions. At the end of the first half, we had (eight) turnovers and they had seven steals. We weren't as sharp as we needed to be."
What Ohio State's performance should be remembered as is another missed opportunity. Once again, the Buckeyes couldn't solve the riddle against a ranked opponent. Five times they've faced a top 25 team and four have resulted in a loss. That includes a 0-3 mark on the road.
More than halfway through the season, the Buckeyes' scoring woes are a legitimate concern. Warning signs are flashing red, indicating that help is not only needed it's a must. Eliminating Thomas from the box score reveals a 9 for 27 shooting experience for Ohio State. That adds up to 33 percent.
Winning a Big Ten championship, something Ohio State has done in each of the past three seasons, becomes much less attainable when points come as frequently as Halley's Comet.
"Our defense was pretty good on everybody," Michigan State head coach Tom Izzo said. "You can go two ways when you play a team like that. You can try to hold down their superstar and hopefully all the others don't beat you, or you let the superstar score and hold down the rest. We held down the rest and tried not to let their superstar score, but he scored."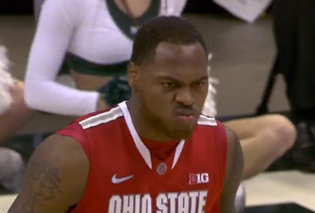 Ohio State plays defense as well as anyone in the country. Aaron Craft is the catalyst, and his two steals in the closing minutes played a big part in the Buckeyes having a realistic chance to send the game to overtime.
Last week, Ohio State frustrated then-No. 2 Michigan early, leading the Wolverines to become overwhelmed. By the time they gained their footing, Ohio State had handed them their first loss of the season.
The lack of scoring has been the elephant in the room since the summer. It became apparent it would be a theme once the season started. Even in the win over Michigan it showed up. Thomas had 20 points and the next closest Buckeye had nine. What it says is Ohio State would be back among the nation's elite if it had just one more reliable threat to put the ball in the basket.
"I am impressed with Thomas," Izzo said. "Looking at him, I thought he was a guy that just shot volume shots for a couple of years. Now he's really grown into a guy that works to get his shots."
Thomas doesn't need much space to get a good look. The slightest bit of separation can result in a made basket. But LaQuinton Ross, Lenzelle Smith Jr. and Craft can't create that same type of confidence when they shoot the ball.
Ross is averaging fewer than five points per game in conference play, Smith's season average of 10 points has been on a steady decline, and Craft's yearly field goal percentage is under 40.
Ironically, Thomas has often been considered a gunner. On Saturday, though, Buckeye Nation was more than happy to have him keep chucking it. He made 10 of 20 shots from the field, including a career-high six three-pointers. But it was the shots he didn't shoot that is gathering most of the attention.
In the final 30 seconds, Ohio State took two 3s. One would have given them the lead and the other would have tied it. Thomas shot neither. Instead, it was Craft and Scott who misfired. The latter's attempt caused much consternation from Thomas.
"I was knocking down shots all night," Thomas said. "Why not (get me the last shot), or I can try to create something for my other teammates. We have to learn from this."
Thomas has now been Ohio State's leading scorer in 14 of 17 games, which is fine. But the No. 2 guy is unpredictable and far too often hovering about the 10-point range. What's more, opponents have no doubt what Buckeye is the ringleader on offense. It allows defenses the option of letting Thomas get his points and then shifting attention to the four remaining on-court players or shutting Thomas down and making Ohio State win by getting other players active. Double teams and zones also have flustered the Buckeyes.
Matta is aware of the problems plaguing Ohio State. He's said since October that complementing Thomas was near the top of his to-do list. But it's not October anymore.
For Christmas, Matta said he asked Santa for better jump shooters. It might be too late for another wish when the Easter Bunny hops into Columbus in March.