With the Buckeyes set to take on the #2 ranked Michigan Wolverines tomorrow in the Schott, it seemed like a good idea to get the scoop on the squad from Ann Arbor. 
With that in mind, we went straight to the expert, exchanging Q&A with Dylan Burkhardt of the truly superb UMHoops.com. Press onward to get your learn-on about John Beilein's crew.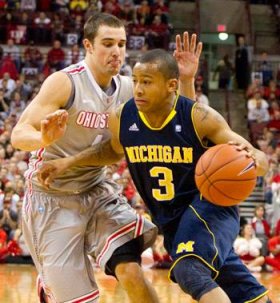 Trey Burke has been an absolute beast this season (18.2 ppg, 7.5 apg, 55% FG, 41% 3FG), orchestrating the nation's 7th best scoring offense that sees four guys averaging double figures. Rightfully so, Burke is gaining steam in the NPOY race. Make a case for Burke as the nation's most outstanding player so far:
You can't play the point guard position much better than Burke has played it this season. He's not just scoring, he's scoring extremely efficiently. He's not just setting up his teammates all over the floor, he's also not turning the ball over. Burke's rise from nice point guard prospect to fringe top-100 player to Big Ten co-Freshman of the Year to now perhaps the best point guard in the country has been a joy to watch for Michigan fans.
Burke's offensive rating is the best among players using at least 24 percent of their teams' possessions. His assist rate is in the top 15 nationally, he's making 61% of his twos and 39% of his threes. He had 17 turnovers in his first five games but took the turnovers out of his system after the Preseason NIT. In the last 10 games Burke has racked up 82 assists to just 11 turnovers.
Contrary to what many in the state of Ohio might think, Michigan fans aren't idiots and understand that Trey Burke is very likely headed to the NBA after this season. That means this very well could be Burke's last game in Columbus. Given his competitive nature I wouldn't hesitate to guess that this is the first game he circled on the schedule before the season and he wants nothing more than to have one of the best performances of his career.
While Michigan sports four freshmen that have seen action in all 15 games, obviously starters Glenn Robinson III (12.5 ppg, 6.1 rpg) and Nik Stauskas (13.5 ppg) are having the greatest impact. Beyond the numbers, what can you tell us about their respective games and how they've contributed to Michigan's perfect 16-0 start?
Stauskas and Robinson are both pivotal to the Michigan rotation.
Stauskas has reached double figures in every game other than Michigan's season opener and is shooting 52% on three-pointers. That statistic needs no explanation but the 6-foot-6 Canadian also can get to the basket more than you might believe at first sight.
Robinson is the master of opportunistic and easy baskets. He seems to score almost effortlessly because Michigan will rarely, if ever, run isolations in his direction. Instead, Robinson is always in the right spot for a drop off pass along the baseline, an open three or an offensive rebound. He's a tremendous athlete but he's also an extraordinarily smart player as well.
Robinson and Stauskas hit the ground running and haven't slowed down. Their production has become almost old hat to Michigan fans. Two other freshmen have made great strides in recent weeks and could be crucial to any Big Ten or NCAA tournament run that Michigan makes: Mitch McGary and Caris LeVert.
McGary was once a top-five prospect (actually ranked No. 2) in prep school and while he hasn't produced at that level, he still brings a lot to the table. He's a dominant rebounder on both ends and plays with unlimited, at times reckless, energy. He's essentially Zack Novak plus six inches and 30 or 40 pounds.
LeVert, a Columbus native and Pickerington Central alum, has gone from likely redshirt to the first guard off of the bench in the last month. The one-time Ohio commit has grown an inch and added 20 pounds of muscle since arriving in Ann Arbor and he's already showing off a consistent three-point stroke and a smooth handle.
Through 16 games, the Michigan offense has been incredibly, almost historically, efficient. If you're Thad Matta scheming to stop their attack with this current OSU roster, what would be your approach?
I actually wrote this before Michigan played Nebraska on Wednesday and this is almost the exact approach the Cornhuskers took.
Take away the easy twos and hope Michigan misses its threes. Now that's easier said than done.
Michigan is the best two-point shooting team in the country at 57.4 percent. That's impressive given that the Wolverines aren't heavy on low post scorers. Instead, Michigan's two-point attack is so effective because the Wolverine offense creates so many easy opportunities. Robinson, McGary, Jordan Morgan, Tim Hardaway Jr. and others are getting so many easy opportunities, either in transition or the half court, because Burke creates them. The shots Burke creates for himself can be difficult at times as well but he's still converting an (unheard of for a 6-foot player) 61% of his twos.
My approach would be to hound Burke with physical on-ball defense and pack in the lane with the rest of your defenders. That should prevent easy looks around the basket but leaves a vulnerability behind the three-point line. The problem with hoping that Michigan misses its threes is that the Wolverines don't miss many. Michigan is connecting at 39.7% from three-point range, the 13th best percentage in the country, and almost everyone on the floor will be a three-point threat. Beyond Michigan's five men (Morgan and McGary), Robinson is the worst perimeter shooter in the rotation at 38 percent.
Nebraska slowed down Michigan's defense with that very strategy but that was mostly due to a horrific 3-of-17 three-point shooting performance from the Wolverines.
One thing that's always frustrated me about Ohio State fans, as a whole, is how such a large segment of them very casually, if at all, follow the men's basketball program. How much traction does Michigan hoops have among the entire fan base and what kind of uptick is the program experiencing this year thanks to the impressive start and #2 national ranking?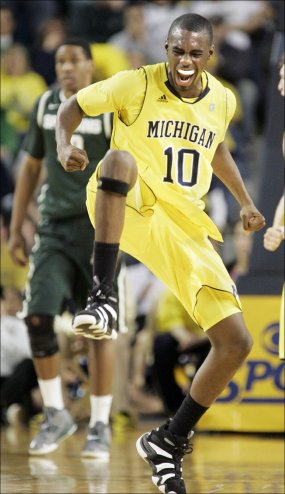 Michigan, like Ohio State, is a football school first and foremost. You'll never see the sort of rabid basketball fans you see in Bloomington or Lexington in Ann Arbor. But everyone loves a winner. Michigan's ticket sales are up – with reported sellouts in nearly every game – and the students are coming out in better numbers than they have in a long time.
The athletic department is also putting significantly more emphasis into the basketball program. Michigan added a practice facility and gutted the Crisler Center, completely renovating the concourses, seats and everything in between. Crisler has gone from of the worst facilities in the league to one of the best, seemingly overnight.
It's clear that John Beilein has the program headed in the right direction and people have noticed. Now it's up to the Wolverines to capitalize with a big run in March this season.
The Buckeyes have put the wood to Michigan in recent years, winning 16 of the last 19 matchups but Michigan clearly has the dominant squad this year. In fact, I think the vast majority of fans are worried OSU is about to walk into a buzzsaw. With that in mind, what kind of role will the revenge factor play as Michigan takes the court?
There were obviously some lean years for Michigan basketball in that span. Michigan's team is predominantly very young so I think some of the more immediate history weighs in as motivation. The two teams shared the Big Ten regular season crown (along with Michigan State) last year and split their regular season games.
Most importantly this game is personal for Michigan's best player. Trey Burke is easily the most maniacal worker on the Wolverine roster and his desire to beat Ohio State means a lot more to this team than the fact that Michigan hasn't won in Columbus since 2003.
Beilein had trouble bringing (supposedly) elite blue chips to Michigan the first few years of his tenure. Even guys like Hardaway Jr., Burke, and Morgan were only Rivals three-stars but last year he got a five (Robinson III) and two four-stars in Mitch McGary and Stauskas with three more four-stars set to arrive in 2013. I'm sure Crisler Arena's renovations didn't hurt, but what is truly at the core of Michigan's recent recruiting success?
There's no doubt that Beilein has built this program from the ground up. When he arrived in 2008 he was recruiting guys like Zack Novak and Stu Douglass, the type of recruits that not many schools in the country even wanted. He used them as the foundation of his program and has steadily improved his recruiting ever since.
His talent evaluation is proven as guys like Tim Hardaway Jr. and Trey Burke have gone from fringe prospects to All-Big Ten caliber players. Glenn Robinson III committed early in his prep career and was relatively off the radar before ending up as a five-star prospect. Now he's started every game. Nik Stauskas was another fringe level guy that's producing and starting early in his career.
The recruiting momentum appears to be continuing as Michigan has a strong 2013 class. However, Thad Matta did land two of the Wolverines' priority targets in the class of 2014 with Keita Bates-Diop and Jae'Sean Tate pledging to the Buckeyes.
Finally, how do you see this one playing out on Sunday?
Early in the season I had this game chalked up as one of Michigan's most likely losses. Since then I think Michigan has trended upward and Ohio State has trended downward.
Now the question is whether both teams have trended far enough that an upset is possible or even likely. I think Michigan has a legitimate chance to win on Sunday but I'm not ready to pick the Wolverines outright. Everyone understands how difficult it is to win on the road and a game in Columbus doesn't quite compare to a game in Peoria or Evanston — the only two road games Michigan has played this year.
To be honest, Michigan fans have been waiting for the moment this team has a bad game and gets beat. Week in and week out we examine why Pittsburgh or North Carolina State could be the team that finally exposes the Wolverines but somehow they've passed every test with flying colors. Sunday's game is easily this team's biggest test yet.