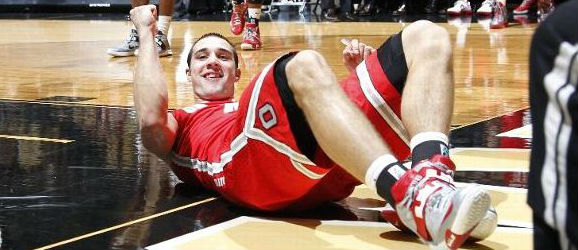 One of the big questions entering the 2012-13 Ohio State basketball season was "Who will be a second scoring threat behind Deshaun Thomas?"
It appeared early that the answer would be rosy-cheeked cherub of doom, Aaron Craft. After all, he reached double figures in scoring in four of the first five games, including 20 on 5/7 three-point shooting against Albany.
With a lot of preseason buzz about Craft's improved shot and a 13.6 points-per-game average through the first five contests, the question seemed to be settled. That production tailed off for a few weeks following the Duke game, but the junior guard from Findlay has bounced back to reach double figures three times in the last four games. In addition, he just keeps doing all the other things so well that you can't help but forgive him when his shot isn't falling.
The vocal and emotional leader on the court, Craft does all the little things the team needs. He has no fear of floor burns and he provides energy, which starts on the defensive end of the floor. You've seen the five-second calls, the forced turnovers, the inbounding denials, and the charges taken. And you've seen the steals.
Craft began the week on pace to finish the regular season with 227 career steals. That's 23 more than Jay Burson's school-record 204, with a full season of eligibility left. We have never seen a ball hawk of this magnitude since the NCAA started keeping track of steals in 1986. That's more than a quarter of a century.
This is despite the fact that Craft is also on pace to finish with a career low for steals in a season (opponents are much more wary of him now). If you assume at least one game played in both the B1G and NCAA tournaments, he's on pace for 59 or 60 this year—the lowest since he finished with 73 as a freshman.
With a full season of eligibility remaining—assuming he returns for his senior year and stays healthy—Craft would bury Burson's OSU record by more than 100 steals. That's just plain ludicrous.
While he's not scoring the 15 points a game we'd like to see, it's not as if Craft is AWOL on the offensive end. He has been a reliable ball handler. Entering this week, he had committed more than two turnovers in a game only three times this year, and ranked ninth in the country in assist-to-turnover margin.
His royal dreaminess should finish the regular season with about 504 career assists—a statistic the NCAA has tracked since 1984. That would place him third in school history behind Jamar Butler (579) and Kelvin Ransey (516). With a minimum of two postseason games, he would move up to around 513 at his current rate.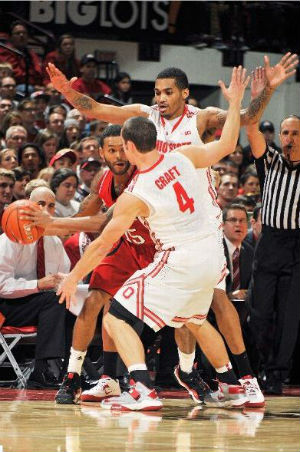 Assuming an average season of assists next year, Craft is trending to finish his senior year with 684 assists. Once again, that would destroy the old school mark by more than 100.
A deep run in the conference and/or NCAA tournament would only increase those mind-blowing numbers.
Craft isn't the only player in the top 10 in both assists and steals, but he has the highest cumulative rank in both categories. Five other Buckeyes—David Lighty (who was finally forced to graduate due to term limits), Evan Turner, Ronnie Stokes, Troy Taylor and Curtis Wilson also appear on both lists. None of those five is higher than third in either ranking. Lighty is third in steals but tied for 10th in assists. Similarly, Wilson is third in assists but ninth in steals.
Turner (fifth in steals, eighth in assists) may have been in the top three in both categories had he stayed for his senior year, but that's a national POY you're talking about. Craft will not only own both marks, but will completely dwarf the previous records.
In addition, Craft is also having his finest rebounding season, averaging 3.57 per game entering Tuesday. His current pace would put him somewhere around 462 career rebounds through his senior season. That won't get him near the top 10 list at Ohio State, but it's certainly impressive for a 6-2 perimeter player.
Numbers aside, perhaps the most important thing Craft has done is to set a good example for younger players like Shannon Scott and Amedeo Della Valle. Although Scott is a regular in the rotation now, he has earned his playing time by emulating what Craft has done—playing filthy defense and not turning the ball over. Della Valle is a different animal offensively, but he is also learning the importance of sound defensive principles and how it relates to seeing more time on the court.
Finally, there's Craft's gnat factor. Craft's relentless work on the defensive end doesn't just draw five-second calls and force bad passes, rushed shots, and poor decisions by his opponent. He also frustrates the opposition and drives the other team's fans insane.
For all the reasons we enjoy Aaron Craft, other teams' fans go apoplectic over him. That's a nice bonus.
Whether he's scoring or not, Craft is still vital to Ohio State's success.