A decade ago, an Ohio State defensive back returned for another year of schooling in hopes of winning a national championship. Might history repeat itself with Bradley Roby and the Buckeyes in 2013?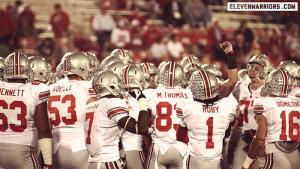 That's the unfolding storyline now that Roby has announced that he will return to Ohio State for his redshirt junior season. It shores up the secondary, limits the blows to a defense that is already losing seven starters – six seniors and junior defensive lineman Johnathan Hankins, who declared for the NFL Draft in December – and provides the unit with a vocal leader to latch on to.
Roby had a sterling sophomore year in which he led the country in passes defended per game (1.73) and led the Big Ten in total passes defended (19) and passes broken up (17). Mind you, he accomplished that in just 11 games. Roby missed the Alabama-Birmingham game due to a shoulder injury. No matter, he finished the season with 63 tackles, third-most on the team.
For his services, Roby earned first-team All-Big Ten and second-team All-American honors. He also became of interest to NFL general managers, projected as a late first-round or early second-round pick. But, ultimately, Roby felt there were goals still left to accomplish in Columbus.
"It was a tough decision," he told the Columbus Dispatch. "I looked at a lot of things, and even though I have pretty good stock for this year's draft, I really think it's better for me and my team for me to come back for another year. We have some unfinished business, kind of, with the NCAA, which kind of took our (2012) season away from us before we even started."
In Roby's mind, Ohio State, not Alabama, should be playing Notre Dame this evening for the national championship. Instead, he can take solace in a 12-0 record, a top-3 final ranking and knowing he played an integral role in all of it.
Now he becomes one of the most seasoned members of the defense. The Ohio State secondary will feature three players who have been in the program four seasons – Roby, Christian Bryant and CJ Barnett. The odds-on favorite to start opposite Roby, replacing Travis Howard, is rising junior Doran Grant.
"I haven't finished what I came to Ohio State to do, which was to become one of the best corners to come out of Ohio State," Roby said. "I don't think I've accomplished that yet. I know the NFL is there, the money's there, but you always have another opportunity for that. I just talked this over with my family and feel like this is the best thing for me to do."
His position coach certainly agrees. Before the season had even ended, Kerry Coombs made his intentions very clear on Roby's NFL prospects. They were good, but he wasn't ready to leave.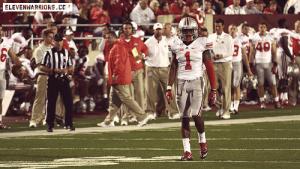 "I think his best days are ahead of him," said Coombs, in November. "I think he's going to be a great player, but I think he needs more time, more seasoning. Even just to look at the progress he's made, certainly, from March until November, but even from September to November gives you an indication of how good he can be.
"I'm looking forward to coaching him another year."
The past weekend provided many highs for the Ohio State coaching staff, but keeping Roby in the fold qualifies as arguably the climax. Ending his career with a crystal football would be the peak for Roby.
The Buckeyes finished 12-1 during his first season at Ohio State, but Roby didn't participate because of a redshirt. In his first season on the field, Ohio State suffered through a 6-7 campaign. Undefeated or not in 2012, the end result wasn't a national championship.
"A national championship next year would definitely be a good incentive, a good reason to come back," Roby said. "Who wouldn't want to play for a national championship? That's definitely a good goal for our team, and maybe next year we can get there."
Could they possibly get there with Roby helping at wide receiver? It might be a long shot, but the Georgia native hasn't been shy about his wishes. Coming out of high school, Roby was recruited as both a wide receiver and cornerback, and he even committed to Vanderbilt to play offense.
During the 2012 season, on more than one occasion, Roby expressed that he would like to get the opportunity to spend some time on both sides of the ball. It never materialized, though, as Meyer and Coombs weren't enamored with the idea.
Their reactions to his return were likely a tad different. Roby is a coach's dream. Not only is he a good football player, but he also is a hard worker. Talent alone doesn't define him.
"A kid like Bradley, whose film study is extraordinary, hours and hours of film study, he'll know his opponent," Coombs said. "He understands the route that's coming, he's prepared for the ball when it comes and then you go to finish those plays.
"He's the guy that wants to make plays, that needs to make plays for our team to be successful."
That will again be the case in 2013. For the Buckeyes' coaches, that's A-OK. In fact, that's how the coaching staff felt when Mike Doss returned for 2002. All of Ohio and South Florida knows how that worked out.