On Saturday afternoon in the Alamodome, linebacker Mike Mitchell put months of buildup to a halt. Finally, he would be committing to a major college football program. In doing so, the next three, four or five years of his life would take form.
True to speculation, Mitchell donned a white hat emblazoned with Ohio State's logo. He is Ohio State's second linebacker commitment in as many days, joining Trey Johnson, who committed to Ohio State on Friday at the Under Armour All-American Game in St. Petersburg, Fla. The duo provides depth to a position that is thin, but includes several highly acclaimed underclassmen.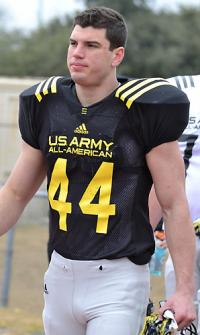 Born in Florida, Mitchell has long been a fan of Urban Meyer. When the recruiting letters and phone calls from Ohio State starting coming, the Buckeyes shot up his list, ultimately surpassing Texas A&M.
Two starting linebacker spots are open this season, and Mitchell plans on competing for playing time. Ohio State's defense lost several stalwarts from 2012 – Big Ten defensive player of the year John Simon, Johnathan Hankins, Nathan Williams, Garrett Goebel, Etienne Sabino, Zach Boren and Travis Howard – but Luke Fickell has to be pleased with the talent he has coming in, Mitchell and Johnson included.
Also playing in the U.S. Army All-American Game was defensive back Eli Apple, while defensive backs Cam Burrows and Gareon Conley, and defensive tackle Joey Bosa appeared in the Under Armour game.
The Silver Bullets were rusty the first half of the season, but in the month of November, the most important timeframe in college football, Ohio State's defense was among the best in the country.
"We filled those holes, especially on defense," head coach Urban Meyer said. "We became a really good team and, I felt, at the end of the season we could play with any team in the country."
Aside from Ohio State's perfect 12-0 record, the defensive statistics reveal that Meyer, in all likelihood, is spot-on with his assessment.
The Buckeyes ranked second nationally in total defense during the month of November, allowing just 270 yards per game. They also were second in fewest plays allowed over 10 yards (26), sixth in pass defense (140 ypg) and 19th in scoring defense (19 ppg).
Those numbers were produced against Big Ten champion Wisconsin and archrival Michigan.
On the season, the defense led the country in passes defended (88) and ranked an impressive 14th in the nation in rush defense (116 ypg).
What was the overriding factor that made you choose Ohio State over Texas A&M?
All three of the schools I had out there were great programs (Ohio State, Texas A&M and Oregon) and have great coaches and great facilities. Anywhere you would have gone would have been awesome. It mostly came down to where I felt I fit in best and was most comfortable. Ohio State was that school I felt comfortable at and felt I belonged.
Ohio State lost two starting linebackers from the 2012 team and didn't have much depth either. How much did that play in your decision?
It's a good opportunity (because I can possibly play as a freshman). You want to be smart about your decision, and I felt that was the best opportunity.
The Buckeyes were the leader in your clubhouse throughout the recruiting process. How important was your official visit in December?
You could say it sealed the deal. I knew it was a great school and that just confirmed all the thoughts I had about it.
During your visit to campus, what things in particular stuck out to you?
The players were really great guys. Their strength coach (Mickey Marotti) is unbelievable – one of the best in the business. Urban Meyer is one of the best ever, the coaching staff is great, and I love the campus.
How has your growing relationship with Luke Fickell been during your recruitment?
Awesome. He knows the game and is a real student of the game. He's going to teach me a lot. That's what I like.
You're the second linebacker to commit in as many days. What do you know about Trey Johnson?
I really didn't know about him until the last couple weeks. We're going to need some really good linebackers, so it's great having him there on the team. We're going to be a really good linebacker squad.
You're enrolling at Ohio State for the summer semester. What will your football life consist of between now and then?
Just working out like a maniac. I keep to myself, stay out of trouble. I just don't want to go crazy and just want to really work hard until I get to Columbus.