Illinois got 19 points from Brandon Paul and 16 from Nnanna Egwu as John Groce's squad embarrassed the sluggish, cold-shooting Buckeyes, 74-55, this afternoon in Champaign.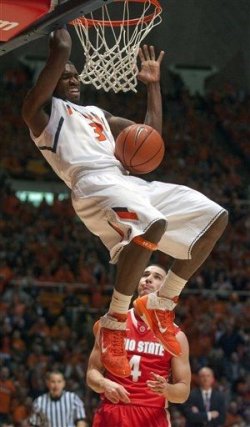 Deshaun Thomas led Ohio State with 24 points (9/21) but got little help from his teammates as the Buckeyes fell into a 25-11 hole, missing ten of their first 14 shots before peeling off a 10-possession stretch in which they had five turnovers, missed three shots, had another blocked and hit 2/3 from the line. 
Showing some life, the Buckeyes used a mini 8-2 run capped by a Thomas dunk to close the defiicit to 27-19 with 5:07 left in the half but the Illini responded with an 8-0 run, pushing the lead to 37-21 with 2:20 on the clock. Thad Matta's squad closed the deficit to 37-25 at the break but there was little reason to believe the Buckeyes could make a game of it. 
Struggling to contain the physical Illini guards, Ohio State perimeter defenders were repeatedly beat off the dribble, allowing Illinois to shoot an amazing 14/19 on two-point field goal tries in the opening 20 minutes. Frankly, if not for their incredibly lazy and poor shot selection, Illinois would've led by 25+ at the break. The Illini showed a lack of basketball IQ as they attempted 15 triples in the first half, hitting only three, when the opportunity for closer, higher percentage shots was imminent. 
Meanwhile, not only were the Buckeyes rushing and missing 67% of their 1st half shots as the Illini switched on virtually every screen, they also committed 11 turnovers which Illinois turned into a 16-4 edge in points off turnovers. 
Winners of 11 of their last 14 against Illinois, including four of the last six in Champaign, the Buckeyes simply played their worst half of basketball of the season. 
Doing the math for you, that meant Ohio State scored exactly six points in the first 9:17 of the half. Of course, when you shoot 2/9 with five turnovers in such a span, you'll have that.
After a verbal thrashing for their lack of energy and mental mistakes, the Buckeyes came out of the locker room just as flat, yielding a 19-6 Illini run out of the gate, giving John Groce's squad an insurmountable 56-31 lead with 10:42 left in the game. 
Ohio State did muster a 12-2 run thanks to 11 points by Deshaun, cutting the lead to 60-46 with 6:40 left, but all that did was polish the turd as the Illini responded with seven straight points to ice it. The Buckeyes continued to fight but scored zero points over the final three minutes. 
For the game, OSU shot 33% from the field, 21% from distance (4/19) and 11/16 from the stripe (69%) while the Illini hit 48% from the floor, 30% from distance (8/27) and 10/12 from the line. The Buckeyes were outrebounded, 38-29, and dominated, 14-5, in 2nd chance points. 
Aaron Craft was the only other Buckeye to show up. He chipped in 11 points (4/10), pulled down four boards, grabbed four steals and handed out three assists against zero turnovers. That said, Paul had his way with Craft at times. 
Lenzelle Smith scored eight points on 3/9 to go with seven boards and Amir Williams grabbed six rebounds. 
The loss drops Ohio State to 1-1 in conference with a trip to Purdue slated for Tuesday and a home tilt with Michigan on deck for Sunday. 
There's no question it's nearly impossible to beat decent conference foes on the road but today wasn't as simple as that. The Buckeyes lacked heart and smarts for long stretches and they still have no answer as to who can be Deshaun's sidekick offensively. 
I think it's fair to say the ship is taking on a little bit of water as the Buckeyes fell to 0-3 against good-great teams and it will be interesting, and potentialy very telling, to see what kind of effort the Buckeyes come up with in West Lafayette.