Facing an undermanned and severely inferior opponent, Ohio State came out aggressive in the B1G opener and buried Nebraska, 70-44, tonight in Value City Arena.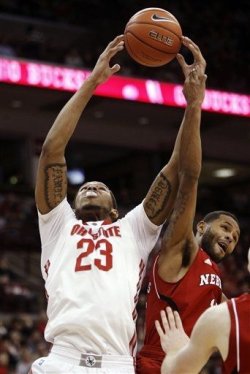 Mired in a slump of sorts, Aaron Craft still couldn't find the range from the floor (0/4) but was electric in other facets as he dropped eight dimes and pulled down six boards.
Down low, Amir Williams, in his 2nd career start, played with a purpose as he scored eight points (3/5) and brought down seven boards in just 18 minutes of action. He still looked clumsy at times but appeared much more into the flow, especially on defense where he picked up four blocks and two steals.
The Buckeyes shot 49% on the night while holding Nebraska to 30%.
Facing a zone for much of the night, Ohio State used excellent ball movement, both side to side and inside out, to create a high volume of open looks. Better yet, the Buckeyes didn't fall in love with the triple, taking just 17 of their 59 shots from distance, making seven (41%). Instead, they looked inside early and often leading to a 38-18 edge in points in the paint.
The stripe continued to be a nightmare as the Buckeyes followed up Saturday's 13/27 performance (48%) with a 5/13 clunker (39%).
Finally flashing a killer instinct from the opening tip, Ohio State used 1st half runs of 16-4 and 16-2 to take a 36-17 lead into the locker room.
Deshaun led the way with 18 points in the opening 20 minutes on a red-hot 8/12 from the floor that was helped by great feeds by teammates and a solid game plan that attacked the open spots in Nebraska's zone defense, chiefly both short elbows, with crisp ball movement.
The Buckeye assisted on nine of their 15 field goals in the 1st half with Craft tallying six of his own. In fact, Craft assisted on the final three OSU buckets before intermission, finding Thomas for a wide open triple, hitting Tank in stride following a steal for a dunk and finally, a terrific out-of-bounds lob to Evan Ravenel with :02 left to provide the 19-point halftime lead.
Besides crushing the Huskers from the foul line extended, Thomas did work on triples from the corner, a nifty spin move down the left wing, two controlled drives down the middle of the lane and the throw down off Craft's steal.
Pushing the tempo at every opportunity, the Buckeyes didn't settle for threes against Nebraska's sluggish zone. Instead, they took 24 of their 33 1st half FGA from inside the arc, putting continuous pressure on the back line of the zone. Then, taking advantage of Nebraska's inability to locate offensive rebounders, Ohio State turned seven o-boards into 10 points and helped along a 20-8 edge in points in the paint.
For the half, the Buckeyes shot a so-so 46% and easily built the lead, holding Nebraska to 26% from the field and zero 2nd chance points.
Craft still couldn't find his shot (0/4) but triggered the attack with six assists and four rebounds in his best half of basketball in a while. Pestering Nebraska's guards, Craft picked up a steal midway through the half, the 192nd of his career, moving past David Lighty and into 2nd place on the school's all-time list.
The win improves Ohio State to 11-2 overall and 1-0 in B1G play, though things get much tougher as they visit Illinois on Saturday, the start of a difficult four-game stretch that takes them to Champaign ahead of a trip to West Lafayette followed by a home tilt against Michigan and finally a roadie in East Lansing.