At one point in time, this award was known as the Buckeye NFLer of the Week. Thanks to a typo and the ensuing LOLsession from the commentariat, it was renamed as the Houndie. Same intent, but now with a better name.
The NFL's regular season has concluded and Black Monday passed us by with seven teams now looking for new coaches. 
My Bears decided to part ways with Lovie Smith, a move I didn't quite understand at first, but the one playoff appearance in the last six years convinced me it was the right move.
Unfortunately, there aren't a bunch of great NFL coaches hanging around and I have a funny feeling someone like Andy Reid will be recycled in the Windy City, looking to help shape Jay Cutler and the young Bears offense.
So, if you're like me and don't have a rooting interest in the playoffs, five teams have former Buckeyes on their rosters, with San Francisco leading the way with four.
Or you can simply take the Ohio route, which gives you the Bengals to root for. They helped out the Buckeye cause this year by activating Boom Herron late in the season and picking up Dane Sanzenbacher off waivers last week.
The Bengals head into the playoffs having won seven of their last eight, including a 23-17 win over Baltimore on Sunday. Boom Herron received his first NFL carry, which went backwards for three yards and Nate Clements chipped in with four tackles on defense.
Along with picking up Dane off of waivers this week, the Bengals announced Mike Nugent has been placed on the IR with a kicking calf injury, officially ending his season.
Sticking with the AFC North, Pittsburgh ended Cleveland's miserable season with a 24-10 pasting. Cam Heyward had his most productive day as a pro, notching four tackles, including half a sack. Mike Adams missed his third straight game with a leg injury, but was named the Steelers' rookie of the year this past week.
Though Dane didn't play this week, the resurfacing of Brian Robiskie, along with DeVier getting his shot the past couple of games, has given Brian Hartline and Michael Jenkins some WR company to close out 2012. Robo caught two passes for 30 yards in Sunday's 26-24 loss to Chicago. His second catch was a nice 9-yard slant for a TD to bring Detroit within two points with just under seven minutes to play. 
Hartline finished off his best season with five catches for 69 yards in Miami's 28-0 loss to New England. Hartline once again led the Dolphins in receiving and finished 16th in the league with 1,083 yards.
DeVier Posey is headed to the playoffs in his first year, but his Texans have slipped the last month and now will be the three seed in the AFC, going against the Bengals this Saturday. Posey was targeted just two times on the day and hauled in one catch for 16 yards.
Michael Jenkins and his Vikings teammates spoiled the Bears' postseason chance by taking down Green Bay in a thrilling 37-34 walk-off win. Jenkins caught three passes for 37 yards, including a go-ahead 3-yard TD with 7:54 left in the game.
Jenkins' final catch of the day was a critical 25-yarder on the winning drive, taking the ball from the Minnesota 27 to the Green Bay 48.
Antoine Winfield didn't record any stats, leaving the game early as he reinjured his hand, which he broke the week before and now is questionable for this week's rematch against the Packers.
For Green Bay, A.J. Hawk and Ryan Pickett each had four tackles on the day. Hawk had two stops behind the line of scrimmage and Pickett also knocked down a Christian Ponder pass.
New Orleans capped off their weird season with a 44-38 home loss to late-surging Carolina. Will Smith had four tackles and knocked down a pass in the loss.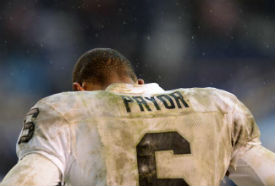 Philadelphia sealed Andy Reid's fate with a embarrassing 42-7 loss to the Giants. Kurt Coleman had an active day, notching nine total tackles in his second game since returning from injury. 
Sticking with defense, last week's winner James Laurinaitis capped off his career-best season with five tackles, as the Rams fell to Seattle, 20-13. He matched a career high with 142 stops, but led the league with 117 solo tackles.
In San Francisco, the Niners clinched the two seed with a 27-13 win over Arizona. Donte Whitner had a nice game, notching five tackles and recovering a fumble at the Arizona 34, which led to a FG.
Ted Ginn returned one punt for 28 yards to the Arizona 38 early in the third, which led to a TD five plays later and a 16-6 Niners lead. Also on special teams, Larry Grant had a solo tackle.
In what can only be classified as a sad season, Beanie Wells never left the sidelines for his self-proclaimed "audition for the other 31 teams" in the loss. The Cardinals started the house cleaning yesterday and it's highly doubtful Beanie will be back after his 2.7 YPC season.
Buckeye fans have been wondering when Terrelle Pryor was going to get a shot out in Oakland and the Raiders decided to finally give the kid a chance in the last week of the 2012 season.
Though it was in defeat, TP accounted for all three of Oakland's touchdowns, which was good enough to take home his first career Houndie in his first start. TP didn't have the best completion rate, connecting on 13/28 for 150 yards and one pick, but he tossed two TD passes and ran for another in their 24-21 loss at San Diego.
Pryor rushed nine times on the day for a total of 49 yards and wasn't sacked against a team that sacked Jets QB Greg McElroy 11 times last week, on the road no less. It's way too early to tell if TP will get a shot to start next season, but it's clear Carson Palmer isn't the answer and Pryor gives them some athleticism under center. If Oakland can tweak their offense to mirror Washington's and RG3, TP would have a good chance at starting next year.  
Join us next week, as we recap the season for former Buckeyes and hand out the annual Houndie award.