Looking ahead to 2013, much of the early offseason talk has centered on how the defense will be reworked with the departures of Johnathan Hankins, John Simon, Nate Williams, Zach Boren and Etienne Sabino.
The defensive line appears to have some youthful talent already lined up but losing such a high volume of contributors in the front seven, especially two starters at linebacker, is rightfully the chief discussion topic among the faithful.
Time will tell how that situation resolves itself, just as it will with another aspect of 2013 that could become problematic (albeit a tad first world problematic): How will Urban and Herman distribute the offensive touches knowing they have a stable of backs and slot guys, all of whom want a chance to show what they can do, and some of whom may look elsewhere down the road if they don't get it?
Before even trying to answer that question, we should take a look at how the touches played out in 2012.
Because 67% of them came via the rushing attack, we'll glance at those first:
2012 OSU RUSHING STATS

| Player | Games | ATT | YPC | AVG YDS/G | % of Team Rush ATT |
| --- | --- | --- | --- | --- | --- |
| Miller | 12 | 227 | 5.6 | 105.9 | 41% |
| Hyde | 10 | 185 | 5.2 | 97.0 | 33% |
| Hall | 7 | 40 | 5.4 | 31.1 | 7% |
| R. Smith | 9 | 32 | 6.7 | 23.9 | 6% |
| Dunn | 11 | 25 | 5.3 | 12.1 | 4% |
| Team | 12 | 559 | 5.2 | 242.2 | 100% |
Miller and Hyde dominated the football, accounting for a combined 74% of the rushing touches. And rightfully so as Miller proved he's a home-run threat every time he gets his hands on the ball (13 rush TDs), while Hyde showed he can not only grind it out but can also break off large gainers, not to mention having an impressive nose for the end zone (16 rush TDs).
With Miller and Hyde forming such a dynamic duo, Rod Smith and Bri'onte Dunn were largely on the outside looking in despite racking up impressive YPC numbers. It's hard to imagine either one of them, especially Smith, being happy (and quiet) with similar or reduced roles in 2012 but that's exactly what could happen if Jordan Hall's redshirt is approved. It's also worth noting Warren Ball will also be back, fully recovered from foot surgery that forced a medical redshirt. 
Moving on to the passing game, though we'll focus on the slot guys, the 2012 touches broke down like this:
2012 OSU PASSING STATS

| Player | Games | Rec | YPC | AVG YDS/G | % of Team Pass Rec |
| --- | --- | --- | --- | --- | --- |
| Brown | 12 | 60 | 11.1 | 55.8 | 37% |
| D. Smith | 12 | 30 | 20.6 | 51.5 | 19% |
| Stoneburner | 12 | 16 | 16.8 | 22.4 | 10% |
| Spencer | 12 | 12 | 11.3 | 11.3 | 7% |
| Team | 12 | 161 | 13.5 | 181.5 | 100% |
Philly Brown, playing the "Z", aka the Harvin role in Urban's offense, had a breakout season as a junior, hauling in 60 catches, a whopping 46 more than he had in 2011. Brown showed improved hands, becoming Braxton's go-to guy through the air, though he lacked the wiggle Meyer typically looks for in the hybrid-Harvin role (11.1 yards per catch).
Smith became the big-play guy with 20.6 yards per grab, and while he improved his receptions total from 14 to 30, he could see that total climb another 10+ assuming Braxton's offseason yields more confidence and effectiveness in the downfield passing game.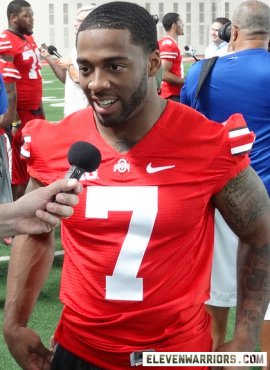 With those two veterans solidified as starters, it will be interesting to see what kind of role the coaches carve out for Hall, provided he's eligible.
It seems impossible that Hall could climb any higher than 2nd-string tailback based on Hyde's emergence but what about the hybrid spot? Could Urban and Herman deduct it makes more sense to feature Hall in the hybrid/slot and bump Philly out wide with Smith?
Trying to answer that question now doesn't even consider whether or not incoming freshmen playmakers Jalin Marshall and Ezekiel Elliott could make a push for playing time.
Oftentimes, things like injuries or lack of performance can shake things out but when you talk about the depth at running back (which includes Braxton) and in the hybrid role, there are no fewer than six proven commodities (Miller, Hyde, Hall, Smith, Dunn, Philly) plus another three (Ball, Marshall, Elliott) potentially knocking on the door.
Clearly, it's a crowded house. Again, a great problem to have but it still could be somewhat of a problem. If it is, the key will be making sure it doesn't become a distraction.
So, what do Urban and Herman do about it? It will be fascinating to see how things break because there are a multitude of actions the brain trust can take.
That said, rotating only three guys to staff a two-back set, depending on how often it's employed, just seems safer than rotating four. Also, it wouldn't make sense to decrease Hyde's carries in a meaningful way just to keep other productive – but still less productive – backs happy.
We saw it at times last year especially after Boren moved to defense, so it makes sense that the staff could employ more sets with two running backs. They could rotate and mix-match the tandems to keep guys fresh and play to their strengths via the play calling.
Conversely, such a move could ensure Braxton isn't the ball carrier 41% of the time, as he was in 2012, which would be a good thing. No question he needs his touches but he also needs to be healthy and Miller struggled to stay upright carrying it 227 times last fall.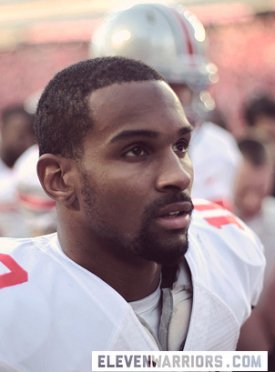 The staff could also take the approach of getting the backups on the field via the punt and kickoff return spots to supplement their offensive touches, hoping that's enough to keep everyone engaged.
Such a move won't be easy though, as Smith excelled in a kickoff return role last year ranking 5th in the conference at 23.2 per attempt, and Philly ranked 2nd in punt return average. Replacing Philly would mean either Marshall or Elliott is ready for prime tim,e which would obviously be all kinds of fantastic.
Both Marshall and Elliott are brimming with talent but the fact neither will be in Columbus for spring practice means they'll have their work cut out for them upon arrival. But if one (or both?) emerges on a significant level, the house becomes that much more crowded.
Of course, the one other thing Urban and Herman can do is basically nothing. They can take a stance in which the top two ball carriers continue to log 74% of the touches and figure the passing game will involve more guys as an organic outcome of Braxton being more seasoned in both the offense and his throwing mechanics. Then, if guys are chirping or moping about a lack of involvement, they can work to improve or transfer.
However things shake out, the situation could be an interesting subplot as what should be a high-powered Buckeye offense shoulders even more of the burden of going undefeated in 2013 thanks to the noted losses on the defensive side of the ball.
Hopefully, once again, it will be Urban who proves to have the magic touch.