This evening, Santa Claus will load up his sleigh and venture out into the Great Unknown with a cadre of reindeer. When he stops in Columbus at the Matta household, a sack full of goodies for the Ohio State head coach's daughters won't be the only items left under the tree. Forty-five-year-old Thad Matta has also requested a special gift from Santa – more field goals.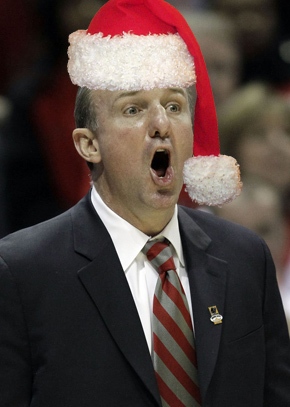 The Buckeyes are no slouch at 9-2, but in both losses – Duke and Kansas – poor shooting has been as noticeable as, well, a pile of bricks. At Duke, Ohio State shot 33.8 percent. It happily would have taken that number during Saturday's 74-66 loss to the eighth-ranked Jayhawks. Ohio State made nine field goals in the second half and shot 30.8 percent for the game.
"I asked Santa for Christmas to improve our jump shooting," Matta said. "So we'll find out. I changed my list."
If you set aside the shooting factor, Ohio State matches up with any team in the country. The Buckeyes possess one of the best defenses in the country. Athletically, they're as gifted as anyone. Aaron Craft and Shannon Scott are as productive as any point guards in the nation, and each is involved in more cases of theft than many felons. But to win basketball games, teams must put the ball into the basket.
Ohio State did that all of 20 times against the Jayhawks. That prompted more wishes from Matta.
"There was one point in the second half where I turned to the bench and said, 'Let's call a play where we can score,'" he said.
Craft, LaQuinton Ross, Lenzelle Smith Jr. and Sam Thompson combined to convert 9 of 37 field goal attempts. One or more of those players is supposed to complement Deshaun Thomas, but even he went arctic. Thomas scored 16 points on just four field goals, shooting 11 shots in 38 minutes. He went more than 10 minutes in the second half without attempting a shot.
"We had wide-open looks, and I trusted my teammates to knock down the shots," Thomas said. "They had good looks and didn't go down. I just kept telling them to keep shooting."
The NCAA Tournament is built for teams with shooters. But you need a minimum of two scorers and most times three is the optimum number. Ross was thought to be the second option, but he's stalled as of late, and Craft's shooting woes are becoming more permanent with each game. He's shooting 27 percent in the Buckeyes' last seven outings.
During one stretch of the second half against Kansas, Ohio State had made 2 of 17 shots and gone without a field goal for more than 10 minutes. Going further, Ohio State scored just two field goals in a 16-minute span of the second half as Kansas built a lead it wouldn't relinquish. Those are numbers that elite teams don't even flirt with. The Buckeyes, however, seem to approach low levels with regularity.
"If you told me (Kansas) was going to shoot 51 and we would shoot 31, I thought it would be like their last three games," said Matta, about three margins of 28 or more points. "That gives me hope. Maybe this isn't as bad as I think it is right now."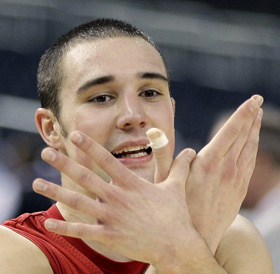 Or is it? There is a clear divide in Ohio State's wins and losses. The Buckeyes have made nearly 50 percent of their shots in nine wins against less-than-stellar competition. Those losses feature shooting percentages hovering around 30 percent, though.
In one week, the Big Ten schedule will begin, and with it, Ohio State's weeks will become much tougher. The conference features four top-10 teams and six teams ranked in the AP Top 25.
"We have two losses on the year," Craft said. "Kansas and Duke are two of the best teams in the country. That's not an excuse. We're not backing down. We want to play teams like this. Going into Big Ten season, we have to know that game in and game out, it's going to be like this. We're going to play great teams every night."
The biggest detriment to Ohio State's offense is its inability to make jump shots. It made 2 of 18 three-pointers Saturday. Where the Buckeyes get the bulk of their points is in transition. For them, the phrase "good defense makes offense" is more a motto than a statement.
"We have to continue to get better defensively, because transition is great to us," Matta said. "If we can get out and get some easy ones, hopefully it ignites us. But all of these guys have shown they can shoot the ball.
"We have to continue to build on that. This team has shown that it can shoot the basketball. Somehow, some way, we've got to figure out how we're going to play our best on game night, but knowing it may not go down. So let's find an alternative way."
As meaningful games quickly approach, time is dwindling for the Buckeyes to discover that elixir.