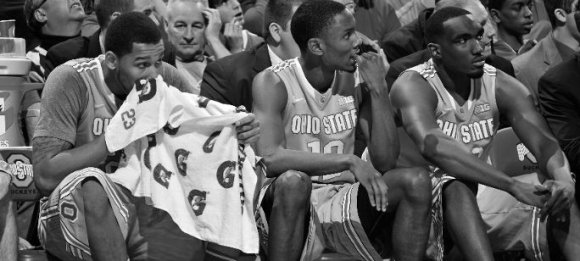 Though most fans knew this year's edition of the basketball Buckeyes would likely take time to mature individually and evolve into their respective roles, there is still an uneasy vibe following yesterday's 74-66 home loss to the Kansas Jayhawks.
The fact of the matter is that despite winning nine of their first 11 games, the Buckeyes have only played two legit opponents and frankly, they wilted under the pressure in both contests. 
It was fairly easy to shake off the road loss to Duke, even though the Buckeyes had a 31-23 lead at the break and led by eight with 13 minutes left before being outscored by 10 points over the final eight minutes to fall, 73-68. The thought was that it was the first litmus test to see what kind of progress guys like Ross, Craft, Smith and Amir had made in taking on new, expanded roles and the team as a whole would learn from giving up 50 points in the 2nd half while shooting just 34% themselves. 
To their credit, the Buckeyes bounced back from the defeat to mostly dismantle five straight opponents (Winthrop, not so much) and the hope was that they had grown from the Duke loss and would be ready for another big time opponent, this time in the friendly confines of Value City Arena. 
Unfortunately, hope is not a strategy. 
Instead, not only did Ohio State lose, they showed the same flaws that did them in down in Cameron Indoor. In fact, the flaws were the same we've seen in a handful of the wins; they were just more easily camouflaged thanks to huge individual mismatches in talent.
Through 11 games, the Buckeyes have definitely experienced growth in a few areas, most notably the emergence of Shannon Scott, but they've also seen four themes play out in a way that requires correction if they plan to be a factor in the conference race and the Big Dance. 
Craft's Regression
The straw that stirs the drink the last two seasons, Aaron Craft's junior campaign can only be classified as a struggle.
The plan was for Craft to take on amplified offensive role to help compensate for some of the points lost via the departures of Jared Sullinger and William Buford.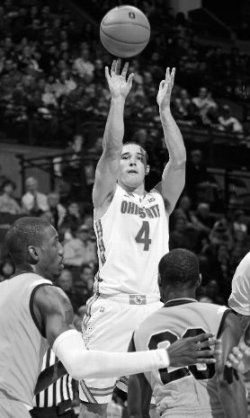 Whether at the point or playing off the ball alongside the blossoming Scott, Craft simply hasn't played very well at the offensive end of the floor. Worse, the veteran has been particularly shaky against both Duke and Kansas. 
Against the Dookies, Craft had his worst game as a collegian, missing 12 of 15 shots while turning it over three times against one assist. Strangely, Craft looked totally out of sorts with the ball in his hand even though Coach K continuously gave him the lane, choosing instead to double Thomas off the pick and pop, leaving huge holes in the defense and plenty of space to shoot.  
Craft wasn't even very good defensively, helping hold Quinn Cook to 3/10 shooting but Cook still managed eight boards and six dimes and was a difference maker down the stretch. 
Looking for a reversal of fortune yesterday against Kansas, Craft wasn't much better. 
In 37 minutes, Craft missed seven of nine shots from the field and coughed it up four times against three assists. Overall, he was a little better defensively but his poor play out of the gate, including two turnovers and an unwise foul on a Withey and-1, put OSU in an 11-6 hole barely five minutes in. 
In the two real games Ohio State has played, Craft is shooting 5/24 overall (21%), including 3/10 from downtown with seven turnovers and three assists. 
Flat out, Aaron Craft must play better offensively or Ohio State is dead in the water, no matter how in love you might be with Scott at the moment.
I'm not convinced he can't do it but it sure would be nice to see him string a couple solid outings together against some tough squads. 
Lack of Mental Toughness
At this point in the season, there seems enough evidence to question the level of mental toughness among this current crop of Buckeyes. 
We've seen it before with individual players but by and large, Matta's teams have been fairly tough when it comes to hanging in there in hotly contested games.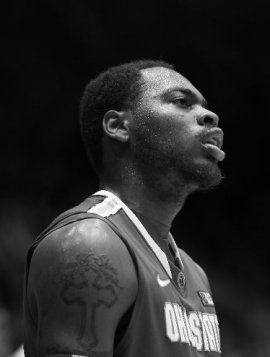 Plenty of factors play a part in an opponent going on a big run but yesterday, the mental aspect of the game really hurt the Buckeyes. 
At home, you simply can't waste a 14-0 spurt like the Buckeyes reeled off yesterday, turning a 23-17 deficit into a 31-23 lead with 6:19 left in the half, but that is exactly what happened.  
Immediately following the blitz, Ohio State allowed a 14-4 Kansas run, giving the Jayhawks a 37-35 lead at intermission.
The run was fueled by mental breakdowns such as a Deshaun turnover on an inbounds play, Scott missing back-to-back free throws, Craft rushing a three-point try, Ross storming down the lane on an ill-advised drive, Scott hoisting an early three (career 22% 3FG), and a Craft turnover leading directly to a Ben McLemore dunk. 
If that wasn't hard enough on the eyes, trailing only 48-49 at the under 12 media timeout, Ohio State allowed Kansas to deliver the knockout blow in the form of a 15-4 spurt, giving the Jayhawks a commanding 64-52 lead with just under five minutes to play. 
The Buckeyes shot an amazingly bleak 2/19 during part of the run and saw Thomas whistled for a silly foul on the baseline, Sam cough it up, Scott decide to launch another three, Craft do him two better by jacking up an unconscionable three triples of his own sandwiched between a missed Smith try from downtown. 
Basically, the Buckeyes fell in love with lazy ball, totally disregarding trying to get to the line or use any ball movement to get a good look, instead falling into the trap of settling for a long ball that clearly wasn't falling. For the game, Ohio State took 48% of their shots from beyond the arc (31/65) even though they were in the midst of shooting 26% from downtown. Exhibit A in not being mentally tough. 
This was also an issue at Duke as the Buckeyes gave up a five-point lead down the stretch, allowing the Blue Devils to score 50 points in the 2nd half by way of failing to identify and challenge hot shooters, leaving Plumlee to terrorize the paint or Cook to get free off the dribble. 
At times, this team even wears their frustration on their sleeve, which is something that should be addressed especially when it comes from the unquestioned leaders. Thomas has been very demonstrative both toward officials and in response to adversity and Craft has look less composed than ever as he challenges whistles or fails to finish plays. 
Those guys need to be the rocks the other players rely on to provide a steady hand in crazy atmospheres like at Duke and yesterday in the Schott. They have it in them. It's time for it to come to the forefront. 
Scoring Droughts
Coming into the season, who would step up to compensate for the lost points of Willie Buckets and Sully was of chief concern. 
It was a perceived given that Thomas would do his thing and for the most part he has done what's expected. He wasn't a superstar versus Duke or Kansas but he did tally 16 in each game on the strength of 6/13 from distance, though he shot just a combined 40% overall. 
The hope was Smith would continue his maturation as a scorer and Craft would put up more points as he became more assertive on penetration and confident in his stroke while playing off the ball more than we had seen in his first two years in Columbus.
Additionally, LaQuinton Ross was tabbed as a guy who could potentially emerge as a big-time scoring threat and all we heard all summer was how Sam Thompson was working out the kinks in his jumper.
Unfortunately, the growing pains are still very real for all four players as they continue their quest for offensive consistency. Smith, Ross and Thompson have all shown flashes while Craft has had a harder time, but I've seen enough to think the quintet can provide more even production than we've seen in the Duke and Kansas matchups.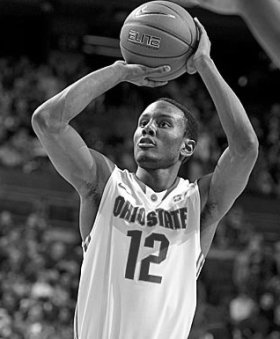 We already took a look at Craft's shooting woes thus far but he's not alone when it comes to not stepping up in the two big games to date. 
Smith, who managed just a 4/12 night in Durham including 1/6 from deep, didn't fare any better yesterday, hitting on just 3/13 from the floor including a donut (0/7) from distance. Over the two games, that gives him a stat line of 7/25 overall (28%) and 1/13 from beyond the arc. Rims beware. 
Counted on to a lesser extent, Sam still hasn't shown that improved J when it counts. He took about the number of shots he probably should in the outing against Duke, going 2/6 from the field but yesterday he was feeling it, taking 10 shots, though making just three.
Bigger than the issue of Thompson taking 10 shots is the fact half of those were from distance. This is the part where I remind you he is a career 20% shooter from distance (7/34). I don't mean that sarcastically, either. I just think all these guys need to play to their strengths if this team is going to compete with the better squads on the schedule. 
Then there's the enigma that I'm praying LaQuinton Ross doesn't turn out to be in his sophmore season. He was a deer in headlights during a few possessions at Duke but he still came up with nine points in 11 minutes on 3/7 shooting. Yesterday, he seemed to be a step slow both physically and mentally and Thad yanked him at least twice for mental lapses. In just nine minutes of action, he missed four of five shots, two of which were on a questionable triple try and a forced drive, and turned it over twice. 
I have written he's totally capable of exploding onto the scene but I'm starting to wonder if his maturation process won't be a long and arduous one for all involved. 
Through 11 games, another facet to the scoring problem is whether or not it's fair to question Thad's offensive strategy considering the Buckeyes flat out don't have an answer for when opponents double (or triple) Thomas.
On one hand, there should be an expectation that other sets – coming off staggered double screens, etc. – should still be able to get him the ball in scoring spots on the floor but at the same time, if good teams know they can singularly focus on stopping one guy because his teammates aren't making them pay, then I don't think even John Wooden would have much success. 
The good news here is that the Buckeyes still have plenty of games remaining to see if they can't work out the kinks offensively. I haven't given up, the players and coaches haven't given up, and you shouldn't either. It's December. 
Defensive Lapses
For the most part, Thad Matta-coached squads have played excellent team defense. 
They may not always own the glass but being long on the wings and gaining a commitment at that end of the floor, the Buckeyes have typically held opponents to fairly low shooting percentages and points per game.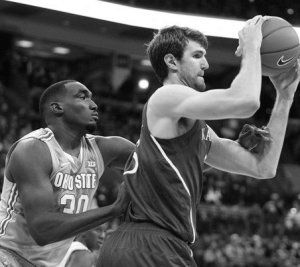 Unfortunately, this year's crop of Buckeyes has yet to put it together defensively against both Duke and Kansas. 
Ohio State held firm in the 1st half against the Dookies, forcing them to miss 14 of their 20 field goal tries (30%) but utterly collapsed in the final 20 minutes, allowing the Blue Devils to shoot 58% on the way to the aforementioned 50 points. 
They were beaten off the bounce and thrashed in the paint as Mason Plumlee went off for 21 points and 17 boards, five offensive. 
Yesterday, the Buckeye defense allowed Kansas to shoot a blistering 56% in the 1st half and 51% for the game, yielding a season-high 74 points (Duke: 73). 
Ohio State again struggled in the paint as Jeff Withey put up 14 points, but an inability to contain perimeter players Travis Releford (4/5 FG, 11 pts), Elijah Johnson (4/8, 13 pts) and Ben McLemore (8/17, 22 pts) was the real killer. 
The fact only five of the 25 made Kansas field goals came from distance further illustrates how Ohio State just didn't contain guys off the dribble and struggled to rotate after the Jayhawks did a great job using inside out ball movement to get Buckeye defenders rotating in an attempt to recover on open shooters. 
While it is understandable that guys are struggling to fill their respective expanded offensive roles, Matta should be able to rely on a more consistent effort defensively and against the two good teams on the schedule to date, the Buckeyes haven't delivered. 
Bottom line, though the Duke and Kansas games have been tough to watch at times, we knew it would be a process. The question at this point is, are you comfortable with the respective role evolutions to date and if not, is that because you expected a faster learning curve or because you are legitimately worried that this team just doesn't have the necessary pieces to be a Sweet Sixteen-plus type of outfit?
At this point, I'm willing to hold serve because I have faith in Thad's track record in fielding a tough out but there's no question I thought this team would earn a split in the two legit games to date and that Craft, Ross and Smith would all be showing me considerably more than I've seen thus far. 
Deep breath. There's still 19 more games to play before the postseason begins.