The day before Ohio State played host to Winthrop, Deshaun Thomas, Sam Thompson and Thad Matta each fielded questions about Saturday's opponent – No. 8 Kansas. Thomas said before the game that Ohio State was excited about playing the Jayhawks. After the Buckeyes escaped with a 10-point win over four-win Winthrop, Thomas said maybe Ohio State was paying too much attention to Kansas.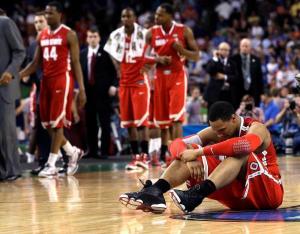 The Jayhawks played on the same night and defeated Richmond handily. It was Kansas' third win of more than 25 points on the season. It enters Saturday's showdown 9-1, the lone loss coming against Michigan State at the Georgia Dome.
But even the Jayhawks, despite the large margin of victory, had their sights set on Columbus, Ohio, not the Richmond Spiders.
"Let's be serious," Kansas head coach Bill Self said. "The season starts Saturday."
Both teams are eager to play one another – for very different reasons. Ohio State is attempting to avenge not one but two losses to Kansas last season – the first and last of an otherwise exceptional year of basketball. Loss No. 1 came in the regular season in Lawrence, while the second was a gut-punch in the Final Four. Ohio State led by 13 before the Jayhawks stormed back in the second half.
"Our guys know that Kansas ended our season last year," Matta said. "I think they know the storied history of the program and what we walked into when we went (to Allen Fieldhouse) last year."
Kansas, meanwhile, will get its biggest road test of the season. A loss to Michigan State, in a game Kansas led throughout, was an indicator of how good the Jayhawks are and can be. But a road game in a venue the home team has won 39 consecutive games against non-conference foes will be an even better barometer.
"I feel like that's the only thing we haven't done," Kansas guard Elijah Johnson said. "We've played on a neutral floor. We've played at home. We've played great shooting teams. We've played good driving teams. I feel like the only thing we haven't done is go to somebody else's house and try to bring the pain."
Kansas center Jeff Withey sure brought the pain to Ohio State in New Orleans. The seven-footer had eight rebounds and seven blocks in the Jayhawks' 64-62 win. But whether he and his teammates can respond in a hostile environment remains the unanswered question.
Kansas has been nearly unbeatable in Allen Fieldhouse since Bill Self arrived in Lawrence prior to the 2003-04 season. The Jayhawks have won 151 of their 158 home games during Self's tenure. Included in that plethora of wins was a 69-game home win streak over two-plus seasons. Kansas is currently in the midst of a 28-game home win streak and has won 97 of its past 98 games at Allen Fieldhouse.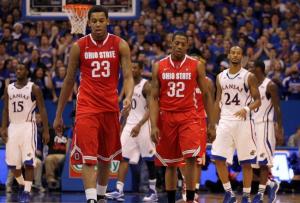 But all seven of the Jayhawks' losses a season ago came on the road or at neutral sites. The same can be said for their lone loss this season. 
"It'll be good for us to go up there and see how tight our huddle is, see if we can focus and see if we can spend the energy in the building in our favor and find out how tough we are," Self said. "I'm really looking forward to it.
"Our guys have so much confidence playing at home, but to me it's obviously much tougher on the road. You don't play at home during the NCAA Tournament, so we need to figure out how to do it."
Ohio State has interest in finding out how it stacks up against the nation's elite. The team thinks it learned something about itself in a close loss at Duke, a game Ohio State led for a majority of the night. But several of the Buckeyes' weaknesses were exposed against the Blue Devils. Now Ohio State will find out if the improvement exhibited in five consecutive walkthroughs over mid-major opponents translates versus a top-10 team. 
"We've played good teams, but we really haven't played that good of competition after Duke," Thomas said. "Now we're going to try to show and let people know that we can play against these types of competitive teams. We're trying to come out against Kansas and play hard and play to our best ability."
That's something Ohio State has struggled to do over the past 12 months. Last December's game at Kansas featured an Ohio State team playing without Jared Sullinger because the big man was suffering from a back injury. Even without him, Ohio State hung close with the Jayhawks before losing by 11.
With Sullinger playing in the Final Four rematch, the Buckeyes controlled the first half until a second-half malaise engulfed the team.
But in different style games, one factor remained the same: Kansas shot extraordinarily well and Ohio State was at the opposite end of the spectrum.
Last season's results are still fresh wounds for Ohio State's coaches and players. It's one reason why Matta needn't be reminded about Kansas' ability. 
"I don't know where Kansas is ranking-wise or anything like that," he said. "But I know this: they're a heck of a basketball team."
So good, in fact, that Kansas has occupied Ohio State's mind for more than a week – or some 12 months. A winter storm is supposed to roar through the heartland on Friday and Saturday. As they say, revenge is best served cold.