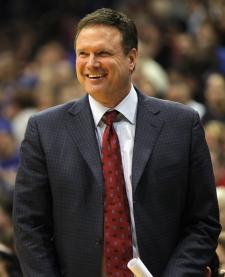 No one even needs to bring it up. Everyone is aware of the elephant in the brand new locker room at Value City Arena – two losses to Kansas last season. Ohio State believed it had a team that could end a 52-year national championship drought. But the Jayhawks ended those hopes in last season's Final Four by outscoring the Buckeyes by 15 points over the final 21 minutes. 
"We haven't brought that up," Ohio State head coach Thad Matta said. "I don't think we have to. Our season was ended by Kansas last year – that is what it is."
Ohio State has done its best to downplay the revenge factor, but when you lose to a team twice in the same season and one of those losses ends your season, it stays with you.
An early-season matchup at Duke in historic Cameron Indoor Stadium was the immediate eye-catcher on Ohio State's non-conference schedule. Lenzelle Smith Jr., however, had another game circled on his calendar.
"I've kind of been waiting for this game ever since our schedule got released in the summer," he said about Saturday's game with Kansas.
The teams might be different – Thomas Robinson and Tyshawn Taylor are gone from Kansas, Jared Sullinger and William Buford are absent from Ohio State – but it doesn't change the meaning of the game. Because college basketball has a postseason tournament, many believe the regular season is one giant exhibition. But games like Saturday's serve as benchmarks for programs and barometers used in comparison to the nation's elite.
"Kansas is playing at a level as high as anybody in college basketball," Matta said. "They start four seniors. It's like, wow. Their leading scorer is a redshirt freshman. So they're a very, very experienced, seasoned team.
"From the standpoint of the caliber of the team that they are, obviously you're going to hopefully learn quite a bit about your team as you get ready to head into January, February and March."
For Matta and his group of talented assistants, they hope Saturday doesn't expose the Buckeyes' month-long improvement since a loss at Duke as a mirage. Ohio State has won five straight games over lesser competition, but the strength of schedule will change dramatically with Kansas appearing on Saturday before the Big Ten schedule begins on Jan. 2.
"We've been able to address some of the areas that we've got to continue to get better at," Matta said. "This team has continued to grow together and that's something that's very important to me in terms of all the things that go into making a team. I think that these guys are in the right direction in that regard. Hopefully we're a better basketball team than we were at the end of November."
| # | Name | YR | HT/WT | PTS | REB | ASST | P | # | Name | YR | HT/WT | PTS | REB | ASST |
| --- | --- | --- | --- | --- | --- | --- | --- | --- | --- | --- | --- | --- | --- | --- |
| 4 | A. Craft | JR | 6-2/190 | 9.1 | 3.1 | 4.8 | G | 15 | E. Johnson | SR | 6-4/195 | 9.6 | 2.8 | 5.3 |
| 32 | L. Smith Jr. | JR | 6-4/205 | 11.5 | 5.2 | 2.1 | G | 23 | B. McLemore | FR | 6-5/195 | 15.9 | 5.7 | 2.3 |
| 12 | S. Thompson | SO | 6-7/190 | 7.9 | 4.0 | 1.2 | F | 24 | T. Releford | SR | 6-6/210 | 13.0 | 3.2 | 3.3 |
| 1 | D. Thomas | JR | 6-7/225 | 20.4 | 6.9 | 1.6 | F | 40 | K. Young | SR | 6-8/190 | 6.7 | 6.7 | 1.0 |
| 30 | E. Ravenel | SR | 6-8/260 | 6.6 | 4.9 | 0.2 | C | 5 | J. Withey | SR | 7-0/235 | 14.1 | 8.1 | 0.7 |
Opponent
In many respects, Ohio State and Kansas are the same team. Both lost a big man and another key piece to the offense. But instead of wilting, the Buckeyes and Jayhawks have stood tall and remained top-10 teams.
So far, Robinson and Taylor's exit to the NBA has done little to slow down Kansas, which is taking the anti-Kentucky approach this season – it has four seniors in the starting lineup. The leading scorer, however, follows the Wildcat model, because he's a freshman.
That would be Ben McLemore. The redshirt freshman is averaging 16 points and 5.7 rebounds through the first 10 games of his college career. McLemore poses such a challenge for opposing defenses due to a complex set of skills. He can shoot jump shots, penetrate and hang around the perimeter.
"They've got different pieces out there, but I want to say it's kind of a similar-like team," Matta said. 
Consider in the spring McLemore had a seat in the Louisiana Superdome stands, not on the bench. Now he's one of the leading forces in Kansas basketball. He was held out last season due to the NCAA declaring him a partial academic qualifier.
Making the grade was no problem this season, and McLemore has received an A+ in Introduction to College Basketball.
"I haven't experienced anything like this before," McLemore said about Saturday's game. "I'll just go out there with an aggressive mindset and have fun."
In Kansas' only loss this season, McLemore scored 14 points and only attempted seven shots. Michigan State beat Kansas by three points in the Georgia Dome. Perhaps, McLemore was somewhat taken over by the atmosphere surrounding the game and the green jerseys across the way.
"When we played Michigan State, I'd say he was a little shell-shocked, a little scared," Kansas center Jeff Withey said. "And I'm sure he's still gonna be scared on Saturday. But he has more experience underneath his belt, and that makes up for a lot."
Said Self: "I'm expecting Ben to play great. Maybe he'll help the seniors because he doesn't know any better. But we need to be on one accord and have a real tight huddle."
Along with the rest of the senior starters, Withey is someone that has big game experience. He set an NCAA Tournament record last spring with 31 blocks during the proceedings, including seven against Ohio State.
This season Withey is averaging 14.1 points, 8.1 rebounds and 5.4 blocks per game.
"He is a giant," Smith said. "His presence affects the game a lot. Obviously we have to be mindful of him when we're driving the lane."
When Ohio State has the ball, it will also need to be on the lookout for Travis Releford, who leads the Jayhawks with 16 steals. No Kansas player's defense will be more valuable than his because he'll have the task of trying to slow down Deshaun Thomas. The last time the two met, Thomas finished 3 of 14 from the field.
Releford can score himself. He's averaging 13 points per game, and he does so with unwavering efficiency. Releford has converted on 58 percent of his field goal attempts.
"He's good at putting the ball down and getting to the rack," Self said. "That's what he does best. He gets easy baskets. He's smart because easy baskets give you confidence."
Self jokes with Releford, calling his style old man's basketball. 
"He doesn't go fast, but he gets by people," Self said. "He's learned how to play at different speeds. A lot of that is maturity and experience."
Another in the crop of experienced Jayhawks is Elijah Johnson. The 6-foot-4 senior point guard will be matched up against Aaron Craft.
"I think the big key is you can't dance with him," Self said. "Tyshawn had a good handle last year, and he picked him twice. Just by Tyshawn relaxing a couple times and not being aggressive."
Johnson was injured early in the season, but any ill effects have disappeared. He's averaging 5.3 assists per game on the season and seven per game in Kansas' last six outings. In three of those games, Johnson has finished with nine assists.
"I think the ball is moving," Self said. "I think we're driving to pass. We're touching the paint off the bounce more."
Buckeye Breakdown
At 4 p.m., Ohio State and Kansas will step onto the court at Value City Arena. Winning will be on both teams' minds. But for Kansas, stopping Thomas will come before scoring points.
When these two teams played last December, Thomas was still a complementary piece in the offense. Sullinger and Buford were clearly Ohio State's top-two scoring threats. But when the teams met again in March, Ohio State was slowly becoming Thomas' team on offense.
In Ohio State's run to the Final Four, it was Thomas, not Sullinger or Buford that keyed the scoring.
"If you're a natural scorer like he is and averaging over 20 a game you've got the green light to shoot some good contested shots and he is good at making them," Self said. "He is a shot-maker. He is a professional scorer at our level and last year we didn't stop him."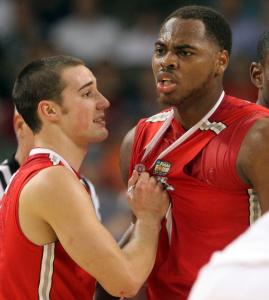 That's not entirely true.
With the luxury of not having the defense's full attention in December, Thomas scored 19 points on 7 of 14 shooting at Kansas. But in the rematch, as Ohio Stat's No. 1 scoring threat, Thomas was limited to just three field goals and nine points in 23 minutes. Long stretches were spent on the bench due to foul trouble.
"Maybe the biggest key in beating them in New Orleans was him going to the bench for about 10 minutes the second half with foul trouble," Self said, "because then we could trap the post."
Once again, Ohio State and Kansas meet on a basketball court, and once again, Thomas is the Jayhawks' biggest concern.
"I look forward to guarding the best guy every time I step out," Releford said. "So for him to be that guy, I'm excited to be able to guard him, and I'm looking forward to it."
That's not the usual reaction when teams gear up to face and try to contain Thomas. In Tuesday's win over Winthrop, he made his first two shots before missing nine straight and then making five in a row during the Buckeyes' decisive second-half run.
When Winthrop head coach Pat Kelsey was prompted for a comment about Thomas after the game, he let out a "Good Lord!"
Actually, that was the reaction of most of those in attendance too.
"He did what All-Americans do," Kelsey said "He put the game on his shoulders."
On Saturday, though, Thomas won't be able to do it all by himself. When Ohio State faced a defense that could contain Thomas this season, it lost. At Duke, the Buckeyes were locked in a seesaw game when the Blue Devils decided the only way they'd lose was if they got beat by someone other than Thomas.
When Craft, Smith and others failed to hit crucial shots, Duke won. Thomas finished 6 of 14 from the field with 16 points, his worst showing since Kansas rendered him irrelevant in the Final Four.
"You know LeBron James is going to shoot for the Miami Heat," Matta said. "But he has to work a little bit harder to get those shots off. That's something that's probably a little bit new for Deshaun in terms of understanding."
Part of that doesn't always revolve around shooting the ball. Thomas has become much more aware of his on-court surroundings this season. Never was it more evident than Tuesday night. During a stretch when it looked like he couldn't miss, Thomas had a wide-open look from three-point range. But instead of rising up and uncorking the shot, he saw Amir Williams break free under the hoops. Thomas passed the ball and Williams was fouled.
It's something that rarely happened last season and never occurred Thomas' freshman year.
"You think back to his freshman year, he was catch and shoot," Matta said. "The thing we talk about is efficiency as a player and being a complete player. I think I've seen great growth in terms of the little things we're looking at. I think he's playing about as solid basketball as he possibly can."
Etc
Kansas leads the all-time series with Ohio State, 6-3. The Jayhawks have won the past four games, including twice last season.
Ohio State is first in the Big Ten in turnover margin (+4.8) and second in turnover ratio (+1.5).
The Buckeyes are third in scoring offense (78.6 ppg), scoring defense (57.2 ppg) and scoring margin (+21.4).
Aaron Craft has been named a candidate for the Bob Cousy Award, presented annually to the top point guard in the country.
Deshaun Thomas leads the league with 20.4 points per game.
Shannon Scott leads the conference in assist to turnover ratio (+5.2). He is second in steals (2.5 spg) and fourth in assists (4.7 apg).
Craft is third in assists (4.8 apg) and assist to turnover ratio (+3.7).
Craft needs eight points to reach 700 for his career.
Evan Ravenel has 199 points during his two seasons at Ohio State.
Tim Brando, Clark Kellogg and Greg Anthony have the call on CBS.