It happens to every team in every sport. That game performance that is unexplainable. For Ohio State, the answer to Tuesday night's uninspiring 10-point victory over four-win Winthrop, a game that was much closer than the score indicated, is somewhere at the intersection of looking ahead and being fatigued.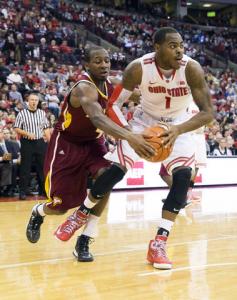 The Buckeyes' concentration was mostly channeled toward Saturday's date with the Kansas Jayhawks, a top-10 team that beat Ohio State twice last season, including a devastating come-from-behind victory in the Final Four. The first loss took place in December at Allen Fieldhouse and represented Ohio State's first defeat of the season.
Asked after the game if the Buckeyes were thinking one game ahead when they took the court against Winthrop, Deshaun Thomas said, "Yeah, a little bit."
Or a lot of bit.
Three of the Eagles' four wins this season have come against non-Division I teams, and Ohio State was favored by nearly 30 points. Winthrop knew the only chance it had was to limit possessions and control the pace of the game. Instead of keeping its opponent at arm's length like the previous four games, though, Ohio State allowed Winthrop to establish its style of play.
That led to 25 minutes of poor shooting and subpar defense from the Buckeyes. But when you have a steady diet of fatty foods, you tend to slow down and become inattentive.
"We could tell people's minds weren't right before the game," Thomas said. "It started in practice. We had a little scrimmage and we didn't score. It carried over into the game. We just weren't ready. We took them lightly."
Prior to Tuesday's game, Ohio State had won its previous four games by an average of more than 30 points per game. So it's fair and understandable if there was a lapse in excitement for the Buckeyes. But therein lies the rub on Ohio State.
After Ohio State easily dispatched Eddie Biedenbach's UNC Asheville squad last Saturday, Biedenbach said the Buckeyes were one of the best teams in the country talent-wise, but he also opined that Indiana, who lost later that day, plays harder than Ohio State.
That looked like a true statement on Tuesday, when the Buckeyes stood around much of the night lacking effort. Sophomore Sam Thompson called it a matter of developing maturity as a team.
"We have to play for 40 minutes," he said. "Coach Matta always says that we're not playing for a (December) game, our sights are for late March and early April. We have to be better and we can't have those lapses in the games or have those times where we come in and not go as hard in practice. We have to keep our foot on the gas."
That's something that, despite being among the nation's leaders in margin of victory, the Buckeyes have struggled with. They've been a 40-minute team on few occasions.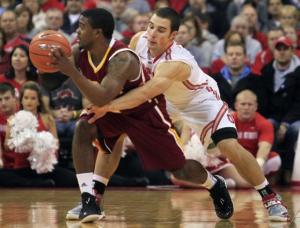 Last season, a November win over Duke served as a springboard for success that ultimately gave way to a berth in the Final Four. One year later another early-season win could serve as that kick in the pants for the Buckeyes. But not many would guess a 65-55 triumph over Winthrop would be the necessary boost.
Ohio State, however, got the message loud and clear. The only true test it has faced this season came at Duke. On that night, the Buckeyes looked the part of a top-five team until a late second-half meltdown ended their chances at putting a stop to the nation's longest non-conference home win streak.
The aforementioned blowout victories followed, but that is not what makes a team better. Being challenged and responding to adversity is how teams develop a resolve built for March.
Sure, Ohio State is due for plenty of nail-biters the rest of the season, starting with the Kansas game on Saturday and then 18 Big Ten conference games. But when it isn't expected, coaches can learn even more about their team.
"You're still trying to learn about your team and have an understanding of what do you need to say, what do you need to do to get the guys going out there," Matta said. "When things weren't gong as well as we wanted them to go, I didn't think we came together as well as we needed to."
But when they faced a second-half deficit and those in Value City Arena urged them to not have a Blue Christmas, the Buckeyes responded. Thomas scored 10 points in less than three minutes and a flurry of Ohio State baskets flipped the game's outcome. Oh, and there was also a defensive stand that saw six minutes go by without Winthrop scoring.
Ohio State plays the second winningest team of all-time on Saturday. But come springtime, it could be a December win against a tiny school from Rock Hill, S.C., that's only had a basketball program for 35 years that Matta, his staff and players recall as their "Remember the Alamo" moment.
"It goes without saying that with the game we have coming up Saturday and then getting into the Big Ten season, we need to get better every day," point guard Aaron Craft said. "It's not like we play tomorrow. We have time to watch and get better from it. But we can't just put it behind us and expect that it doesn't mean that much because it does.
"Every game can show us something, and we can learn from it. We can't be down on ourselves or frustrated, but, at the same time, we have to have a sense of urgency. We can't stay the same as a basketball team. We have to get better or we're going to get worse."
It happens to every team in every sport. The team leader delivering a directive that defines the season's turning point.