The year 2012 is fast approaching last call and having already examined the Top 11 Plays of the Football Season and the Top 11 Recruiting Moments, tonight we turn our attention to the Top 11 Buckeye Moments in what was another outstanding year in Ohio State athletics, particularly on the hardwood and the gridiron. 
So, kick your shoes off, grab a drink and hop in the Wayback Machine as we revisit the happenings that made 2012 a year to remember. 
11. X-Brax 360 Visits State College
Leading just 14-10 midway through the 3rd quarter on the road in a hostile Beaver Stadium, Braxton Miller was bound and determined to extend Ohio State's perfect 8-0 record. 
Already responsible for 49 of 56 yards on a drive that gave the Buckeyes 3rd and goal at the PSU 1, Miller took the snap and began moving as if Tom Herman was in the booth rapidly pressing circle, square, circle to control his quarterback. Braxton avoided a Penn State defender that almost took the handoff before unleashing a series of jukes that would make Barry Sanders blush, eventually diving into the end zone. 
Urban took the play in stride: 
"We work on that. We have a drill. Make seven people miss and dive across. All I heard in my headset was 'Oh my God!' "
The play was only magnified in awesomeness by the fact it brought the Penn State faithful back to earth after they had claimed five straight wins. Roll the tape:
10. Buckeyes Smoke Michigan in B1G Tourney Semifinal
Having already captured a 3rd straight regular season conference title, Thad Matta's squad completely dismantled Michigan, 77-55, in a B1G tournament semifinal tilt, earning a berth in the tourney championship game and eventually, a #2 seed in the Big Dance.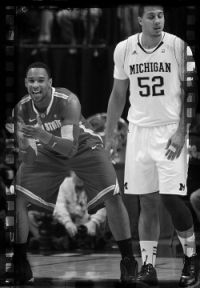 The decisive beatdown gave the Buckeyes 16 wins in their last 19 matchups against That Intramural Squad Up North and helped William Buford set a record as the lone B1G player to participate in four conference tournament championship games. 
Jared Sullinger and Deshaun Thomas stripped Michigan's front line of their collective manhood as Sully tallied 24 points in 27 minutes and Tank splashed in 22 on 10/15 from the floor. 
The much hyped point guard battle between Aaron Craft and Trey Burke was decided by knockout as Craft totaled six points, four boards and three dimes while harassing Burke into missing 10 of 11 shots from the floor with eight turnovers.
Amazingly, Burke's lone bucket came with less than seven minutes to play, cutting the Buckeye lead to 20. I think the cool kids used to call that getting #PWNED.
Shell-shocked from the spanking, Michigan then went on to lose to the other "Ohio" in the first round of the Madness.
Meanwhile, the Buckeyes worked their way to New Orleans.
9. Manning Leaves a Vapor Trail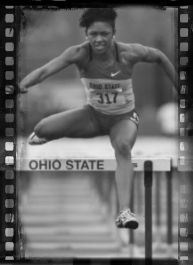 Christina Manning is fast. 
The senior sprinter/hurdler out of Maryland earned Ohio State's 2012 Female Athlete of the Year honor thanks to a blistering season on both the indoor and outdoor tracks. 
Manning put the OSU record book through extensive renovation as she claimed a pair of NCAA titles (indoor 60m hurdles and outdoor 100m hurdles) and picked up All-American nods in both the indoor 60m dash and outdoor 4x100 relay. 
The blazer also tallied six B1G championships in 2012 and set school records in the 60m dash (7.23), 60m hurdles (7.91), 100m hurdles (12.68) and 200m dash (23.43). Rumor has it she also typed 100 words per minute.
I know some of us like fast women but Manning was on a whole different level in a truly amazing 2012. 
8. A Goodbye Gift for Bert Brent Bret
Though it wasn't known at the time, I think we can all agree that giving Bielema one last bitterly painful defeat in thanks for his years of service in Madison is certainly deserving of a spot on our year-end list. 
Urban's offense struggled to move the ball for much of the night but a beautifully blocked 68-yard punt return touchdown from Philly Brown gave Ohio State a 7-0 lead late in the opening quarter and Carlos Hyde extended it to 14-0 with a 15-yard dash early in the 2nd, giving the Buckeyes a leg up on marching toward 11-0.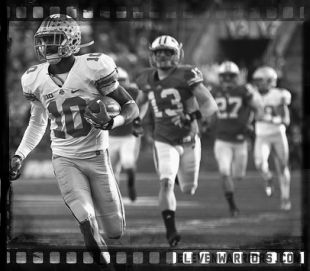 Any celebration would be premature however, as Montee Ball carried it five times for 45 yards, and a seven-yard TD run on the ensuing possession cut the OSU lead to 14-7 and moved Ball to within one touchdown of breaking the all-time NCAA mark. 
Midway through the 4th quarter, with the OSU offense taking on water, Wisconsin took possession following a 29-yard punt from Ben Buchanan and Ball went back to work. The senior carried it seven times on a nine-play drive, but Ryan Damn Shazier made a spectacular play jarring the ball loose as Ball attempted to jump over the pile from the two-yard line. 
Shazier's play kept Ball from breaking the record and tying the score, but Bucky would retain possession with 1:33 left in regulation and march down for the tying score with :08 left to force overtime. 
Undeterred, the Buckeyes shook off the stank of the final minutes and took a 21-14 lead just four plays into overtime after a nifty eight-yard scamper from Braxton set up two-yard TD plunge from Hyde. 
Looking to atone for giving up the game-tying score, the Bullets forced a 4-and-out out of Bielema's Badgers to keep the perfect season intact. 
And holy smokes was John Simon a beast with four sacks for -36 yards and a beautifully executed diagnosis and breakup of a 3rd and 5 pass from Curt Phillips. 
7. Willie B's Splashy Jumper Clinches Third Straight B1G Title
It what can only be described as an enigmatic senior campaign from William Buford, the Toledo product was at his finest when the Buckeyes took on Sparty the last day of the regular season, hoping to clinch a share of their third straight conference crown. 
The Buckeyes came out as if they wanted no part of a championship, missing their first 11 shots and falling into a 24-9 hole after a 17-2 Sparty run, before Buford trimmed the deficit to 38-29 at the break. 
A crucial 17-foot jumper to end the 1st half proved a bit of foreshadowing as Willie Buckets poured in 19 of his game-high 25 points in the 2nd half. 
Tied at 70 with possession, Thad Matta dialed up a play to get Buford the rock. Here's how we saw it:
Taking a hand-off from Aaron Craft on the right wing with about :04 to play, Buford dribbled to the top of the circle and unleashed a 19 foot fadeaway jumper that was as wet as your loins after the ball tickled nothing but twine, giving the senior from Toledo his 18th and 19th points of the 2nd half.
I think that about sums it up in words but nothing beats video evidence:
6. Nebraska Feels Wrath of Eat Too, Brutus III
Knowing the Buckeyes were already 2-0 in games played the Saturday of our annual charity tailgate, Eat Too, Brutus, we were throbbing at the chance to make it three in a row when the Buckeyes welcomed the Nebraska Cornhuskers to Columbus.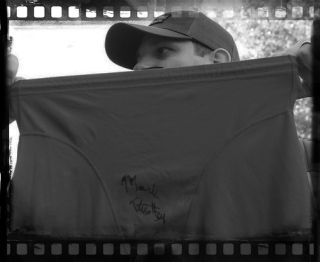 Watching the Buckeyes take care of the Miami Hurricanes back in 2010 following the birth of Eat Too, Brutus was a joyous occasion, but we took it to a different level last year at Eat Too, Brutus II. Once again, your donations and corporate sponsorships raised over $6,000 for the Stefanie Spielman Fund before Braxton scrambled and found Devin Smith with a game-winning 40-yard touchdown pass in the waning seconds of a 33-29 stunner. 
Ahead of the Nebraska tilt, once more we partnered with you and a laundry list of charitable businesses around town to pull off Eat Too, Brutus III, this time to raise money for DownSyndrome Achieves. The event was an overwhelming success as we were able to write another big check to charity on behalf of the 11W community and sponsors. 
Already high on sponsored City Barbecue, Mia Cucina, the suds of a Yuengling beer truck and oceans of top-shelf ale courtesy of Land-Grant Brewing Company, we were able to raffle off items such as posters, signed footballs, two tickets to the game courtesy of friend of the blog Matt Finkes, oh, and Mr. Rainmaker's signed compression shorts. 
With that success in the bag, the Buckeye offense felt the positive E2B vibes and proceeded to blow Bo Pelini's mind, racking up 498 total yards and seven touchdowns, six on the ground, en route to a 63-38 victory, which improved Ohio State to 6-0. 
We say again, "What's the best thing about Eat Too, Brutus improving its record to 3-0? A chance to go 4-0."
5. Shaito Leads Fencers to National Title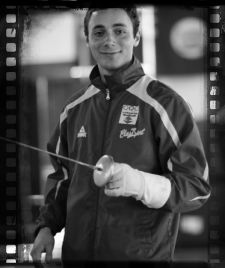 Zain Shaito can handle his sword. 
A sophomore foil, Shaito was named the 2012 Ohio State Male Athlete of the Year after leading the fencing team to an NCAA title, the program's third in nine seasons.
A 2nd team All-American as a freshman, Shaito stepped it up, earning 1st team All-American honors and an individual NCAA title.
Squaring off against Stanford's Turner Caldwell in the individual men's foil final, Shaito recorded the final three touches on the way to a 15-11 victory. 
Okay, I'll stop pretending I know anything about fencing now.
But we still give Shaito and the squad their due propers on bringing another national title to Columbus. 
4. Kenny G Saves Perfect Season
Sitting at 8-0 and favored by 19.5 points at home, Buckeye fans weren't all that scurred of Danny Hope's Fighting 'Stache's but that's why they play the games. 
With the defense giving up an 83-yard touchdown on the first play from scrimmage, special teams permitting a 100-yard kickoff return for six and the offense coughing up the ball four times behind what looked like circa 2011 Braxton, things only got worse when Miller left the game after an awkward tackle on a 37-yard run late in the 3rd quarter with OSU trailing, 20-14.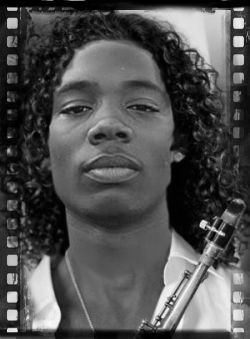 With fan favorite Kenny Guiton now at the controls, the game spiraled further as the offense failed to capitalize on Miller's run when Drew Basil missed a 50-yard field goal try barely a minute into the 4th quarter. 
The defense would hold but Boiler punter Cody Webster pinned the Buckeyes at the one-yard line. Two plays later, Andrew Norwell was flagged for holding in the end zone, giving Purdue a safety and a 22-14 lead. 
Again, the defense forced Purdue to punt but after the OSU offense took possession at its own 20 and chewed up three precious minutes to gain 14 yards, Guiton heaved an interception on 3rd and 13, giving Purdue possession with not even three minutes remaining in what was left of Ohio State's run at an undefeated season. 
But once more, the Bullets forced a punt and allowed Guiton one more crack at it from his own 39 and a mere :47 left in regulation. Finally, Kenny G looked in tune, hitting Devin Smith for 39 yards and putting the Buckeyes in business at the Boiler 22. Then, the backup QB targeted Evan Spencer for eight more yards on an accurate toss as he rolled right as the routes developed. 
A few plays later, on 1st and goal from the two-yard line and time running out, Guiton threw low and away to Chris Fields on a quick out route and Fields came up with the grab, cutting the lead to six with only a two-point conversion standing in the way of overtime or the end of a run at perfection. 
Refusing to feel the gravity of the moment, Guiton hit a wide open Jeff Heuerman on a fabulous play call from Tom Herman to tie the game at 22, forcing OT in the process. 
Intent on sealing the deal, Guiton engineered a quick touchdown, hitting Jake Stoneburner on 2nd and 10 and giving Ohio State 1st-and-goal from the Purdue eight-yard line. Three plays later, Carlos Hyde hit paydirt and put OSU ahead, 29-22. After the Bullets forced three straight Caleb TerBush incompletions to end the game, Buckeye fans simultaneously played an air-sax version of Carmen Ohio in homage to Kenny's heroic performance. 
3. Urban's Debut
With Buckeye fans frothing at the mouth in hopeful anticipation of watching the Urban Meyer era get off the a resounding start, it took a quarter before the Buckeyes played with Meyer's stated objective in mind, which was to make the great state of Ohio proud. 
But once the motor warmed up, the Buckeyes reeled off 35 unanswered points in the middle two quarters and then added another three touchdowns in the 4th, running away with a 56-10 victory, the first of 12 straight to start Meyer's tenure. 
The offense had fans in a frenzy as Miller threw it 24 times for 207 yards and two touchdowns while running for another 161 yards and a score. In fact, eight different Buckeyes scored points though none were as pretty as Devin Smith's one-handed snag of a Miller toss to open the scoring. 
The blowout was a foregone conclusion but still ranks high on our list because of the initiation it gave fans for what to expect under Meyer. These Buckeyes were out there to try to kick your ass, in an angry way whenever possible. The intention would be to attack for 60 minutes and deal with the aftermath later. 
Fans had already seen this attitude from Urban on the recruiting trail as he had already saved the 2012 class the preceding winter and now, to see it channeled through his coaches and players on the football field, was simply glorious. 
The 11 wins that followed weren't too bad either. 
2. Final Four Bound
After dispatching Loyola, MD, a pesky Gonzaga outfit and the usual thuggery of an out-talented Cincinnati squad, the Matta's Buckeyes found themselves in the East Regional Final with a ticket to the Final Four on the line against #1 Seed Syracuse.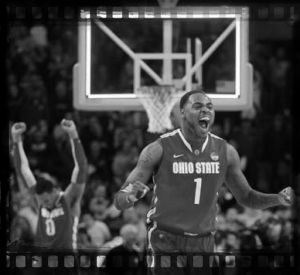 Struggling to find a rhythm thanks to the vaunted 'Cuse zone and a trio of officials that whistled 49 fouls leading to 67 combined free throw attempts, the Buckeyes relied on big 2nd halves from both Sullinger and Smith. A 16-5 run gave them a 46-36 lead with 13:45 left and clutch 13/14 work at the stripe the rest of the way helped claim a 77-70 victory in Boston's TD Garden. 
The victim of foul trouble early, Sullinger took advantage of holes in the Orange zone and the absence of Fab Melo to score 15 points in the final 20 minutes, nine coming from the line. Meanwhile, Smith drained three triples and went 5/7 at the stripe. 
Smartly reacting to the officiating, the Buckeyes refused to lazily settle for the three-ball against the zone, taking just 25% of the shots from downtown (13/51), instead driving the seams and earning 42 trips to the line. They would convert 31 (74%) while the Orange mustered just 20 points on free throws. 
Deshaun continued his coming out party with 14 points and nine boards, joining Craft as the only guys to play the full 40 minutes. 
1. Achievement Unlocked: 12-0H!
With virtually the same cast of characters that won just six of 13 games in 2011, Urban Meyer's 2012 Buckeyes entered The Game with a chance to record just the sixth undefeated season in the history of Ohio State football. 
Though the Buckeyes started slow, they got huge efforts from Braxton, Hyde, Drew Basil and a Silver Bullet defense playing without injured senior captain John Simon.  
Trailing 21-20 at the half thanks to a muffed punt leading to a Michigan touchdown, stupid penalties, and a horrific defensive effort that yielded a 67-yard touchdown pass to Ray Roundtree and a 75-yard touchdown burst from Denard, the Bullets went on lockdown in the 2nd half. 
Though they hemorrhaged 219 yards before halftime, Fickell's defense held Michigan to 60 yards after, refusing to let the Wolverines run one play in Buckeye territory. 
Meanwhile, with Braxton in the midst of a 14/18 day through the air for 189 yards including a 14-yard hook up with Philly, and Hyde churning out 146 yards on 5.6 per carry and a touchdown, it was junior Drew Basil who emerged as a sleeper offensive star. 
Having attempted just six field goals in 11 games and only one in the last four, Basil drilled 4/5 tries against the Sun and Blue. Probably as in shock as the rest of us, Basil managed to score the last nine points of the game for either team, connecting from 52, 28 and finally from 25 yards out to seal the 26-21 win. 
With a billion recruits on hand, Urban steered the Buckeyes to their ninth win in the last 11 meetings against Michigan and gave himself a 1-0 lead on counterpart Brady Hoke, easily qualifying for our moment of the year. 
Let's hope next year a win over Michigan will only be good enough to qualify for #2 on the list. 
HONORABLE MENTIONS: Bob Knight earned induction into the Ohio State Athletics Hall of Fame becoming the first to enter via the lifetime achievement category. As expected, he had some lovely words to share about Ohio State plus a few jabs at Indiana.
Eddie George returned to Ohio State as a hired gun of sorts.
Lenzelle Smith blows up for 28 as the Bucks stomp Tom Crean's Hoosiers.
Twelve former or current OSU athletes and two current coaches represented their countries in the London Summer Olympics.
Urban saves the 2012 recruiting class.
Matta's crew wins in the Kohl Center for the first time since 2000. 
Finally, if your nostalgia is now at a fever pitch, feel free to peruse our 2010 and 2009 editions.