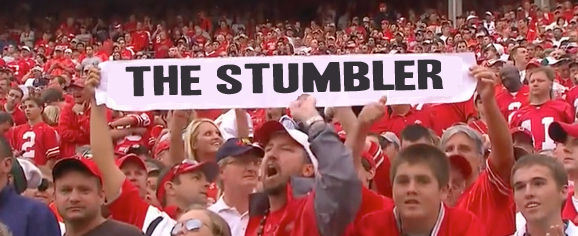 Welcome back! So glad you could make it to the second edition of the Stumbler.
To reiterate:
This weekly column will scour the nether regions of the Interwebs to deliver interesting and obscure Buckeye related bits of goodness.
The hope is to feature at least one "For Sale" item as well as some form of Scarlet and Gray multimedia that harkens back to Buckeye teams of yesteryear, ultimately delivering a warm jolt of nostalgia during these trying winter months.
The Stumbler invites you the reader to peruse the World Wide Web as well. If you find something interesting, odd or generally awesome with a Buckeye tie-in feel free to share a link in the comments.
After all, the Internet is a great big place and I am only one man.
What's that? You wanted to start off with a video game featuring Dikembe Mutombo acting as the only human shielding the world from a Mayan Apocalypse? 
Whew, glad we got that out of our system. Let's ride.
The Item: A 1998 Offensive Playbook
Transport yourself back to the year 1998. The U.S. had just announced the first budget surplus in 30 years, a gallon of gas was $1.15, President Bill Clinton was busy giving this little number and most importantly your Ohio State Buckeyes were starting their season off as the #1 team in the country.
Led by senior QB Joe Germaine and featuring future first-round draft picks David Boston, Antoine Winfield and Andy Katzenmoyer, the team was built for a national title run.
During that time, it's possible the '98 team studied this playbook, which was being sold on Ebay for the low-down dirty price of a $499.95 starting bid. 
This from the seller: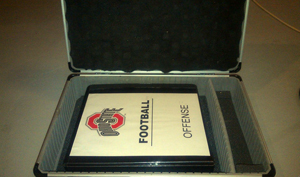 VERY RARE!  This playbook has seen the hands of very few fans or collectors.
This Playbook is from the Cooper era and looks to be from the year 2000
Ohio State Buckeyes Starting Players Offensive Playbook
Over 300 Pages !!!
These really shouldn't leave the players or coaches but here is your chance at a very rare item!
This would be a Christmas present of a lifetime!!!
Missing Redzone Sections 1 and 2
The Metal Case is Included but has no affiliation to Ohio State what so ever.
From the year 2000? But Jeff, you said 1998?
Yes, I did. Thank you for being so observant.
While the seller states it looks to be from the year 2000, I would posit that it is in fact from the year 1998 based on this photo of the item.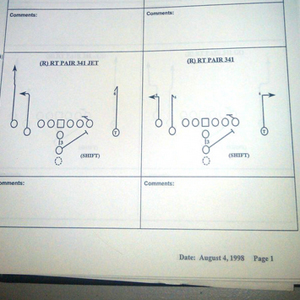 The proof is in the pudding, folks; 1998 it is…and even if it isn't just go with it. It makes for a better story.
Needless to say, this playbook would be worth a lot more if it wasn't for a pretty terrible Nov. 7th afternoon in Ohio Stadium.
Let me set it up a bit more for you. Heading into November, the '98 Buckeyes were red hot. They were ranked #1 all season and had already knocked off a #11 West Virginia squad in Morgantown, followed by back-to-back matchups against a #21 Missouri and a #7 Penn State. In those three contests the Buckeyes averaged 32 points on offense while limiting their formidable foes to only 13 points per game.
Over the next four contests against Illinois, Minnesota, Northwestern and Indiana, OSU bested those averages, scoring 40 points per game while only giving up 8 points a game on defense.
Simply put, this team was destroying people.
So, heading into their Nov. 7 matchup against Michigan State, there was no cause for alarm. The Buckeyes were four touchdown favorites and playing at home.
Unfortunately, the afternoon wasn't as routine as the nearly 94k in attendance anticipated as third-year Spartan head coach Nick Saban had other plans.
Which brings us to…
The Clips: A Terrible Evening in Columbus, Nov. 7, 1998
As mentioned earlier, the '98 Buckeyes were looking unbeatable and their first November contest appeared more than manageable, as an unranked Spartan squad stumbled into Columbus with four losses.
Michigan State did have one bright spot on their resume, beating #10 Notre Dame in East Lansing, 45-23. However, this didn't concern John Cooper as Notre Dame was his handmaiden for both the '95 and '96 seasons.
Unfortunately for Buckeye fans, it didn't appear the team had ever cracked the playbook above as the No. 1 team in the country came out sloppy and uninspired.
Need evidence? Here you go.
Muffed Punt:
Joe Germaine Fumble:
The mistakes allowed a Spartan team down, 24-9, to claw their way back into the game with plays like these:
Ultimately the Buckeyes found themselves needing to throw a prayer into the Columbus sky in an effort to win the game.
Game. Set. Match. The fifth Scarlet and Gray turnover of the night sealed the team's fate and pulled the plug on any national championship aspirations.
The 1998 team would go on to win out, recording Cooper's second and last victory against Michigan and besting Texas A&M in the Sugar Bowl. But unfortunately for all involved, the season ended far short of expectations.
Up until yesterday you could have bid to your heart's content on the 1998 playbook. Then you could have done what Joe Germaine and company didn't and studied it relentlessly.
Just imagine the conversation starters. Impress your friends with "RT P 22 Dump." Regale them with "LT Wing P 22 G Sucker" and wow them with your informed opinion on "Con Right 980 CB."
When/if the next one goes on sale, you could be the life of the party. Soooo, you're welcome.
Thanks for stumbling in. Let's do this again sometime.