The loudest roars in Value City Arena these days are reserved for Sam Thompson's gravity-defying dunks. But when a moppy-haired freshman from Italy checks into the game, the buzz in the crowd is noticeable. Then, when Amedeo Della Valle sends a three-pointer through the basket, they erupt with a cheer usually reserved for walk-ons.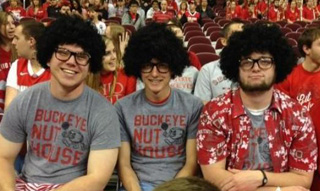 "Look at him," said point guard Aaron Craft, when asked why Della Valle has developed into a fan favorite.
The 6-foot-5 Italian with curly hair that resembles professional golfer Rory McIlroy's mop-top has the look of a math major instead of a scholarship student-athlete. Don't let that you fool you, though. Della Valle is an experienced international player and comes to Ohio State from national juggernaut Findlay Prep, located just outside Las Vegas. He moved to the United States in 2011.
Della Valle averaged 15.1 points, 3.0 rebounds and 2.1 assists per game in the 2011 U-18 European Championships for Team Italy. In his only season at Findlay Prep, he broke the school record for made 3s in a season with 66. While shooting is what earned Della Valle a scholarship from Ohio State, his potential at being an all-around player contributed. He averaged 15 points, 6.0 assists and 4.0 steals per game at Findlay.
With a father, Carlo, that played 15 seasons professionally in Italy, it's no surprise that Della Valle took a liking to basketball at a young age. That he journeyed from Alba, a city near the Mediterranean Sea, to Nevada before ultimately ending up at Ohio State was not on the radar.
But Della Valle is pleased with how the itinerary unfolded.
"I love it here," he said. "I love playing with these guys. I think we have a great group of people. The great thing is we're getting better every day."
The tagline goes, "recruiting is about relationships." Well, now Ohio State has established a relationship with Findlay Prep, which could literally be referred to as a basketball factory. The school has produced six McDonald's All-Americans and 24 Findlay players are currently on Division I rosters. Tristan Thompson and Avery Bradley are among the program's alumni.
Della Valle finds himself on a top-10 team, averaging 2.3 points on the way to chipping in 14 points on the season. Twelve of those have come on three-pointers. He's played in six of the Buckeyes' nine games, but that hasn't diminished the big picture thinking for Della Valle.
"Maybe it's not being ready today, but being ready for next year and the year after," he said. "Every day in practice, you just have to work hard and get better with those guys because we all compete."
Despite spending the first 17 years of his life in Italy and only one in the U.S., Della Valle assimilated easily into college life. It's not just the fans that he's popular with, but it's also his teammates.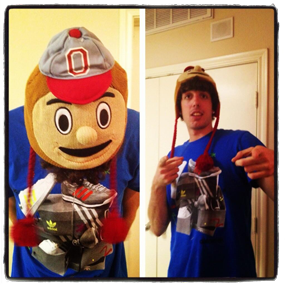 Craft, for one, respects the level of difficulty Della Valle went through. There was no multiplayer recruiting class he developed relationships with – it was a one-man show. Not to mention, the unfamiliarity with a new country. But Della Valle took a leap of faith and felt Ohio State was the right place for him, in part because of his recruiting trip that Craft, Thompson and Evan Ravenel hosted. Once Della Valle's mother came stateside and the two talked about his college choices, he signed on the dotted line to become a Buckeye.
"That's a tough situation to be in, especially in the summer when you're living by yourself and there aren't a lot of freshmen on campus," Craft said. "But he wanted to be a part of this team, and I think as a whole we did a good job of inviting him to things and letting him see what it is like."
Head coach Thad Matta liked the shooting ability Della Valle exhibited at Findlay along with a high basketball IQ and sound fundamentals. Della Valle also brings the brains. He carried a 4.0 grade-point average at Findlay.
"As I've said all along, he's very smart in terms of knowing what he needs," Matta said. "I give him credit. He's a lot tougher than he may appear on the surface. He gets up and keeps going after guys. Therefore, I'm seeing more and more of how well he's playing."
The hardest thing, according to Della Valle, is being that only player unfamiliar with the system. When he messes up in practice, he's generally on an island by himself. He can't be saved by another freshman's mistake.
One look at him and you also can tell he's never touched a weight. A scrawny shooter who stays out on the perimeter as much as possible, Della Valle said he never lifted anything until he arrived at Ohio State. Upon hearing that, strength coach Dave Richardson was left smiling.
"Being the only freshman in the program when he came in last year, everybody knew the lifts," Matta said. "Everybody knew how to do it and what to do. We've been doing a lot of extra with Amedeo. Even on game day, he's getting extra lifting in, not massive stuff.
"That's probably his biggest adjustment – just the strength and physicality of practice, drill after drill after drill."
The immediate void Della Valle can fill is that of a three-point specialist. Last season, the Buckeyes three-point shooting was one of the areas lacking the most. Ohio State shot just 33.4 percent from beyond the arc. It has risen to 40 percent this season.
Della Valle has converted on 4 of his 12 attempts. He's only averaging 8.5 minutes per game, but he could see time during the Big Ten season if Ohio State is in need of a long-range shot or a quick infusion of offense. One thing is certain: his entry into the game will liven up the crowd.
"I love it," Della Valle said. "Honestly, I love the fans, and they love me. I don't know why. I get the ball at half court and they yell at me to shoot it. I really can't do that."