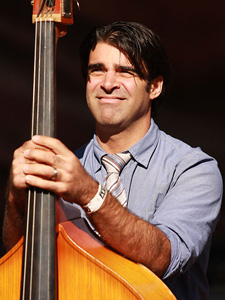 The first weekend of the NCAA Tournament provides a nation with nearly non-stop riveting action. It's partly due to the closeness of such important games. But a big factor in the overwhelming positivity is the upsets.
Fans love seeing the underdog overachieve and beat the Kentuckys, North Carolinas and Dukes of the world. During the regular season, however, big-time programs rarely lose to mid-majors.
Ohio University might not be a basketball blue blood, but the Bobcats were one made basket away from the Elite Eight last season, and they return almost their entire roster. On Saturday, OU hosted Winthrop. A 16-game home win streak was on the line at the Convocation Center, but even the home crowd couldn't stymy the 3-4 Eagles.
Winthrop made a free throw in the final seconds to upset Ohio, 50-49. Now Winthrop has its eyes set on an even bigger home win streak – Ohio State's 38-gamer over non-conference opponents. A Buckeyes State sweep would do wonders for the Eagles, whose win over Ohio was their first against a Division I school this season.
"They just have so many weapons," Winthrop head coach Pat Kelsey said of Ohio State. "The word we used against OU was consistency, and being consistent for 40 minutes through highs and lows. They have very good players, they're very well coached, and we've got an unbelievable challenge ahead of us."
Indeed. Not only has Ohio State won 38 straight games against non-conference foes in Value City Arena, but it's done so with ease. The closest game this season was Saturday's 18-point win over UNC Asheville.
Ohio State head coach Thad Matta is 75-2 in Columbus against non-conference opponents. Average margin of victory: 26.5 points. Only eight of the wins have come by fewer than 10 points.
To say Winthrop has an uphill climb would be putting it mildly.
| # | Name | YR | HT/WT | PTS | REB | ASST | P | # | Name | YR | HT/WT | PTS | REB | ASST |
| --- | --- | --- | --- | --- | --- | --- | --- | --- | --- | --- | --- | --- | --- | --- |
| 4 | A. Craft | JR | 6-2/195 | 9.2 | 2.9 | 4.8 | G | 3 | A. Smith | SO | 5-10/180 | 9.4 | 3.3 | 2.0 |
| 32 | L. Smith Jr. | JR | 6-4/210 | 11.2 | 5.3 | 2.0 | G | 15 | D. Henry | SO | 6-3/200 | 15.6 | 2.8 | 1.3 |
| 12 | S. Thompson | SO | 6-7/200 | 8.6 | 4.3 | 1.3 | F | 23 | L Brown | SO | 6-6/210 | 5.0 | 5.8 | 0.8 |
| 1 | D. Thomas | JR | 6-7/215 | 20.3 | 6.7 | 1.3 | F | 4 | J. Jerome | JR | 6-5/197 | 7.6 | 4.1 | 1.7 |
| 30 | E. Ravenel | SR | 6-8/250 | 6.6 | 4.7 | 0.2 | F | 12 | J. Bourne | SO | 6-8/240 | 5.0 | 4.0 | 0.1 |
Opponent
Winthrop is a proud mid-major program that has reached the NCAA Tournament nine times since 1999. It only has one tournament win on its resume, but, nonetheless, is still considered one of the better non-major programs over the past decade.
But now the Eagles have a new head coach, Kelsey, and lost a vast majority of its scoring with the departure of four starters from last season's team. On top of that, Winthrop has had two consecutive losing seasons, something not seen in Rock Hill, S.C., since the mid to late 90s.
Winthrop is high on defense and low on offense. Last season, the Eagles were second in the Big South in scoring defense and second to last in scoring offense.
When your returning high scorer – Joab Jerome – averaged fewer than five points per game, you know it could be a long year. But Jerome is coming off three straight games of at least 10 points.
Sophomore Derrick Henry has stepped up to lead the team with 15.6 points per game. It was Henry who hit the game-winning free throw against Ohio. However, he is the only starter that is averaging double figures. The second leading scorer is point guard Andre Smith at 9.6 points. 
Smith is actually the lone true point guard on the team after Brandon Vega suffered a torn ACL and Reggie King was sidelined with a heart condition.
"Coach Kelsey believes in me and my teammates believe in me," Smith said. "So I just have to come out there and do my best. It's all about running the team and they listen to me and help me out too."
Smith is averaging 3.3 rebounds and 2.0 assists. Unfortunately for Smith, he hasn't been able to utilize Winthrop's three forwards much because they're undersized compared to the defenses they face. Jerome, Larry Brown and James Bourne are only averaging a combined 17.6 points per game.
Gideon Gamble was supposed to be one of Winthrop's main offensive weapons this season, but that has not yet come to fruition. He's started four of eight games, averaging 9.0 points and 3.3 rebounds per outing.
Long and athletic, the Eagles thought Gamble was someone who could give major programs fits.
"Gideon's a young man that has phenomenal physical tools and talent," Kelsey said. "He's a very fluid, very smooth player."
With offensive limitations, Winthrop knows it must play great defense to be competitive. The first thing Kelsey did when he met with his team was install a mentality that it is defense first and offense second.
One look at the season stats tells the story. The Eagles are limiting teams to 60 points per game. In Saturday's win over Ohio, the Bobcats shot just 36 percent from the field.
The Eagles scheme involves heavy man-to-man half-court pressure. The idea is to limit the opponents' ability to penetrate, forcing contested shots away from the basket. 
"Their defense was off the charts in terms of challenging shots, activity around the basket, and they forced OU into a lot of turnovers," Matta said. "Our guys have a great understanding of how good Ohio is and just what a great win that was for Winthrop."
Buckeye Breakdown
During the offseason, Deshaun Thomas made a vow that he would become a more well-rounded basketball player. He spent countless hours in the gym working on his shot, rebounding and passing. Two years of playing experience also gave Thomas more on-court smarts and leadership qualities.
With only one senior on the roster, juniors such as Thomas, Aaron Craft and Lenzelle Smith Jr. become integral parts of the locker room and on the court.
Through nine games, Thomas has lived up to those promises.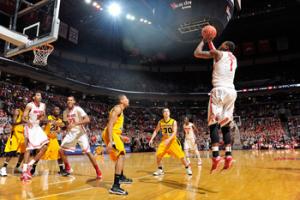 "I think he's got a pretty good mix right now of the inside-out," Matta said. "He's put the ball on the floor more than he has. You think back to his freshman year, he was catch and shoot. Now he's putting it on the deck a little bit more, just kind of rounding out his game."
But it hasn't always been easy for Thomas. There have been poor shooting nights because of suffocating defense – double teams have been used frequently – and he didn't play particularly well at Duke. Early foul trouble didn't help, but as Matta said shortly after the game, "They weren't going to leave Deshaun's body."
During last season's run to the Final Four, Thomas officially introduced himself to the rest of the college basketball world. In the Buckeyes' first four tournament games, a flurry of points sent Thomas into everyone's mind. But the Final Four matchup against Kansas proved to be bothersome.
The Jayhawks were familiar with Thomas due to a December game against Ohio State. He entered the rematch as Ohio State's No. 1 scoring threat, supplanting Jared Sullinger. But a poor start and foul trouble unraveled Thomas. He only made 3 of 14 shots from the field in the two-point loss.
Many thought it could be a preview of what was to come. Prior to this season, though, Thomas said he didn't believe opposing teams could afford to only concentrate on him because the Buckeyes possessed other scorers. The All-American candidate has been complemented most nights, but he's finding life as the top scorer isn't as easy as he thought it'd be.
"I think he's playing about as solid as he possibly can," Matta said. "The thing we talk about is efficiency as a player and being a complete player. I think I've seen great growth in terms of the little things we're looking at."
Thomas is averaging 20.3 points, 6.7 rebounds and 1.5 assists per game. His scoring output leads the Big Ten and his rebounding numbers are a team best.
An admitted shot-chucker when he came to Ohio State, Thomas has developed into a team-first player under Matta. Thomas still wants to get the ball up as much as possible, but he now understands when the extra pass is needed.
"It is really just me becoming a better player and learning to become more of an impact player without always shooting," Thomas said. "I trust these guys to make shots so I make the extra pass. It starts in practice and carries over to the games."
Sophomore LaQuinton Ross is the player that's benefitted the most from Thomas being No. 1 on teams' defensive chart. Ross is averaging 10.3 points for the season, but that number is above 15 in recent games. Even Thomas has gotten in on the act of feeding Ross the ball. Thomas understands that a reliable second scoring option not only helps the team but also helps himself create more shots.
"It's going to help us a lot having guys like Shannon (Scott) and Q come off the bench," Thomas said. "Teams are going to double team me a lot and having them there to step up is what we need."
Etc
Ohio State and Winthrop have never played one another. 
The Buckeyes are second in the Big Ten in scoring offense (80.1 ppg), scoring margin (+22.7), three-point percentage (40 percent), turnover margin (+4.3) and assist-to-turnover ratio (+1.5).
Shannon Scott leads the conference in assist-to-turnover ratio (+5.0) and ranks second in assists (5.0) and steals per game (2.6).
Aaron Craft is third in the Big Ten in assists per game (4.8) and assist-to-turnover ratio (+3.6).
Craft is 16 points shy of 700 for his career.
Lenzelle Smith Jr. needs 11 points to reach 400 for his career. 
Deshaun Thomas is 20 points away from 41st all-time on the Ohio State scoring list (Mel Nowell, 1,100 points).
Amir Williams is 15 points shy of 100 for his career.
Tom Hamilton and Jim Jackson have the call on BTN.