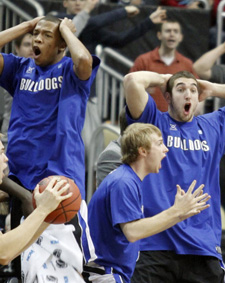 Raise your hand if you thought Trey McDonald was going to become a regular part of Ohio State's rotation this season. OK, whoever has their hands raised is lying.
No one could have foreseen what McDonald would bring to the 2012-13 Buckeyes. This is a guy who wasn't a heralded recruit and played in only 13 games last year. And, oh, by the way, he scored two points.
But that is all out the window now. Head coach Thad Matta has a knack for recruiting on potential and then further developing that into bona fide talent.
In eight games, McDonald has already eclipsed all of his stats from last season and drawn applause from his coaches.
"There's no doubt in my mind his best basketball is right around the corner," Matta said.
The head coach also alluded to McDonald earning more playing time in the near future. While Evan Ravenel and Amir Williams, Ohio State's other two post players, like to stay close to the basket, McDonald – when the coaches want it – can step out further due to a reliable mid-range jumper. It's something, along with his defense, that he worked on this past summer.
"Basketball is not a game of perfection for sure," Matta said, "but he understood, 'this is what my team needs me to do and I'm going to do it to the best of my ability.'"
Assistant coach Chris Jent, who's helped further the development of some of the world's best players, worked with McDonald during the offseason on his back-to-the-rim game.
It helped reinforce every skill set he possesses – shooting, rebounding and low-post moves. Combined with a penchant to run the floor with grace, McDonald could be a sleeping giant. 
| # | Name | YR | HT/WT | PTS | REB | ASST | P | # | Name | YR | HT/WT | PTS | REB | ASST |
| --- | --- | --- | --- | --- | --- | --- | --- | --- | --- | --- | --- | --- | --- | --- |
| 4 | A. Craft | JR | 6-2/195 | 9.6 | 3.1 | 4.4 | G | 55 | T. Meyer | JR | 6-3/170 | 11.6 | 4.1 | 3.9 |
| 32 | L. Smith Jr. | JR | 6-4/210 | 10.6 | 5.5 | 1.9 | G | 4 | K. Hornsby | SO | 6-4/190 | 12.1 | 3.6 | 3.1 |
| 12 | S. Thompson | SO | 6-7/200 | 7.4 | 4.9 | 1.5 | F | 32 | W. Weeks | FR | 6-6/220 | 7.2 | 3.8 | 1.8 |
| 1 | D. Thomas | JR | 6-7/215 | 20.8 | 6.3 | 1.3 | F | 15 | J. Atkinson | SR | 6-4/210 | 18.1 | 7.9 | 1.8 |
| 30 | E. Ravenel | SR | 6-8/250 | 5.9 | 4.4 | 0.3 | F | 35 | J. Nwannunu | SR | 6-8/225 | 7.9 | 4.9 | 0.3 |
Opponent
Hours before second-seeded Ohio State easily defeated No. 15 seed Loyola (Maryland) in last season's NCAA Tournament, the unthinkable nearly took place in the same Pittsburgh arena. That's when little 16th-seeded UNC Asheville nearly became the ultimate David. 
Asheville led top-seeded Syracuse with 11:15 left in the second half and trailed by as little as three points in the final minute. But Syracuse escaped with the help of multiple controversial calls by the officials.
The Bulldogs were in the NCAA Tournament for a second consecutive season, but they are now in a rebuilding phase. Four of the five starters that led Asheville to a 24-win season are gone. So, too, is a majority of the scoring and a level of leadership that contributed greatly to back-to-back NCAA Tournament berths.
It's been evident so far, as the Bulldogs are off to a lackluster 3-6 start. They've played some high-level opponents, but their 0-3 showing in Puerto Rico proved more work needs to be done.
Three players average at least 10 points per game, led by Jeremy Atkinson's 18. Atkinson, the lone returning starter, was the team's leading rebounder a season ago, a role he has continued by pulling down eight boards per game. He's easily Asheville's best player and one of the best in the Big South Conference. 
"We're counting on him to be our toughest player inside and to give us what he did last year," head coach Eddie Biedenbach said. "Jeremy is an outstanding young man who will be a leader on this team."
Guards Trent Meyer (11.6 points per game) and Keith Hornsby (12.1) have been adequate in replacing J.P. Primm and Matt Dickey, two of Asheville's best players ever.
Meyer, the point guard, has been a good facilitator on offense, dishing out four assists per game. He and Hornsby are also the Bulldogs' top three-point shooters.
Biedenbach calls Hornsby one of the "most athletic and electrifying" players he's coached. Hornsby also is one of the best shooters – he is making more than 50 percent of his field goal attempts, 47 percent of his three-point attempts and shooting nearly 90 percent from the free-throw line.
Forward Jon Nwannunu is finally back to full speed after knee surgery two years ago, and Will Weeks, just a freshman, has fit into the starting lineup nicely, providing seven points and four rebounds.
"You can just tell that Will Weeks knows how to play the game," Biedenbach said. "He has big-man size but excellent quickness."
But as a whole Asheville is still getting up to speed with almost an entirely new starting lineup. The lack of depth hasn't helped matters. Only two reserves are averaging at least 10 minutes per game. When you're trying to beat a top-10 team on the road, youth and a short bench is not the most direct route.
"This is a new year, and we've got a lot of work to do," Biedenbach said. "However, we have a good group returning that knows what you have to do to be successful."
Buckeye Breakdown
Ohio State's season has been full of surprises. Aaron Craft's recent slump, the rise of LaQuinton Ross and the sophomore class's contributions, to name a few. But perhaps the biggest is Ohio State's depth.
Matta has rarely used his bench in the past, and rarely has it been so productive. Last season's Achilles' heel was that fact. In the Final Four loss to Kansas, Ohio State scored 62 points, all of which came from the starting five. In fact, every loss was dotted with spotty bench points.
Not anymore.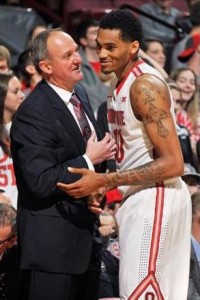 In the past three games, the Buckeyes' bench has scored 104 points. The lowest output they've put forth during that stretch has been 32 points. On the season, Matta has been able to count on 25 points a night from a handful of reserves.
"All of those guys have played very well and very cohesively," he said.
Most of the upside has come against lower competition. Still, the idea of a deep rotation to complement an impressive starting five has fans thinking about another deep tournament run.
The Kansas game next Saturday will be the first glimpse of how much Matta truly trusts the bench. At Duke, he shied away from them and admitted afterwards that it probably wasn't a wise decision.
"We are all going to be in foul trouble at some point during the season, so it is important to rotate guys in and let them get confidence early in the season," junior guard Lenzelle Smith Jr. said. "When we have a lot of guys with confidence we are a scary team."
Even with Deshaun Thomas' unlimited confidence, Ross might be the most self-assured player on the team at the moment. He's averaging 17 points and nine rebounds the past three games, all while coming off the bench.
Said Matta, about the emerging Ross: "He is playing his best basketball."
Etc
Ohio State is 4-0 all-time vs. UNC Asheville and 13-0 against teams from the Big South Conference.
The Buckeyes won the last meeting with the Bulldogs, 96-49, on Dec. 21, 2010 at Value City Arena.
Tom Hamilton and Jim Jackson have the call on BTN.