Welcome to our newest weekly installment here at Eleven Warriors, the Big Ten Team Recruiting Football Class Rankings. Notre Dame is included as a regional power, while our future members in Maryland and Rutgers also get love from us too. We hope this will keep you occupied until real football starts up again in Columbus next August, as well as give all you recruitniks a view at how the Buckeyes stack up against their conference foes when it comes to the recruiting trail.
Another week has passed in one of the heavier portions of the recruiting cycle, as we inch closer to National Signing Day 2013. Last week we told you some shuffling could take place in the Big Ten's team rankings as things progress further, and that was the case in just one week. 
Eleven of the 15 teams in our rankings added at least one commitment in the past week. Penn State and Illinois were the biggest winners, reeling in four and five new members to their class, respectively.
In one of the stranger turn of events, Illinois added a new commitment, only to lose the player to New Mexico a day later. The Buckeyes flipped a member of the Michigan recruiting class and continue to attempt to peck at Wisconsin's group as well. 
How big of a jump were the Nittany Lions able to make and do the Fighting Irish keep their hold on the top class? Find that out and the other changes to the conference rankings when you join us after the jump.
1. Notre Dame
The Irish keep the top spot with the addition of highly touted RB Greg Bryant. Bryant joins an impressive group led by linebackers Jaylon Smith and Alex Anzalone. Other targets on Brian Kelly's radar are S Max Redfield and DL Ebenezer Ogundeko. A national championship run certainly helps, doesn't it?
2. Michigan
Brady Hoke's staff in Ann Arbor boasts a group of 22 talented commitments. Michigan's class is headlined by QB Shane Morris, S Dymonte Thomas, and OL Patrick Kugler. The Wolverines continue to seek the re-commitment from OL David Dawson but have other prospects left on the board in S Leon McQuay III, WR Laquon Treadwell, and RB Derrick Green. 
3. Ohio State
OSU had one of the busier weeks in the conference, adding ATH Gareon Conley and DL Donovan Munger to their list of commitments after their official visits. The Buckeyes, now with 19 members intending to sign on the dotted line, are neck and neck with the archrival Wolverines. LB Mike Mitchell, LB Trey Johnson, S Vonn Bell, WR Shelton Gibson, and WR James Quick remain unaccounted for, but their pledges could push Ohio State ahead of Michigan.
4. Nebraska
The Huskers jump to fourth this week after Canton McKinley DE Antoine Miles announced his intent to sign with Bo Pelini's squad. DE Randy Gregory, LB Josh Banderas, and S Marcus McWilson are the top players in Nebraska's class. They are chasing other highly ranked players in DB Priest Willis and DE Joe Mathis.
5. Wisconsin
The biggest feat for the Badgers this week was retaining all but one of their commitments up to this point with the departure of Bret Bielema. S DJ Singleton decommitted but continues to look at Wisconsin, in addition to Rutgers and Nebraska. Members of their class are being bombarded by many coaching staffs throughout the country, and some are even receiving new offers. The commits Wisconsin covets in their class are RB Corey Clement and S Tyler Foreman.  
6. Rutgers
LB Skai Moore was added to the Scarlet Knights' class as they continue to build a strong group. Moore is a sleeper many of the recruiting services brag about and had an offer from Ohio State. Skai joins 21 other future Rutgers football players headlined by ATH Nadir Barnwell. With the current transition taking place at Auburn, head coach Kyle Flood's team remains a possible destination for New Jersey native DE Tashawn Bower.
7. Penn State
Bill O'Brien's club jumps five spots up to seventh this week. The Nittany Lions gained the commitments of four prospects this week in LB Zayd Issah, LB Jonathan Walton, WR DaeSean Hamilton, and CB Anthony Smith. QB Christian Hackenberg, DE Garrett Sickels, and TE Adam Breneman lead the way for their 17 commits.
8. Michigan State
The Spartans nabbed a kicker this week in Michael Geiger. MSU has only 15 commits so far, but some elite talent can be found in linebackers Jon Reschke and Shane Jones. Michigan State also remains a player for OL David Dawson, which could help propel them up the rankings a bit more.
9. Illinois
It was an odd week for the Fighting Illini, as they thought they received pledges from six different prospects. However, one decided against Illinois a day after he had committed to Tim Beckman and the Illini staff. The Illinois class is a hard one to judge, as they already have 26 players committed to play for the Orange and Blue next fall, but seven of them are coming via the JUCO route. Also, DB Reon Dawson is visiting Michigan officially soon, leading many to believe his commitment could be wavering.
10. Northwestern
The Wildcats fall three spots to tenth in the rankings, but more from the progress teams behind them made throughout the week. Northwestern didn't bring in any new commits to the class but are in strong position for DB Jaleel Hytchye. The Wildcats' top commitments are QB Matt Alviti and ATH Godwin Igwebuike.
11. Iowa
The Hawkeyes added one to their commit list this week in WR Damond Powell. Even with the commit, Iowa fell one spot this week with all the movement made by other conference foes. Kirk Ferentz's class is bolstered by S Delano Hill. They hope his commitment sticks, as Michigan sent an offer Hill's way this week.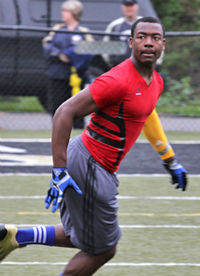 12. Maryland
OL Derwin Gray is the big coup in the Terrapins' class, as he had offers from all over the country. WR Deon Long also adds some firepower to Maryland's group of 17 commits. No new commits were added this week, but big-time LB Yannick Ngakoue remains a possibility for Randy Edsall and the Terps.
13. Indiana
It is one of the stronger Indiana classes in recent memory so far, but it still doesn't stack up yet to the rest of the conference. Four-star recruits are only common in Bloomington if they play on the hardwood; however, Kevin Wilson is changing that train of thought.
S Antonio Allen, DE David Kenney, and DL Darius Latham all have that label from at least one recruiting service, and are the best gets in IU's class thus far. The Hoosiers also added three commits this week in linebackers Kristopher Smith, Steven Funderburk, and Marcus Oliver. Indiana now has 14 commits and with a few more, they could make some movement up the conference rankings.
14. Purdue
New coach Darrell Hazell hasn't been on the job long, but has already added new commitments in S Tyvel Jemison and ATH Leroy Clark. The class of 13 commits is headlined by QB Danny Etling. The next two months, Hazell and his staff will be sure to add to that total and capitalize on the momentum around the new hire.  
15. Minnesota
The Gophers added to their class this week with WR Nate Andrews and ATH DeNiro Laster. They now stand at 14 commits, so a possibility for a move up the rankings still remains, but they are seriously lacking in overall talent at this moment. 
Rankings Overview
| Team | #  of Commits | Scout Star Avg. | Rivals Star Avg. | 247 Star Avg. | ESPN Star Avg. | Overall Avg. |
| --- | --- | --- | --- | --- | --- | --- |
| 1. Notre Dame | 22 | 3.86 | 3.77 | 3.81 | 3.86 | 3.83 |
| 2. Michigan | 22 | 3.82 | 3.64 | 3.68 | 3.64 | 3.70 |
| 3. Ohio State | 19 | 3.84 | 3.58 | 3.74 | 3.79 | 3.74 |
| 4. Nebraska | 16 | 3.31 | 3.19 | 3.31 | 3.19 | 3.25 |
| 5. Wisconsin | 19 | 2.95 | 3.06 | 3.00 | 3.16 | 3.04 |
| 6. Rutgers | 22 | 2.82 | 2.90 | 2.82 | 3.05 | 2.90 |
| 7. Penn State | 17 | 2.88 | 3.07 | 3.24 | 3.12 | 3.08 |
| 8. Michigan State | 15 | 3.07 | 3.13 | 3.07 | 3.33 | 3.15 |
| 9. Illinois | 26 | 2.67 | 2.74 | 2.70 | 2.81 | 2.73 |
| 10. Northwestern | 20 | 2.90 | 2.84 | 2.80 | 2.95 | 2.87 |
| 11. Iowa | 17 | 2.76 | 3.07 | 3.06 | 2.94 | 2.96 |
| 12. Maryland | 17 | 2.76 | 2.88 | 3.00 | 2.94 | 2.90 |
| 13. Indiana | 14 | 2.86 | 2.94 | 2.79 | 3.21 | 2.95 |
| 14. Purdue | 13 | 2.60 | 2.91 | 2.90 | 3.30 | 2.93 |
| 15. Minnesota | 14 | 2.29 | 2.85 | 2.79 | 2.79 | 2.68 |