With Shannon Scott playing lights-out defense, Deshaun Thomas caring about all facets of the game beyond shooting, and LaQuinton Ross maturing as the second-best shooter on the team, there's little to complain about for the BasketBucks.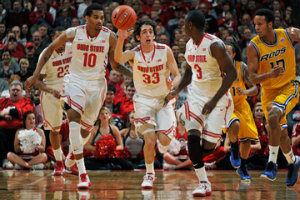 Long Beach in perspective
Sure, they weren't Duke, but Ohio State had to gain some confidence by their throttling of Long Beach State. StatSheet has some interesting notes: 
OSU beat the spread by 12.5 points. That makes the 4th time this season the Buckeyes have beaten the spread.
This game was statistically over in the 2nd half with 11:51 left to go.
The bench recorded more rebounds (24) than the starters (21).
Further, Ross was their runner-up as B1G Player of the Week, while Scott and Amedeo Della Valle were honorable mentions for 6th man and freshman of the week, respectively. 
The first and last bullet points are particularly interesting here. In four out of just seven games the Buckeyes have beaten the spread – that is, they've performed better than expected.
Part of that has to come from the bench performing so well through the first seven. Sure, Ross is a member of the bench and he accounts for a majority of those numbers, but it's nice to see the bench get some love. 
Offense-Defense Balance
While it hasn't been easy replacing the offensive production from Willie B. and Jared Sullinger, the Buckeyes currently are Pomeroy's sixth-rated team in adjusted offense, even better than their defense at ninth. 
The problem has been that an increased focus on one has come at the expense of the other. For instance, take the example of Aaron Craft, who Ohio State has built upon as a top-three scorer for the team so far this year. From Chris: 
Craft has struggled the most in trying to expand his offensive repertoire and with he and Smith shooting a combined 11/45 over the last two outings (24%)...My gut says this Ohio State team would be much better off asking Craft to concentrate on what he's done best – run the offense, dish out some dimes, and cause absolute chaos on the defensive end of the floor.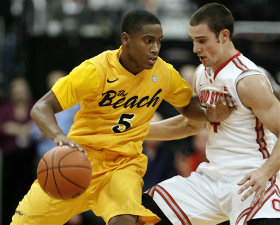 I agree with Chris: Craft is currently second on the team in field goals attempted compared to fourth last year, but his percentage is down from 50% to 38%. Let Aaron focus on his comparative advantage and good things will follow.
The offense, at least statistically, has been solid so far. While putting 91 on UMKC may have exaggerrated the offense's rankings, Matta has seen this dip in the defense:
"All week coach (Matta) has been challenging us, talking about toughness and being able to get stops on defense," junior guard Lenzelle Smith Jr. said. "When we come out and play like this, we hope coach is going to cut back on some of those defensive drills in practice.
Matta believes that a slight dip in defensive production is actually hurting the offense as well. 
On the radio yesterday, Matta mentioned the need for one position in particular to step up defensively:
Matta on the 5 spot: "I'd really like to get a stopper down there. When that happens, the offense is going to ignite as well." #buckbk

— Bob Baptist (@BBaptistHoops) December 10, 2012
For Matta, it's no chicken or the egg problem – the offense will improve as soon as the defense gets in rhythm. It certainly got a good start against Long Beach State.
It's hard to really say that either the offense or defense is struggling when you've got the 6th and 9th-ranked squads (not to mention that it is difficult to evaluate them when there has only been one challenging game), but it's clear that the team is still settling into an identity: Will Craft need to be a top 2 or 3 shooter on the team? Will the bench be utilized this year?  
Savannah State Stat Preview
Savannah State (5-4) comes into Value City Arena tomorrow night ranked as Pomeroy's 163rd and RPI's 141st-ranked team (right behind Penn State, actually).
This has all the makings of another piece of cake victory, as Savannah State is most comparable to Rhode Island and Missouri-Kansas City, who the Buckeyes beat by a combined score of 160-103. 
Savannah State brings in the 312th-ranked adjusted offense (which most recently put up 45 points in a loss to Norfolk St) against the Craft and Scott-led Buckeye defense, and I don't see those number improving. 
Seniors Preston Blackman (guard) and Rashad Hassan (forward) are the two leaders in almost every category, averaging 11 and 13 points per game, respectively. 
Outside of Duke, the Buckeyes have yet to be seriously challenged this season, which is reflected in their strength of schedule rankings, 214th (Pomeroy) and 86th (RPI). The Buckeyes' next three opponents are all solid practice games (with the latter two against teams with RPIs above 300) for the big slugfest with Kansas on Dec. 22.