How the Buckeyes will generate consistent offense was of chief concern coming into the season thanks to the departures of Jared Sullinger and William Buford and after the first six games, the answer remained largely muddy.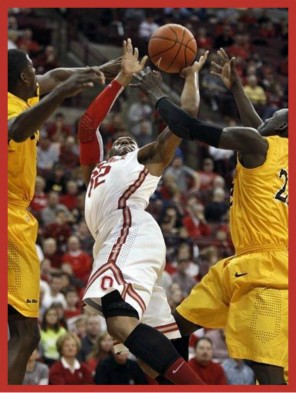 Thad will obviously lean on Deshaun Thomas to carry the bulk of the scoring load but the season rests largely on how guys like Lenzelle Smith, Aaron Craft and LaQuinton Ross evolve as scorers. 
The offseason talk suggested Smith and Craft would emerge to create a new Big Three in Columbus but that vision has yet to materialize. 
Craft has struggled the most in trying to expand his offensive repertoire and with he and Smith shooting a combined 11/45 over the last two outings (24%), yesterday's 89-55 win over Long Beach State hopefully shed some light on the situation. 
While the Buckeyes put four in double figures led by 18 from Thomas and 16 from Ross, it was the sharp afternoon from Smith that might be the most noteworthy bit from the blowout. 
Shooting just 6/21 over his prior two outings (29%), Smith's poor percentage was hurt by his 3/12 marksmanship from distance. Interestingly, Smith had been red hot from three-point land leading up to the two-game drought, so much so that the combined 25% 3FG shooting efforts left his season total still riding high at 44%. 
Yesterday, Smith again took a little more than half his shots from distance but this time he connected on 3/4, part of a 5/7 shooting night overall (71%), on the way to 14 points to go along with nine boards and two assists. 
Now, the Buckeyes don't need Smith to hit 71% of his shots every night but they do need him to pump in 12-15 points consistenty for this team to reach its potential, because I think there are legit questions about whether or not Craft can be counted on to add a dozen points of his own on a consistent basis. 
That's not a knock on Craft. I just think it might be asking too much for Craft to excel at filling the hole as well as being asked to do so at times while playing off the ball with Shannon Scott running the point. My gut says this Ohio State team would be much better off asking Craft to concentrate on what he's done best – run the offense, dish out some dimes, and cause absolute chaos on the defensive end of the floor. If Craft does those things, Ohio State will win most nights no matter how many points Aaron contributes.
In short, this team just might be a whole lot better off if Craft is the team's 4th leading scorer behind Thomas, Ross and Smith, allowing him to go all out on the other facets of his game that make him invaluable. I know it was a bad team but look at what Craft did yesterday. Sure, he scored only five points but he did add three assists and completely shut down the Long Beach offense, particularly point guard Mike Caffey whom Craft helped hold to 1/11 from the floor with four turnovers.
Of course, the only way this formula works is if Smith and Ross raise their respective games.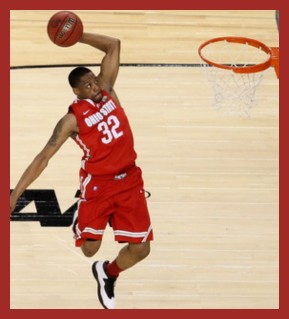 Despite the small sample size, I'm perfectly comfortable with what I think Ross can give this team. In addition to his 16 points yesterday on a smart 5/10 from the floor, the kid looked for the extra pass, got to the line and drained his free throws (6/6) while adding nine boards and four assists. It's not a stretch to think he'll comfortably be the 2nd leading scorer this season. 
Again, it was Long Beach, and Ross will likely have some inconsistent moments as he continues to get his feet wet against stronger foes, but I've seen enough to believe this kid will be the truth as long as the staff doesn't hold down his minutes. 
That leaves Smith to take on the role of consistent scorer while also doing work on the glass, locking down a team's top perimeter scoring option and providing leadership in the form of making calming decisions at the offensive end of the floor. 
Last year, starting every game as a true sophomore, Smith showed he had the ability to play well in big games. Specifically, he lit up Indiana for 28 points on 10/12 shooting early in the B1G slate before scoring 17 points to go with 12 boards two weeks later against Michigan. 
He then fell victirm to the same lull that saw the Buckeyes slog through most of February before he got his groove back just in time for tournament play. 
After scoring 11 against Purdue and 10 against Michigan State in the B1G tourney, Smith took his game to the next level with 17 points on 7/8 shooting against Cincinnati in the Sweet 16 before topping that with 18 against #1 seed Syracuse, followed by 10 points in the season-ending loss to Kansas. 
With those games taking his confidence to the next level heading into this season, it is virtually mandatory that Smith be the guy to most often be a top three scorer for Matta.
If Smith can take the leap and Ross continues to prove a legit scoring option, that should give the Buckeyes the points they need to win on most nights assuming Thomas is doing his thing. Such a formula would allow Matta to again ask Craft to spend most of his energy and focus disrupting the opponent and playing his traditional point guard role, which seems to be the best bet for this team to be a tough out down the stretch.