Braxton Miller is not going to New York as a Heisman Trophy finalist. That fact has rankled some Buckeye fans, but Miller's November numbers all but eliminated him for the Heisman race. What they didn't do, however, is diminish what he accomplished throughout Ohio State's 12-0 season.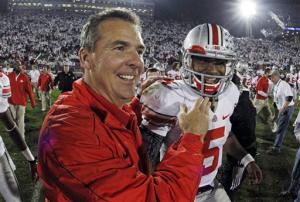 What Miller did in 2012 was rewrite the Ohio State record book. And that was only with eight months of preparation in head coach Urban Meyer and offensive coordinator Tom Herman's system. Imagine what Miller can do with an entire offseason of already being acclimated with the nuances of the up-tempo spread offense.
All the sophomore did was set the school record for total yards in a season with 3,310. That total came by way of 2,039 passing yards and an Ohio State quarterback record 1,271 rushing yards. Twice Miller set the single-game school record for rushing yards by a quarterback. It stands at 186 yards, a total acheived against Nebraska.
Miller averaged more than 275 total yards per game and was responsible for 28 touchdowns – 15 throwing and 13 rushing. For his efforts, Miller was named the Big Ten's offensive player and quarterback of the year. But controversially, he was only named first-team by the media. The coaches opted to go with Nebraska quarterback Taylor Martinez.
"I'm achieving my goals," Miller said. "I still haven't reached them yet. I still have a lot to work on.
"I am very thankful for the coaches we have and for their working so hard with us."
Week after week, Miller put up eye-popping numbers. But in November, a month that acts as a weekly playoff for Heisman contenders, he never had a signature performance.
Wisconsin limited the dual-threat signal-caller to 48 yards rushing, while Michigan held Miller to just 57 yards on 20 carries. Ohio State did win both games, however, to finish an unpredictable unbeaten season.
Texas A&M's dynamic freshman quarterback Johnny Manziel is the odds-on-favorite to win the Heisman. Miller is currently fifth among the more than 100 ballots that stiffarmtrophy.com has tabulated.
All season Miller acted aloof to his building individual status, instead choosing to focus on the team. In mid-October, when he was told about his budding Heisman candidacy, Miller seemed unaware that his production was out of the ordinary. Most players across the country play the team-first game, but with Miller it seems genuine.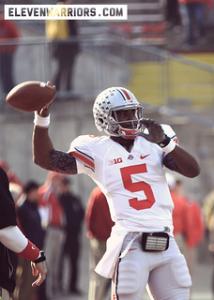 "Man, it's tough," he said about the attention he received. "A lot of guys come to me about it. I try not to talk about it because I don't really like talking about myself."
He will have to get used to, because he'll be a preseason Heisman favorite next season, and while Miller himself might not be heartbroken about his perceived snub, Meyer, a master motivator, will almost certainly nudge Miller about his lack of inclusion with college football's elite.
"His accuracy and passing has a long way to go, but it has improved," Meyer said. "His comfort in the pocket has a long way to go, but it has improved. Pocket awareness and comfort throwing the ball, I don't see the ceiling yet."
After a freshman year that offered so much promise, Miller entered Year 2 with high expectations. But the reality was he had an entirely new offensive coaching staff working with him. In spring practice, it took longer than expected for the Ohio State offense to become familiar with the system. Meyer went as far to refer to the offense as a "clown show."
But Miller made progress throughout the spring and spent the summer working with the entire offense to improve the Buckeyes' on-field product. When fall camp convened, Meyer realized his quarterback had grown up. The bashful Braxton Miller was at thing of the past.
"I think he's one of those freaks of nature that has a lot of ability and great things can happen to him," Meyer said.
Where Meyer's quarterbacks separate themselves from the rest is with their legs. The ability to run and throw at a high level at that position has been a big contributor in Meyer enjoying so much success as a head coach.
During his days as a wide receivers coach at Notre Dame, Meyer learned the various elements of his offense and decided that's what would give him the best chance to win. He won big immediately, and nothing has changed.
At the heart of that is the quarterback. Despite Miller's superb rushing statistics, few of those yards came on scrambles, according to Meyer. For quarterbacks, scrambling is an art that can cause blown plays to be game changers – in a good way.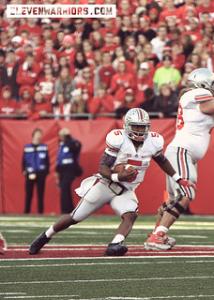 "As athletic as he is, he's not a great scrambler," Meyer said. "I'm going to do a study, I don't think he had any yards this year scrambling. It was all runs. That's something we're going to work on. When it's open, take it."
Miller took it all right, setting numerous school quarterback rushing records. He also became the first 1,000-yard rusher at any position under Meyer. But Miller is more Troy Smith than Terrelle Pryor. Throwing is as much a part of Miller's overall game than gaining yards with his gazelle-like legs.
Whereas a majority of dual-threat quarterbacks struggle with mechanics, Miller possesses a strong arm and natural release. He'll be the first to tell you that he's more interested in finding receivers than moving the chains by running.
"When it's an open field and I'm rolling out, I'm still looking for somebody down field to get open," Miller said. "I'm looking to throw the ball before I'm running."
But it's the throwing game where Miller has the most room for improvement. His numbers were impressive – he completed 58 percent of his passes and only threw six interceptions in 254 attempts. Still, Meyer isn't about to call Miller a finished product.
"Our quarterback was not the best fundamental quarterback in America, so Tom Herman and I are going to have a chat," Meyer said. "That's his job to explain to my why it didn't happen. This is big boy football and that's your job.
"He did great work in other areas. Tom Herman did a fabulous job, but Tom Herman and Braxton Miller understand they have to get better."
From the sounds of it, one might think Meyer is unsatisfied with Herman. But that is false.  Everything at Ohio State was accelerated in Meyer's first season – the results, the offense, etc. It's usually the second season when it all comes together. A big part of the immediate boon was Herman's offensive expertise.
It's the first-year results and knowing most of those weapons return that leaves coaches and players salivating. The countdown to Aug. 31 is already on.
"If he becomes fundamentally the best quarterback in America, I think he will be the best quarterback in America," Meyer said. "I think it's comical what he will do, but he's not there yet."