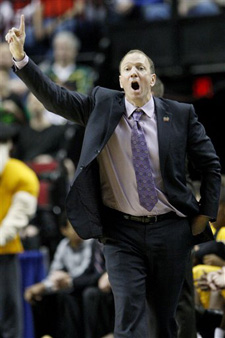 The talk around the Buckeyes has been the emergence of LaQuinton Ross as the possible second scorer to Deshaun Thomas. Ross put up 22 points last week against Northern Kentucky. But the underlying issue is the lack of offense for Ohio State.
It ranks 76th in the country in field goal percentage with a somewhat misleading 46 percent shooting average. The past two games tell a completely different story. Ohio State has not even topped the 40 percent mark in those contests.
OSU shot a season-low 33.8 percent at Duke and improved slightly to 37.7 percent versus Northern Kentucky.
"It just comes down to kind of putting the ball in the basket," junior point guard Aaron Craft said. "With the number of shots that I've shot, with the number of shots that our team has shot throughout the spring and summer, there's no reason for us to be shooting that low of a percentage."
Craft and Lenzelle Smith Jr. have combined to shoot 11 of 45 in the past two games. That's part of the thinking in head coach Thad Matta using the current eight-home homestand as a barometer to see where his team is.
The Buckeyes are still ripe with youth and inexperienced players. As the season progresses, the likelihood of developing cohesion becomes greater.
"We are going to have to put the ball in the basket more moving forward the rest of this season," Matta said.
| # | Name | YR | HT/WT | PTS | REB | ASST | P | # | Name | YR | HT/WT | PTS | REB | ASST |
| --- | --- | --- | --- | --- | --- | --- | --- | --- | --- | --- | --- | --- | --- | --- |
| 4 | A. Craft | JR | 6-2/195 | 12.0 | 3.2 | 4.3 | G | 5 | M. Caffey | SO | 6-0/170 | 10.5 | 4.0 | 4.8 |
| 32 | L. Smith Jr. | JR | 6-4/210 | 10.5 | 5.2 | 1.8 | G | 2 | P. Pappageorge | SR | 6-0/182 | 8.6 | 2.5 | 2.1 |
| 12 | S. Thompson | SO | 6-7/200 | 6.2 | 4.8 | 1.5 | F | 11 | J. Ennis | SR | 6-7/210 | 15.6 | 7.8 | 1.6 |
| 1 | D. Thomas | JR | 6-7/215 | 21.0 | 6.5 | 1.0 | F | 00 | K. Gulley | SO | 6-7/180 | 8.1 | 5.3 | 0.3 |
| 30 | E. Ravenel | SR | 6-8/250 | 5.7 | 4.2 | 0.3 | F | 35 | D. Jennings | JR | 6-9/255 | 8.6 | 7.0 | 0.9 |
Opponent
There will be a familiar face for Ohio State fans on the Long Beach State bench when the 49ers take the court against Ohio State Saturday afternoon. Dan Monson, the former head coach at Minnesota, has been at the helm of Long Beach for the past five seasons.
Monson has raised the profile of Long Beach State basketball considerably during his tenure, with the school appearing in the NCAA Tournament a season ago. But it's not just on-court success that has led to headlines. Long Beach plays one of the toughest non-conference schedules in the country each season.
In the past year alone, the 49ers have played at North Carolina, Kansas, Syracuse, Ohio State, Louisville, Creighton, Arizona, UCLA, Pittsburgh, San Diego State and USC. While the wins have been few and far between, it's the experience that matters. When March rolls around, few mid-majors are as prepared for big-time programs as Long Beach State.
The 49ers won 25 games a year ago, but four starters are gone from that team, including Casper Ware, the Big West Conference Player of the Year in 2011. Long Beach's two low-post players are in their first year in the program after transferring. Kris Gulley came from a junior college, while Dan Jennings came west from West Virginia. The duo is averaging 17 points and 12 rebounds combined, but in Long Beach's blowout loss to Syracuse on Thursday, Gulley struggled the entire 40 minutes.
He made just 1 of his 8 field goal attempts and was 0 for 4 from beyond the arc. Jennings, though, scored a game-high 20 points and finished with seven rebounds.
Michael Caffey and James Ennis are Long Beach's motor on offense. Caffey, a short, quick point guard, is scoring just over 10 points per game and dishing out close to five assists. Only a sophomore, Caffey could keep Long Beach relevant for the next three seasons. His main target is Ennis, the team's leading scorer at 15.6 points per game.
The 49ers' bench is short. Freshman Deng Deng is still a raw player, but he is capable of making three-pointers, though he did finish 0 for 6 from the field and 0 for 4 from three at Syracuse.
Transfers Keala King (Arizona State), Tony Freeland (DePaul) and Edgar Garibay (Loyola Marymount) won't be eligible until next week. The trio could add much-needed depth for Long Beach. King was the Sun Devils leading scorer last season until he was kicked off the team.
Long Beach State either won or lost narrowly in their marquee non-conference games last season. But 2012-13 has offered nearly all double-digit losses. It was more of the same after Syracuse won, 84-53, on Thursday.
"This whole trip is about us coming back with something to hang our hat on as far as our identity and playing against these teams and getting better," Monson said. "Last year's team would go into these games looking for an at-large bid. This team, we're using this as a true preseason and, again, these are great teams for us to see because they're going to expose any weakness we have."
One of those flaws appears to be rebounding. Syracuse outrebounded Long Beach State, 53-39. It's an area Ohio State struggled with early in the season but has since recovered.
Seven Buckeyes are averaging between three and seven rebounds. It has led Ohio State to shooting more field goals than its opponents. Long Beach has been getting outrebounded by an average of six boards per game.
"I think Ohio State is just so fundamentally sound," Monson said. They just have every base covered. They play good defense, they shoot the ball well from the perimeter. I think Craft is one of the premier point guards in the country and Thomas is one of the premier players in the country. They kind of have the whole package."
Buckeye Breakdown
Before the season began, Aaron Craft knew his offense needed to be an integral part of Ohio State's game plan. That's why the junior point guard's recent struggles have been so frustrating.
During Craft's first two seasons at Ohio State, his duties were distributing the basketball to the team's multiple scorers and shutting down opponents' point guard. Scoring was not exactly on his radar.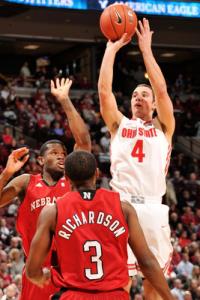 In the Buckeyes' first four games of this season, Craft never shot below 40 percent from the field. He averaged more than 14 points per game and made seven of his 15 attempts from three-point range. But all that confidence has disintegrated in Ohio State's past two contests.
Craft has only made five of his past 24 shots from the field and one of eight three-point attempts.
"Any time you miss some shots, you're going to overthink some things," Craft said. "I'm a thinker. I like to do that a little too much, whether it's on the court or off of it.
"The last time I had to make a conscious effort to score was back in high school, so it has been a progression and getting a feel for when to attack, when not to and when to take a good shot and when to pass it up."
For the season, Craft is only converting 37.3 percent of his field goal attempts. Despite that, Matta's trust in Craft has never wavered. In the past, Matta has told his shooters to continue shooting. The ball will eventually fall in the hoop, at least that's Matta's theory.
A similar situation played out a few years ago when Jon Diebler went through a series of shooting woes. Matta never lost faith, and those same feelings have taken hold again.
"I haven't done anything drastic in terms of inventing a shot doctor or anything like that," Matta said. "I don't know if there is a guy in college basketball that has shot more than Aaron has. It is just more of him getting back in his comfort zone because he shot it really well this week in practice."
Craft has the ability to fall back on his defense and let his production come on that end of the floor. He had four steals in last Saturday's win over Northern Kentucky, a performance Matta called, perhaps, Craft's best defensive game as a Buckeye.
For the time being, Craft's offense remains a work-in-progress.
"I'm just going to continue to trust in myself, my teammates, my coaches," Craft said. "I have to keep shooting it."
Etc
Ohio State defeated Long Beach State in the only previous meeting between the schools. The game took place in 1987 at the Lobo Classic. 
Kevin Kogler and Jim Jackson have the call on BTN. 
Ohio State is 13th in the nation in assist-to-turnover ratio (+1.46) and fourth in fewest turnovers per game (9.3).
Deshaun Thomas' 21 points per game ranks 20th in the nation.
Shannon Scott is fifth in assist-to-turnover ratio (+6.0). Aaron Craft is 16th (+3.7).