A 12-0 season is now in the books and with a bowl ban standing in the way of the Buckeyes extending their season past November, the Ohio State coaches have gone into full beast mode on the recruiting trail.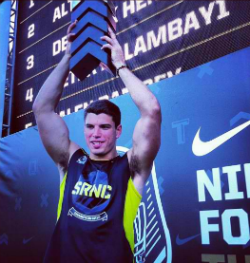 While the lack of a bowl game gives the coaches no systematic advantage in terms of visits or phone calls, it does allow full attention to be devoted to the task of recruiting an excellent group of players to fill out the class of 2013 and start the class of 2014, while their rivals are splitting time on the road and prepping for their next opponent.
The staff was out in full force following the Michigan game, hitting high schools around the country in hopes of landing the next great Buckeye. The journey to Signing Day in February continues this weekend, as OSU is set to host a number of highly touted prospects, as well as current commits to help woo those players to play their college ball in Columbus.
With the big weekend on tap, we felt there was no better time to get the 11W recruiting staff together for a roundtable. In this edition of the segment, we discuss the impact of the Michigan game, what may come out of this weekend's visits, who will finish out the 2013 class, which prospects are key in 2014, and more.
Join us after the jump to hear the latest from Miles, Derek, and myself on Ohio State recruiting in this week's 11W Recruiting Staff Roundtable.
With the season ending at 12-0, excitement is high on the recruiting trail. Ohio State sits at 17 members for their 2013 class. How many players do you think end up in the class and what positions are the biggest needs in your opinion?
Derek: They have room for 20 at the moment, but expect that number to increase. Johnathan Hankins is most likely bound for the NFL and a few transfers could take place. 24 is probably a good number to go with, since three transfers per year is the norm at any program. That said, the biggest need is easily at linebacker. I look for the staff to also add another offensive lineman, as well as at least two at the wide receiver position.
Miles: I think 23 or 24 players end up in the 2013 class. The biggest need is easily at linebacker. The position was thin this year and with Etienne Sabino and Zach Boren graduating, there is an ever bigger need in the group. I think if Trey Johnson ends up a Buckeye, he could immediately be plugged into the starting lineup.
Alex: I think this class will end up with eight more members, making it 25 for 2013. The biggest positions of need in my opinion are linebacker, defensive back, wide receiver, and offensive line. I don't feel that the current roster is very deep in talent at these positions and I would target these areas when closing this group out.
The Michigan game was a big recruiting weekend for Ohio State. Who do you think was the most important prospect on campus for that game and why?
Derek: James Quick. Ohio State had the opportunity to show him what big games in the 'Shoe are like. Louisville is a nice program but "The Game" is something he wouldn't come close to if playing for the Cardinals. Trey Johnson would be a close second because of the need at linebacker in the 2013 class.
The two 2014 recruits I think it was important for are Clifton Garrett and Jalen Hurd. Clifton was beginning to get major attention from SEC schools, so he won't be as easy a pull as many believed at the beginning of his recruitment. Jalen Hurd is just a stud that you have to take advantage of when on campus at any time. Ohio State still yearns to find playmakers on the offensive side of the ball, and Hurd is a prime example of that.
Miles: There are two that stood out to me. The player I mentioned above, inside linebacker Trey Johnson, is one of them. Second, 2014 DE Da'Shawn Hand, the number one player in the class, was a big visitor. I think the Buckeyes made a very good impression on both of these prospects.
Alex: I would probably have to say either James Quick or Trey Johnson. Both players are outstanding prospects and fill the needs listed above. To get them on campus and see the atmosphere was a big step in both of their recruitments. For Quick, I think the trip solidified OSU in the top spot on his list, for now, over hometown Louisville. For Johnson, I think it far exceeded his expectations and he got to see the family atmosphere that he is looking for first hand.
Another big recruiting weekend is on tap in just a few days as many commits will be on campus, as well as big time prospects looking to make a decision. Do you see any verbal pledges coming out of the weekend?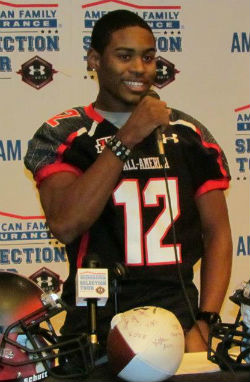 Derek: I don't know how soon they would go public with their commitment, but I see the Buckeye coaches locking up a few prospects this upcoming weekend. Two that make the most sense are Mike Mitchell and Gareon Conley. As a side note, I think Trey Johnson could pop for the Buckeyes at any moment as well.
Miles: I see two potential commits this weekend. The first being LB Mike Mitchell out of Texas. Mitchell has had the Buckeyes in the lead ever since The Opening and has never been on campus yet, meaning the visit could seal the deal.
The second prospect I'm keeping a close eye on is Massillon (OH) Washington ATH Gareon Conley, a former Michigan commitment. Conley decommitted last Tuesday and I think the Buckeyes are in the lead for his services.
In the end, I think Conley will come out of the weekend as a Buckeye and OSU will be in a very good position to land Mitchell when he's ready to announce.
Alex: I think the Mike Mitchell recruitment ends this weekend. Whether he announces immediately after or waits a week or so, I think Mitchell finally becomes a Buckeye. I also think Gareon Conley makes his first and last official visit of the year, giving a pledge to Urban Meyer this week.
Finally, the Bucks will probably give a strong last pitch to both Donovan Munger and David Dawson this weekend. With Munger it's appearing to be a UCLA-OSU battle. Donovan has told me he has been a Buckeye fan for a while and I think he wants to be close to home, but there is a logjam at defensive line so it will be interesting to see if he's willing to come in and battle. If he is, a commitment could come this weekend, as he has been to Westwood already.
Dawson is seeing Ohio State for the first time as a truly open recruit and Meyer has a chance to make a great impression. I think the coaches know Dawson won't likely decide for a while, so they won't waste too much effort if they don't get a good vibe on him after this weekend and will move on to other targets, such as the recently offered Kenny Lacy. That being said, there is a chance Dawson is "wowed" on the trip and you can bet the current OSU commits will be trying to make him a Buckeye.
Regarding the class of 2013, what is your prediction for the finish come Signing Day?
Derek: Seven more in my estimation. Gareon Conley, James Quick, Shelton Gibson (if he qualifies), Trey Johnson, Mike Mitchell, Vonn Bell, and another offensive lineman, whoever that may be, which is anyone's guess at this point. I see David Dawson signing with any of his finalists other than Ohio State, with Michigan back in the mix, and Michigan State seeming to hold the lead now.
Miles: I say there will be seven more commitments. ATH Gareon Conley, LB Trey Johnson, LB Mike Mitchell, ATH Christopher Worley, WR James Quick, WR Shelton Gibson, and a surprise commit on National Signing Day.
Alex: It's so hard to say at this point because so many things will change, but if I had to guess as of today I would say: WR James Quick, WR Shelton Gibson, LB Mike Mitchell, LB Trey Johnson, ATH Chris Worley, DB/WR Gareon Conley, and DB Vonn Bell (feel least confident here). I also think they get a surprise on or close to Signing Day.
There has been a lot of buzz about OSU's recruiting class of 2014, as many top prospects are high on the Buckeyes. The class is supposed to be a smaller class because of sanctions limiting the roster size to 82. How do you think the staff will go about attacking this next group?
Derek: I think with it possibly being a smaller class, Ohio State attacks it delicately. With some major recruits interested in OSU, they will fill up the spots very slowly, as they want to leave spots available for their top targets. It might even move slower than the 2013 class.
Miles: First, I would like to see the Buckeyes take two quarterbacks, even though it has been rumored they will only take one. Second, the Buckeyes need to land some playmakers in this class. I think Jalen Hurd out of Tennessee would be a big pickup in pursuit of these types of players. Third, they need to keep stocking up on linebackers, due to lack of depth at the position. The Bucks are in luck in this area, as they are in a good position for in-state linebackers Dante Booker and Kyle Berger, and also out of state stars Raekwon McMillan and Clifton Garrett.
Alex: I think the staff has to be very cautious with offers, like they have been, because this group will certainly be smaller and you want to be right about evaluation of prospects. I think this is part of the reason why it has taken so long to offer a quarterback like Drew Barker or offensive linemen like Nick Richardson or Kyle Trout. It's not the players that go elsewhere that kill you, it's the guys you sign that turn out to be busts and waste a scholarship for four years that will come back to bite you.
Who is the most important recruit for Ohio State to land in the class of 2014 and why?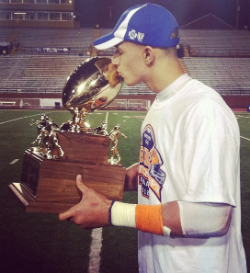 Derek: The best recruit Ohio State is pursuing in the 2014 class is undoubtedly Da'Shawn Hand. However, with this year's defensive line haul, coupled with last year's, he isn't the most important recruit. 
Despite Ohio State being in good position to land Trey Johnson and Mike Mitchell this year, linebacker will still need depth, especially if Ryan Shazier leaves early. Any of the offered linebackers (Raekwon McMillan, Dante Booker, Kyle Berger, Clifton Garrett) could be the most important, but I'll go with McMillan.  If I had to go with a second option, it'd be at cornerback in the way of Quin Blanding, Jabrill Peppers, Quincy Wilson, or Parrker Westphal.
Miles: On offense the most important recruit is ATH Jalen Hurd. The kid is dominating Tennessee high school football and would be a fantastic fit in the spread offense Urban Meyer likes to run.
On defense I'll go with two players: DE Da'Shawn Hand and LB Raekwon McMillan. These two prospects have the build to perform in the B1G right now and would definitely help in bringing other big-time recruits to Columbus because people want to play with them.
Alex: It seems like the obvious answer, but I am going to say the country's top overall player, DE Da'Shawn Hand. Hand is being recruited by virtually every school in the country and it would be such a big statement for Ohio State to go into Virginia and snag him. Additionally, there are many top linebackers that OSU is in on for 2014, and they all want to play behind Hand.
Who do you think will be first in the class of 2014 to commit to Ohio State?
Derek: If another quarterback is offered (Drew Barker, Will Ulmer, or DeShone Kizer) it could be that recruit, but the safe pick is one of the Ohio linebackers in Kyle Berger or Dante Booker.
Miles: I think there are a lot of possibilities, but I'll go with Springfield (OH) WR Thaddeus Snodgrass.
Alex:  I think it will be Dante Booker Jr. of St. Vincent-St. Mary in Akron. Thaddeus Snodgrass was supposed to be up first a few weeks back, but the staff wants to see his midyear grades and test score once he takes the ACT/SAT. I think Booker will start to focus more on recruiting now that his team has won a state championship and it would be hard to see him anywhere else besides Ohio State.