At one point in time, this award was known as the Buckeye NFLer of the Week. Thanks to a typo and the ensuing LOLsession from the commentariat, it was renamed as the Houndie. Same intent, but now with a better name.
As we enter the last quarter of the NFL season, there were some teams that wrapped up their division this past weekend, while others inched closer to securing their postseason spots in the next couple of weeks.
In the AFC, New England, Denver and Houston all clinched, while Baltimore still has a two-game lead on Pittsburgh and Cincinnati in the AFC North, with Indy holding a game lead over both for the wild-card spot.
In the NFC, Atlanta clinched the South, but the rest of the divisions are a little murkier, as Chicago, San Francisco and NYG all lost, while Green Bay and Seattle won.
Atlanta helped their cause on Thursday, avenging their only loss of the season by picking off Drew Brees five times in the 23-13 home win. Malcolm Jenkins and Will Smith each had slow games, as Atlanta only ran 57 offensive plays for 283 total yards.
Jenkins had just three tackles, but still leads all NFL DBs in tackles with 94, while Summertime chipped in with two total stops. The Saints will have to win out and still need a lot of help if they are going to make it back to the postseason.
It was a good Sunday for the Ohio teams, as Cincinnati and Cleveland traveled to the West Coast and came home with wins.
The Browns got their first road win of the season, taking down Oakland, 20-17, and while no Buckeyes saw action for either team, Terrelle Pryor suited up for the first time all season and may get some looks over the next four games.
The Bengals kept pace with the Steelers, as they rallied with 10 points in the fourth to win, 20-13, over San Diego. Mike Nugent made FGs from 19 and 24 yards, while also connecting on both his XPs and Nate Clements' role with the team continues to decrease, as he had zero tackles for the second straight week.
As mentioned, Pittsburgh got a stunning 23-20 last-second win at Baltimore, ending a mini-skid of two. Dick LeBeau's crew held the high-powered Ravens offense to 288 total yards and 3/11 on third downs. Will Allen chipped in with two tackles. 
In Green Bay, the Packers took control of the NFC North with a 23-14 win over Minnesota, as my Bears suffered a make-me-sick-to-my-stomach OT loss to Seattle. A.J. Hawk made a run at this week's Houndie, leading the Pack with 10 total tackles, including eight solo stops, as their D held Minny to 119 passing yards. Ryan Pickett contributed three tackles to the effort.
For the Vikings, Michael Jenkins was held without a catch on three targets, as the Vikings WRs didn't catch a pass until late in the fourth quarter. Antoine Winfield had nine total tackles, but the defense gave up an 18-play, 74-yard drive that resulted in a FG and took up 11 minutes to start the fourth.
Down in Miami, Brian Hartline continued his stellar season, hauling in five catches for 84 yards in the Dolphins' 23-16 loss to New England. Hartline now has 60 catches for 891 yards, which puts him seventh in the AFC for receptions and sixth for yardage. Austin Spitler had a solo stop in the loss.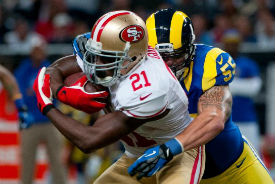 As the Cardinals continue their historic slide, Beanie Wells didn't help his team stock, carrying the rock 15 times for 22 yards in Arizona's 7-6 loss at the Jets. Wells has yet to eclipse the century mark in any game this season and is averaging a dismal 2.4 YPC on 61 attempts.
On Sunday night, the Eagles continued to find ways to lose, falling at Dallas, 38-33. Kurt Coleman had five total tackles for the Eagles, who now look like they've moved on from the Andy Reid/Michael Vick era.   
For this week's award, we look at two teams who went to OT in both their meetings this year, but this time instead of a tie, the Rams came out on top of the Niners, 16-13.
After David Akers made a 33-yard FG with 1:34 left, Greg Zuerlein of the Rams nailed a 53-yarder as time expired in regulation and hit a 54-yarder to win it with :26 seconds left.
Ted Ginn contributed next to nothing, catching one pass for a single yard and returning 2 punts for 6 yards. With the two last-second FGs for the Rams, Ginn didn't get a chance to run any kicks back. Donte Whitner played well again, finishing the contest with seven total tackles.
As for the Rams, the win pulls them within 1.5 games of the final playoff spot, which is currently held by Seattle. For his efforts, James Laurinaitis wins his second Houndie on the season and first since Week Five, as he had another double-digit tackle day with 10. JL combined with fellow LB Jo-Lonn Dunbar to hold the Niners to less than 200 yards passing and rushing on the day, which is sure to spark more QB controversy out west.
Lil' Animal is now third in the NFL with 116 tackles, as the Rams take their act on the road for three of the final four, including a trip to Seattle to close out the season.