Few jobs in the country come with as much pressure as being the head football coach at Ohio State. Stress is an everyday part of the job. It is applied from a fan base that wants a high quantity of wins and indirectly from the university in the form of a multi-million dollar contract.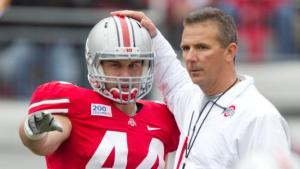 By nature, coaches are perfectionists and also expect no miscues from themselves. Add it all up and being a head coach isn't as glamorous as many might think. It isn't being in charge of your favorite team, showing up on Saturday and golfing in the summer.
Hours upon hours are spent at the Woody Hayes Athletic Center game-planning, whether it's October or March, and months are spent in hotel rooms, airports and the living rooms of high school kids.
Factor in all the variables and one better understands why coaches cherish successful seasons.
For Urban Meyer, Year One at Ohio State was supposed to be a rebuilding season. Sure, there were immense expectations the day he was hired. After all, Meyer had two national championships to his credit and is widely considered to be one of the best coaches in the country. But the Buckeyes were a 6-7 mistake-prone football team in 2011 and Meyer had a long history of achieving greatness in Year Two.
At his introductory press conference, though, Meyer spoke of the win now perception. And suddenly, a year meant to act as a bridge to the future instead became a year for Ohio State to reestablish its superiority.
"You've got to go win," Meyer said. "And momentum is such a key in recruiting and your program. If you lose it, it's hard to get it back. You don't have four years to go build a program. You've got to go win some games right away. Year Two is kind of a definitive year."
With Ohio State being the fourth head coaching job of Meyer's career, he's well in tune with what goes into constructing a football behemoth. At Bowling Green, Utah and Florida, modest first seasons were precursors to second seasons that offered, in some cases, unprecedented results.
Bowling Green followed up an 8-3 season with a 9-3 record, while Utah went from 10-2 to 12-0, becoming the first non-BCS school to crash the party. But it was at Florida where Meyer made an even bigger leap, going from 9-3 to 13-1 and national champions.
The bump in the road never came during his first season at Ohio State. The Buckeyes finished a 12-0 season that included a Leaders Division championship with a win over archrival Michigan. It has Meyer worried about next season, the year that his teams usually find the path of least resistance.
"My concern here is complacency and we have to make sure that doesn't take place," Meyer said. "We need an angry team next year. If we have to manufacture that, we will. If something was taken from you, we're going to use that. We're going to use a lot of things, but we're going to try to push that to get an angry team."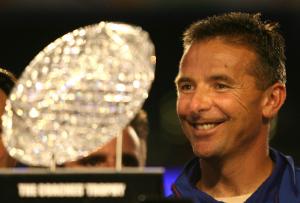 Angry is a word Meyer uses frequently. It's how he describes that 2006 Florida team that pasted Ohio State in the desert to win the national title.
What Meyer ran into with the Buckeyes was not anger but senior leadership. The 2008 recruiting class was headlined by the likes of Terrelle Pryor, Mike Brewster, Mike Adams, JB Shugarts and DeVier Posey. But it was an unheralded group that included Garrett Goebel, Travis Howard, Orhian Johnson, Etienne Sabino, Jake Stoneburner and Nathan Williams that ended up being the heart of the class.
When combined with the 2009 group that included Zach Boren, Reid Fragel and John Simon, the 2012 Buckeyes molded into, in Meyer's words, the most selfless group he's been around.
"This is a tremendous senior class," Simon said. "It might seem cliché, but when you go through workouts with these guys, you don't want to let these guys down. We are playing for each other. As a senior class, we really want to set the foundation for Meyer's program."
Saying they accomplished what they set out on doesn't do justice to the jumpstart Ohio State achieved in Meyer's first season. But it wasn't just the seniors that provided the glue.
The Buckeyes' freshman class, especially defenders Noah Spence and Adolphus Washington, played critical minutes, the sophomores comprised most of Ohio State's skill players and the juniors were the nuts and bolts. And it's a good thing all three were involved, because of Ohio State's five senior captains, only one – Zach Boren – played every game. And even he switched positions.
The two-headed monster of Braxton Miller and Carlos Hyde also helped Meyer and the Buckeyes' cause. Not only is Miller a perfectly blended talent for Meyer's up-tempo spread offense, but Meyer and offensive coordinator Tom Herman also fit the system for Hyde. 
"He can run through some arm tackles and turn three-yard gains into six-yard gains and seven-yard gains," said Herman, about Hyde's physical downhill style. "It's pretty cool. I don't know any other way to say it."
The cool thing for Buckeye Nation is how it lost a legendary head coach but swapped him out for someone who might be even better. The 2013 Buckeyes are primed not only for an unbeaten regular season but an actual postseason.
An offense that clicked in the first year of a new system will return nine starters. Despite significant losses on the defensive side of the ball, Ohio State isn't overly concerned, other than at the linebacker position. For one, backups at most other positions have proven they can play and secondly, Ohio State might be good enough to outscore all 12 opponents.
At Meyer's previous three stops, each team scored at least 10 more points per game in his second season as head coach. Who wants to bet that remains the case at Ohio State?
"It sets the standard pretty high," Stoneburner said. "I don't think anyone thought Coach Meyer would come in and turn it around like he did. It's crazy to think we went undefeated."
If the past is any indication, the best is yet to come.