Winning is the objective in most of life's competitions – or all of life's competition if your name is Wayne Woodrow Hayes. But whether you win or lose, lessons are learned.
For nearly 35 minutes Wednesday night, it looked like the Ohio State men's basketball team was going to come away with invaluable experience in a win that no one foresaw. But they were ultimately the 97th consecutive non-conference victim at Cameron Indoor Stadium.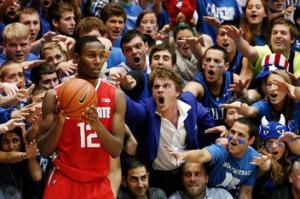 Those that came before them left Duke knowing a little bit more about themselves, and the same held true for Ohio State. Duke was the second-ranked team n the country and had already defeated two top five teams prior to Wednesday's game. That alone, combined with the Buckeyes' uninspiring early-season play, led many to believe Ohio State could get a taste of what the Blue Devils dealt with last November in Value City Arena.
On that night, Ohio State played its finest 40 minutes in years, dispatching the Blue Devils with ease, 85-63. Following the game, Duke head coach Mike Krzyzewski famously said his butt was sore.
But the Buckeyes failed to get the memo that they were nothing more than chum in the open ocean. The Blue Devils' bite was inauspicious, as Ohio State led by as many as 10 in the first half.
An inevitable flurry of made baskets came in the second half for Duke, but even then Ohio State battled back, never allowing the Blue Devils to take the lead. Finally, though, the youthful Buckeyes couldn't push back any more. Duke won, 73-68, but Ohio State showed that in the Big Ten, home to six ranked teams, it will be one of the landscape developers.
As the clock inched toward midnight in Durham, however, any dose of a moral victory was nonexistent in the Ohio State locker room.
"Anytime you lose, you're going to be frustrated," point guard Aaron Craft said. "I didn't play the greatest. We have another game Saturday (versus Northern Kentucky). We have to find a way to get better and come back from this. We have to learn from this."
At the top of the Buckeyes' to-do list will be finding another consistent scorer. After Duke grabbed the lead with just under six minutes remaining, Ohio State had few answers on offense. The Buckeyes only made four of its final 12 shots from the field.
Deshaun Thomas, one of the top scorers in the nation, was blanketed much of the night. He never scored in the closing eight minutes, well before Duke even grabbed the lead. The Blue Devils were fully aware that there was no Jared Sullinger or William Buford on this season's Ohio State team.
"In the second half, they weren't leaving Deshaun," said Matta, about Duke's defensive strategy.
Second, third and sometimes fourth options have been available to the Buckeyes in recent seasons when points were needed. But that luxury does not exist on the current team, at least no yet.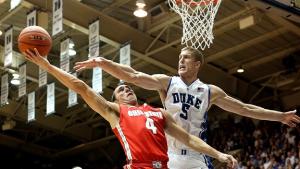 Through the first four games, Craft and fellow guard Lenzelle Smith Jr. were Ohio State's secondary scoring threats. Each was averaging in double figures. On Wednesday, though, they finished a combined 7 of 27 from the field. Craft alone was 3 of 15.
"Aaron had some great looks at the basket," Matta said. "They just didn't go down for him."
Said Craft: "I just missed shots, plain and simple. The majority of my shots were wide open, and I missed them."
He didn't just struggle creating offense for himself. Craft's final assist-to-turnover tally was an abysmal one-to-three. Craft only had three total turnovers in the Buckeyes' first four games. On the defensive end, it can be noted that Craft limited Duke point guard Quinn Cook to a 3 of 10 shooting night, though Cook did dish out eight assists.
Ohio State's bench provided 18 points, a number that sounds good, but consider that it happened over 58 minutes. Six-foot-11 center Amir Williams didn't make a single field goal in 27 minutes and backup point guard Shannon Scott finished just 1 of 8 from the field in 20 minutes.
"You can't be upset with them," Craft said. "It was their first time in a situation like this."
The bench did deliver in the first half, however. Thomas missed the final 10 minutes because of foul trouble, the same factor in Craft missing the final five minutes. Ohio State held seven-point advantages when each exited, and the lead grew to eight by halftime.
"They did a great job in the first half holding it down for us," Craft said. "That's all you can really ask for."
Evan Ravenel, Ohio State's starter in the post, was a perfect 4 of 4 shooting, but he got lost several times in transition defense. He also only had two rebounds compared to Williams' 10. But even as a tandem, Ravenel and Williams still aren't at near the production level the Buckeyes need.
But it was the Buckeyes' leader and floor general who took the brunt of the loss. Craft didn't play well, but even if he had the postgame reaction would have been similar. This has been Craft's team for the better part of three years, and he takes that role seriously.
"You have to be disappointed, especially with the way I played in that situation," Craft said. "I'm one of the guys this team looks up to, and I don't think I lived up to that tonight."
Craft said he holds on to losses – maybe more than he should. But each one is cataloged into his brain, labeled alone in separate categories. One look at Craft on the day after last season's Final Four loss to Kansas told the story. The look on his face spoke of grief.
"Every game I've lost in college, those are in the back of your mind," Craft said.
Saturday's game will be the first for Craft and the Buckeyes in a recovery process that spans 12 games, one for each loss that Ohio State has incurred during Craft's time in Columbus.