The Ohio State 2012 football season is in the books, but that does not mean the Roundtables are through.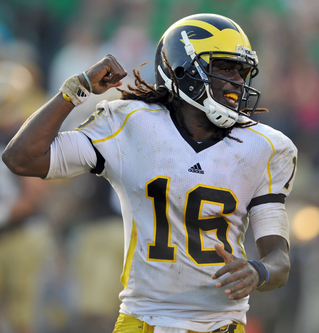 We're back, once again, for another edition of the Eleven Warriors Roundtable, featuring your favorite staff members.
This week, we discuss the ending to the Buckeyes football season, analyze a few of the conference championship matchups, the NCAA and more.
Without further adieu, let's get started.
The Buckeyes made a huge statement and went 12-0 this season. If you could stand in front of the NCAA infractions committee now, what would you say?
Dave: The statement was made with the Buckeyes' wins. In addition, I'd let them know that the two best teams aren't playing for the National Championship.
Sarah: First I'd probably say, "Hey, remember that time you cleared Cam Newton of any wrongdoing? Good times!" and then I'd start speaking their language and point out how much money and ratings an Ohio State-Notre Dame national championship game could've delivered.
Chris: Gents, I know we just met but would you kindly oblige me and find a way unleash the death penalty on Alabama, USC, Maryland's uniforms, Beth Mowins calling OSU games, Notre Dame, Indiana hoops and Ted Valentine. Preciate it. 
Ross: We will happily give you back that Gator Bowl loss...
What about the current trash talk to Michigan fans? What have you been hearing and saying yourself?
Dave: I heard a Michigan fan say that he was satisfied with their football season and their future is bright. Me: sorry bro, Buckeyes are only going to get better.
Sarah: Michigan fans who I know personally haven't said anything to me, probably because they know better than to mess with me. I'd simply tell them that I know the truth: deep down in places they don't talk about, they have to be legitimately worried about the state of the program. 
Sure, Brady Hoke has been a much better fit than his predecessor and he's doing well on the recruiting trail by and large (pun intended), but they couldn't beat good teams this season and they barely even got the win at home over a 6-7 Ohio State last season. It only took Ohio State one year to "be back" while people are still wondering if Michigan is back.
What I've seen the most of, via Twitter or my mom reading me derpy Facebook comments from even derpier Michigan fans, is what we saw on signs made by Duke students on Wednesday night. Free tattoos! Cheaters! Have fun in your bowl game! Such clever, clever hot sports takes from two fan bases we really need moral fortitude lessons from.
Wolverine fans have sure got us on that last one, though. Ohio State, who finished 12-0 and beat their team in a "rebuilding" year, can't go to a bowl game. Oh yeah, and Ohio State also has one of the best coaches in the biz who will be spending the next two months focused solely on recruiting. So Buckeye fans have reason for actual confidence; Michigan fans can enjoy all that overcompensating. 
Ross: I've seen two trains of thought from Michigan fans. There is the delusional side ("we controlled that game and gave it away") and the reasonable side ("our offense was a train wreck and how are we going to be able to run the football going forward without Denard Robinson?"). I think the latter is a much more reasonable interpretation. As I noted this week, OSU outgained Michigan by over 100 yards, and Michigan's stats were inflated by several long gains. The Michigan offense was frankly pretty predictable, and I do not know where any kind of consistent run game is going to come from for them next year.
Chris: I love seeing their fan base shred Borges for the elementary playcalling. When they aren't doing that, they are justifying Hoke trying to get Gardner a redshirt from some bee sting he suffered a few years back. As for me, I haven't been saying anything. I just watch the replay once every few days and cackle to myself. 
What are your thoughts on the recent All-Big Ten teams? Talk about snubs and who you think deserved to be where?
Sarah: No matter what the award, there always seem to be head scratchers due to variables like behind-the-scenes politics and lazy voting. I mean, these teams were announced on Monday, and the B1G season ended just two days before.
Still, I'm not sure how the coaches can completely overlook Ohio State's offense or Ryan Shazier. Both Braxton and Shazier should have been on the coaches' first team like they were for the media. The offensive linemen, who helped pave the way for the nation's 10th-ranked rushing offense, should've gotten more recognition, too.
Whether other coaches were being even a little bit spiteful or not, I have to think they inadvertently helped out Ohio State. This week, Urban mentioned he didn't want a complacent team next year and would do whatever he needed to motivate them. So if he uses tactics like telling Braxton, "These other coaches don't think you're a real QB", then it might benefit Ohio State in the long run and once again, we can thank the incompetency of B1G coaches.
There's certainly an argument to be made about Urban getting snubbed for Coach of the Year. It's been discussed enough, but is heartening that several players took umbrage with it on Twitter and shows just how much they've bought into his system.
Chris: Roby deserved whatever the hyphenated name is for the DB of the Year trophy. I assume it's the Winfield-Jenkins-Springs-Tatum-Doss award. Anyway, Micah Hyde over Roby? That's rich. 
Dave: How can Braxton not be first team for both the media and the coaches, but win the QB of the Year and be a Heisman contender? They've got to please everyone apparently.
Ross: I've long thought that all-conference teams generally in no way reflect who are the best players in the conference. When in doubt they always give it to the upper classman, and they want to make sure every team is represented. So OSU had a lot of snubs, particularly on the coaches side. I think that Andrew Norwell, Jack Mewhort, Corey Brown and Ryan Shazier should be on any all-Big Ten team. But this principle applies beyond OSU. For instance, Michigan put Patrick Omaheh on the first team but not Jake Ryan. The fact that Omaheh made it but Ryan didn't is pretty laughable.
Fill in the blank: Notre Dame and ___________ will be playing for the BCS National Championship. 
Sarah: It'll be Alabama and having to decide who you'd rather win will be like a Marry, Boff, Kill version with Bret Bielema, Brady Hoke and Charlie Weis as the choices. It'll basically be the most insufferable national championship game ever and no matter who wins, that team's fans will claim their victory was the result of divine will. 
Chris: Some other team I hate which I believe will be Alabama. Figures. Once again I'll be rooting for a meteor in the MNC game. Sweet. 
Dave: Alabama. Alabama will probably win the title, too.
Fact or Fiction: Ohio State would beat Notre Dame in the BCS title game. Why?
Dave: Fact-ish. In reality, Notre Dame would win five and the Buckeyes would win five out of ten games. That's just my opinion. Notre Dame finds ways to win close games, just like the Buckeyes.
Sarah: I'll say fact. On paper, it seems like a fairly even matchup that could go either way, but I would also like Ohio State's chances after a little time off to get healthy again and more team practices to keep getting better. And while Brian Kelly could probably beat Urban in a rage competition, I'd put my money on the guy who's coached two national championship teams and is 4-0 in BCS games.
Chris: Fact. But my therapist told me not to think about it so I can't offer a why. 
Ross: They certainly could. OSU has improved throughout the season. No reason to think they wouldn't through bowl practice. Plus, no one would pick the Buckeyes to win, giving OSU a chip on their shoulder. And they would have the better coach and the best playmaker in the game, in Urban Meyer and Braxton Miller.
Who wins the B1G Conference Championship Game between Wisconsin and Nebraska?
Dave: I can totally see Wisconsin pulling a win out of their behinds. Nebraska is the better team and has legitimately won their division, but this is the situation where Wisconsin gets lucky and pulls it out. Then, they'll embarrass the conference and get throttles by Stanford in the Rose Bowl.
Sarah: Nebraska's the better team, but it took a big comeback for them to beat Wisconsin earlier this season, so who knows. Even though I'd rather Nebraska win, I don't care all that much, especially since I can feel smug knowing the champion will only be a champion by default.
Honestly, though, what I'll think most about during the game is planning my bromance screenplay centered around Pelini and Bielema. This is what the latter said this week: "At Big Ten meetings, I find myself sitting next to Bo. We always share the same kinds of thoughts."
There's so much gold to be mined from just those two sentences. NO ONE STEAL MY IDEA.
Chris: Nebraska. Wait, is that the team Ohio State scored nine touchdowns against? Yes? Okay, I'll take Nebraska. 
Rank your top 5 for next season.
Dave: 1. Alabama 2. Ohio State 3. Georgia 4. Florida 5. Notre Dame
Sarah: If it were up to me, there'd be no preseason poll. Alas, the powers that be never consult me on these matters, so take three SEC teams (probably Alabama, Georgia, Florida), Oregon and of course Ohio State, and put them in some sort of order that won't resemble what the poll will look like in November.
Chris: 1. Ohio State 2. Alabama 3. Florida 4. Oregon 5. Rutgers
Talk about Buckeye basketball's game vs. Duke. What did we learn from that game? Are the Buckeyes a national title contender?
Sarah: I didn't have very high hopes going into the game, and even at halftime, I got the sense that we had another '06 UNC game on our hands. Despite the loss, though, it went better than I expected it to. They were rebounding well and for the most part taking care of the ball; had the Buckeyes not been so completely frigid with their shots, they would have won that game. It was frustrating in that sense, but it's also a November game on the road to the second-ranked team in the country, so I wasn't too upset...except for the lameness of those trash talk signs.
Overall, the game summed up the team. The talent is there, even if it might take a little patience for them to really start meshing and for a reliable offensive threat outside of Deshaun to emerge. If they can find that consistency, then by March they should be a contender and not a Terry Malloy-style bum.
Chris: I think they have the potential to be a title contender but as I've said all along, it's going to be a process, not only for the players, most of which are being asked to take on significantly more expansive, but also the coaches who really have a lot of guys to mold in prep for March. As such, the loss didn't really bother me. There were some positives to take away but also some issues. The same issues we knew about really.
This team needs more offense. The fact that the Dookies took away the pick and pop is legit and all but that doesn't excuse Thad for not running any other sets to get Deshaun touches. At the same time, Deshaun was forcing stuff at times trying to make up for lost minutes and Craft did have great looks – he just kept missing. That's going to happen for both Craft and Smith Jr. as they try to supplement Deshaun's scoring.
It's early. I'm not worried. Amir's showing some life though still raw. Thad finally realizes, I think, that he has to be willing to go to Ross when offensive punch is needed. And they lost to a team that has now won what, 97 games in a row against non-con foes? The Buckeyes just need to keep gaining experience and working on their new roles. 
Ross: Hard to complain about a close loss on the road to the No. 2 team. But I think Thad needs to figure out his rotation. He is going to have to play LaQuinton Ross more because they simply do not have enough offense without him. Also they need to make more of an effort to get Thomas his touches.
Dave: Although the Buckeyes didn't pull out the victory, they showed that they are an elite team and a contender. They can compete with anyone. Duke may not have had their best game, but the Blue Devils are many analysts' number one.