It's been 38 years since a team on probation won the national championship. And that streak appears well on its way to stretching to 39 years, according to several Associated Press voters Eleven Warriors spoke to.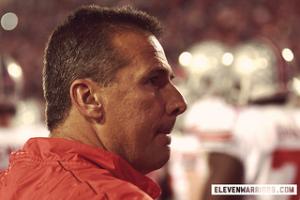 Most seasons, an undefeated record would ensure being included in the national championship discussion. Ohio State's past history is proof. Saturday's win over Michigan marked just the sixth perfect season in program history – 2012 joins 2002, 1968, 1954, 1944 and 1916. In three of those seasons – '02, '68 and '54 – the Buckeyes won the national championship.
With only one other unbeaten team – No. 1 Notre Dame – their chances would be appear to be increased. But the Buckeyes, ranked fourth in the AP poll, aren't even in the same stratosphere.
Notre Dame will play either one-loss Alabama or one-loss Georgia in the national championship game. And should Notre Dame lose, Alabama or Georgia is a near lock at claiming the AP title despite Ohio State's unblemished record.
"Whoever wins the national title game is going to have a win that's too impressive to ignore," Mike Hlas, sports columnist at the Cedar Rapids Gazette, said.
"(Ohio State's) schedule isn't strong enough to warrant (a national championship). In a different year, yes. But they haven't beaten a team that's in the top 10. I thought they played a very weak non-conference schedule. The number of escapes they had probably didn't help either."
Hlas had Ohio State slotted No. 2 on his ballot, but dropped the Buckeyes to fifth, even after a win over then-No. 20 Michigan.
"Saturday, my eyeball test told me they're not Alabama," he said. "They're probably not one of the five best SEC teams." 
There have been four split national championships since 1990, with the last coming in 2003. LSU claimed the coaches' poll and USC was voted No. 1 by the AP. Each team suffered one loss during the season, but the Trojans were shut out of the BCS championship game despite being the top-ranked team in both polls. LSU beat Oklahoma in the Sugar Bowl, designated as the championship game, and automatically won the crystal football awarded by the coaches.
The group of coaches who vote in the coaches' poll are contractually obligated to vote for the winner of the BCS championship game No. 1 on their final ballots. In 2003, however, three coaches voted for USC.
Following the 2003 season, the AP removed its poll from the BCS formula.
In 2004, Auburn was shut out of the national championship game after an undefeated season in the vaunted SEC. USC and Oklahoma, also both undefeated, played for the national championship. But a 55-19 USC win avoided another split title.
That same season a young Ohio-born head coach was busy performing a college football miracle thousands of miles from home. In Salt Lake City, Urban Meyer, in his second season guiding the Utah Utes, led his unheralded Mountain West bunch to a 13-0 record with wins over Texas A&M and Arizona in the regular season and Pittsburgh in the Fiesta Bowl.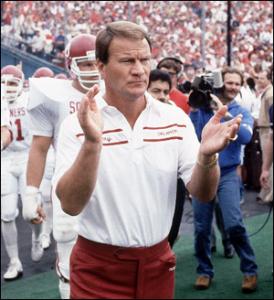 Still, a weak schedule – and USC's impressive play – was Utah's downfall. The Mountain West was still years away from earning respect.
The 1974 Oklahoma Sooners were the last – and only – team to win the title while on probation. Voters certainly had no issues placing the Sooners first considering they were preseason No. 1. But the 1993 Auburn Tigers experienced strong pushback when they completed an unbeaten season while on probation after years of rampant cheating. Auburn was No. 4 in the final poll. Whether there's a built-in vendetta against the Buckeyes or not remains murky.
Ohio State's bowl ban hasn't swayed Hlas and Cecil Hurt's voting philosophies. But they believe overall, it has had a cumulative effect on the 60 poll voters.
"I think there has been (bias) in the polling all year," Hlas said. "In any normal year, if Ohio State was unbeaten, it would be ranked higher than it's been."
"If you're not going to vote for them because of the probation, you have to start at the first of the year and not put them in the top 25," Hurt, an AP poll voter and Tuscaloosa News sports editor, said. "You're just playing a silly game if you say you're not going to vote them high because they're on probation.
"But what the probation does do is prevent them from having postseason opportunities to move up. You can't just assume they'd win their two extra games because they won their first 12."
Oklahoma played in a competitive Big Eight Conference in '74, defeating the No. 17 and 6 teams in the country.
Ohio State was only ranked 18th when the season started and stumbled against inferior non-conference teams, winning by close margins. Another roadblock was the weak Big Ten. Ohio State beat three ranked teams, but none were ranked higher than 20th at the time the Buckeyes won.
That hasn't stopped Meyer from espousing the belief in his team.
"I really believe we can play with any team in the country," he said. "That's all I can tell you." 
The Sooners could too, running roughshod over the competition and scoring 43 points per game.
"I don't think it's a vintage year in the Big Ten," Hurt said. "It's a great accomplishment to go undefeated, but I don't think it's the best year the Big Ten has had.
"I saw Alabama-Michigan, which wasn't close, and I saw Ohio State-Michigan, which was close."
But blowouts and wins over marquee opponents weren't the only factor in Oklahoma securing the top spot. The Sooners also were the lone undefeated team after Alabama lost to Notre Dame in the Orange Bowl.
An Irish loss this season would mean the Buckeyes are the only undefeated team. But the days of being undefeated signaling superiority have long since passed. Or have they?
"Notre Dame is a unanimous No. 1, and it's because they're undefeated," Hurt said. "I don't think there's any question about that. I don't think all 60 voters think that on a neutral field Notre Dame could beat Florida, Georgia or Alabama."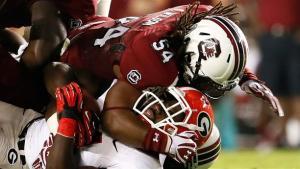 So, in what scenario could Ohio State end up No. 1? Well, if you're Chadd Cripe, the Boise State beat writer for the Idaho Statesman, there is none.
"If Notre Dame wins, Ohio State shouldn't get any No. 1 votes," said Cripe, who voted the Buckeyes fifth on his latest ballot. "The Irish would have wins over the SEC champion, likely the Pac-12 champion (Stanford) and likely the Big 12 runner-up (Oklahoma)."
Not many would argue if it plays out that way. Notre Dame, while it hasn't won impressively every week, did still win all of its games and would add another high-level victory to its resume were it to win in Miami.
But Ohio State fans would find it tough to swallow if another SEC team was crowned champion, especially if that team has a loss. Cripe, however, says Alabama's win over Notre Dame, LSU and Georgia or Georgia's wins over Notre Dame, Alabama and Florida are too much to ignore.
"Ohio State can't compete with that," he said. "While the contrarian in me might be tempted to vote for a split title, the Buckeyes' resume isn't strong enough to support going that direction."
Should that second situation play out, though, Hurt believes the Buckeyes could garner some first-place votes, just probably not enough to win the national championship.
"We'll see what happens in the bowl games," Hurt said. "I'm not going to say it's absolutely impossible. If Alabama-Georgia isn't a particularly good game and one of them beats Notre Dame in another not particularly good game, you reevaluate. But right now it would be hard for me to say Ohio State is better than those teams."
Buckeye Nation's best hope is for Georgia to win two sloppy games. The Bulldogs' 35-7 loss to South Carolina is the elephant in the room, not Alabama's mascot. 
While strength of schedule didn't help Ohio State's matters, if it were eligible for the postseason, it would have two games left to impress voters. And if it won the first – the Big Ten Championship Game versus Nebraska – it would likely be playing Notre Dame for the national championship.
"It's unfortunate they don't get a chance to play those games," Hurt said.
"If you aren't playing (the week of the championship game), you really get lost in all the hype and hours and hours of ESPN coverage. It all goes to the teams that are playing. It's everyone saying, this game is for the national championship. It's like being a third-party presidential candidate."
But the Buckeyes' fate was known before the season, and the coaches and team has been resigned to that.
"If everything falls into place and we're AP national champions that's great," senior right tackle Reid Fragel said. "That's icing on the cake."