October was a trying time for the Fickell household. Luke, Ohio State's defensive coordinator, was in charge of a unit that gave up 87 points in back-to-back games against Nebraska and Indiana. Meanwhile, his wife, Amy, was wrongly accused of playing a role in the firing of a local pizza delivery boy.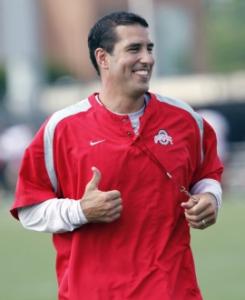 It was the hardships that made the second half of Saturday's 26-21 victory over Michigan so sweet. The final 30 minutes acted as a celebration, with the Buckeye defense completely shutting down a Michigan offense that had them backpedaling in the first half.
"Tough times bring out the best in real competitors," said Fickell, reflecting on the past six games. "You can say that about players and you can say that about coaches. I think we did a great job of coming together and hashing things out and being successful. In the end, it's not about where you start, it's where you finish."
Ohio State finished undefeated, only the sixth perfect season in the program's proud history, thanks in large part to the defensive effort of the season.
The Wolverines led, 21-20, at halftime, but failed to score any points in the second half against an Ohio State defense that was missing Big Ten defensive player of the year John Simon, its 'heart and soul.' Not only that, but Michigan never crossed midfield and was limited to just 60 total yards and four first downs on 21 plays.
Dynamic quarterback-turned-running back Denard Robinson gashed the Silver Bullets for 124 yards, including a 67-yard touchdown run, in the first half alone. But after the break, things changed dramatically for Michigan.
"We challenged them at halftime," Fickell said. "All year, our thing was not to give up big plays, and that's what we did in the first half. We were able to make adjustments and settle in. I thought we played one of our best games defensively in the second half."
Meyer's message to his defensive staff at halftime was to stop the quarterback run. 
Robinson was limited to minus-2 rushing yards in the second half. The Wolverines, excluding Robinson, had minus-14 rushing yards for the game as team. Ohio State also created three of Michigan's four turnovers in the second half. The backbreaker came with under five minutes left when CJ Barnett intercepted quarterback Devin Gardner. From there, Ohio State ran out the clock.
"That's the name of the game," Fickell said. "They can move the ball, and they can create some big plays, but the only equalizer is turnovers.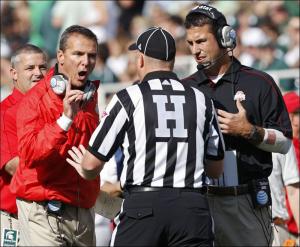 "We couldn't panic. We couldn't change up exactly everything we were doing just because of the fact that they had two big plays. So we just went back to the basics and made sure guys knew what they were going to get."
The Indiana game was the low point for the Buckeyes and their defensive staff. The Hoosiers' 49 points were the most Ohio State had ever given up in a win. The following week, Purdue scored on the first play of the game.
Ohio State only allowed one more offensive touchdown against the Boilermakers, and the next week at Penn State, the Silver Bullets finally started taking form. The Buckeyes didn't allow an offensive touchdown until the fourth quarter and Penn State was held to just 32 yards rushing.
It was the finest defensive performance for Ohio State since the last week of September, when it limited Michigan State running back Le'Veon Bell to 45 yards rushing and zero touchdowns.
Meyer admitted on Monday that he was concerned about the direction of the defensive unit at the midway point of the season. Ohio State was undefeated, but it was winning unspectacularly and with a bend-but-don't-break defense.
"I did have the same concerns that probably every person in America had in watching our defense play," Meyer said. "You can see the steady growth of our defensive staff. I don't want to use the word phenomenal, but I felt the comfort level between Everett Withers and – Mike Vrabel's never coached D-line before, and it really showed his experience as that group developed."
The growth of the entire defense was most evident during the biggest half of the season. And while Everett Withers, Kerry Coombs and Vrabel are amoing the four defensive coaches, Fickell deserves most of the credit for the six-game turnaround following the debacle in Bloomington. After giving up 10 touchdowns in consecutive games, the Buckeyes only allowed 10 over the past five games.
"I've been blessed to be a part of couple of championship teams, and the common denominator is not rushing yardage, passing yardage, blocked punts, whatever it is, it's great defense. And I'd say at this point in time Ohio State could go play with anybody in America."
Coinciding with the Buckeyes' buckling down on the defensive side of the ball was fullback Zach Boren's move to linebacker. Acts such as that were a big contributor in Ohio State's 12-0 season.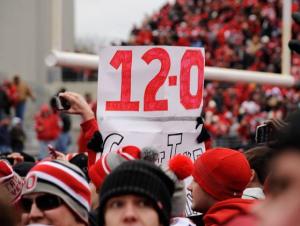 "The great thing about this entire season is that I'm not sure that we've had a greater team season," Fickell said. "Not one side is stellar every time. I haven't been doing this a whole long time, but I can't remember one that was a greater team season. There was somebody else every time, and I'm not just saying that because it's right now. This team is unbelievable."
Fickell's emotions a year ago were dramatically different. He sat in a tiny room in Michigan Stadium with tears in his eyes after Ohio State had lost to the Maize and Blue for the first time in seven years.
The inevitable was coming, and Fickell knew it. His one-year interim tenure as Ohio State's head coach was going to end soon, with Meyer's hiring on the horizon. But Meyer's first action as head coach last November was, along with his wife, Shelley, meeting with Luke and Amy. The gathering lasted four hours.
"I wanted to do the due process and due diligence," Meyer said at his introductory press conference. "I asked him to come back and have coffee with me 7 a.m.
"Shelley and I prayed about it. We talked about it. We took our time. Next morning, we woke up. I looked at her again. She's a better judge of talent than I am. And there's no doubt I wanted him to be a part of this team. He was very open and shook my hand, a big smile on his face, and we called Miss Amy and she was great. It was a very good moment for Ohio State."
Nearly 365 days later, Fickell's smile may have been the brightest in the room, following the Buckeyes' win over their archrival.
"It's been a real growing, humbling experience," Fickell said. "I don't know that I'd be the same person if I didn't go through it – last year and this year. But it's still coaching, and it's amazing to think that sometimes you think you're teaching these guys something and they're teaching you so much."
In November 2011, Meyer commended Fickell for how he handled an almost unwinnable situation during that same season.
"I have great respect (for Fickell)," Meyer said. "I know what kind of guy he is. He's an Ohio guy, a Buckeye. 
"Obviously, he's everything that you hope for in a former Ohio State player."