John Simon walked slowly to midfield. It was Senior Day in Ohio Stadium, and the Buckeyes' heart and soul, as Simon is often referred, was ready for his final act.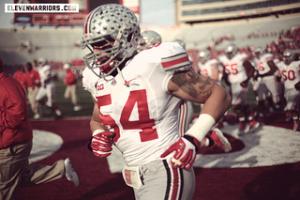 But a serious knee injury suffered the previous week ended the captain's career prematurely. Simon finished with a school record-tying four sacks at Wisconsin. He rehabbed throughout the week, but his knee never recovered to the level at which he could play.
Ohio State completed its perfect season without him, knocking off Michigan, 26-21. But many shared the heartbreaking circumstances with Simon.
When Urban Meyer was hired at Ohio State, he quickly grew to admire Simon for his tenacity and work ethic. In the spring, Meyer famously said Simon was "Tebowish," evoking former Florida quarterback Tim Tebow.
On Saturday, though, Meyer met Simon near midfield and shared a somber embrace with the injured Buckeye.
"Words can't describe the leadership that guy has," senior defensive end Nathan Williams said.
It was evident on Saturday, when Simon poked his head into the defensive huddle on several occasions, exhorting them to punish the Michigan offense.
Simon's legend grew even more after the California game – a 35-28 Ohio State win – when he played the entire game with an injured shoulder. Simon was virtually limited to only using one arm, but he still harassed Cal quarterback Zach Maynard throughout the game.
In the locker room following the Cal win, Simon delivered a postgame speech that included tears flowing down his cheeks. It impacted the team and coaching staff greatly, leading them to question what they, themselves, had done to contribute to the team.
Michael Bennett, who has also battled injuries, started in Simon's place Saturday and had a couple missed tackles on big gains by Michigan. The sophomore settled down, though, and finished with a sack and a forced fumble.
True freshmen Adolphus Washington and Noah Spence also received time because of Simon's absence. Washington forced Michigan's first fumble, while Spence was flagged for a roughing the passer penalty that extended a Michigan drive in the second quarter that ultimately ended with a touchdown.
"The names (Washington and Spence) are not overrated," Meyer said. "They're going to be great players here. They're going to be great players here, and I appreciate the effort. On top of it, wonderful people."
Said Washington: "We worked hard. Knowing that I was his backup, I thought I had to live up to his standards and play my hardest."
While Simon will be missed, it's the entire senior class that was able to grow close and share a special bond with Meyer.
"It's almost like you're losing some of your children when they go away to college," he said of the departing seniors. "Our house is going to be empty. When we have our team meeting on Tuesday, we start a new journey. The foundation's really, really strong. It couldn't be stronger because of our senior class. That's all I can think about.
"I want to make sure they're properly recognized as one of the great groups of seniors in the history of this program. Maybe we'll get 19 bronze statues somewhere."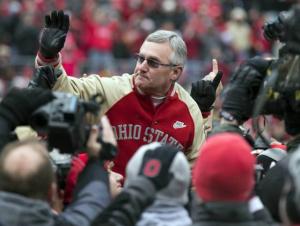 The Triumphant Return
The banks of the Olentangy were rumbling much of the afternoon. But even in victory, perhaps the loudest ovation of the day was reserved for a former head coach who is responsible for Ohio State's postseason ban.
Jim Tressel made his first appearance in Ohio Stadium since he was dismissed on Memorial Day 2010. Between the first and second quarter, the 2002 national championship team was honored to celebrate its 10-year anniversary.
"I am looking forward to seeing Coach Tressel," senior right tackle Reid Fragel said earlier in the week. "He's a great person who I admire very much. I don't really think it will be awkward. I think everybody is kind of looking forward to seeing him since we haven't really seen him in a while.
"I don't think there's any bad blood with him and the guys on this team at this point. What's done is done, it happened, and I think everybody has kind of moved on. Not really thinking about the ban situation or anything like that, just looking forward to seeing him."
The team has a special place in Ohio State history, winning the football program's seventh and most recent national championship. And they did it in exciting fashion, winning seven of its 14 games by a touchdown or less and two in overtime.
The Fiesta Bowl win over Miami in double overtime is still considered to be one of the greatest games of all time.
As they took the field, the crowd came to its feet to offer a thunderous applause. But the decibel level was raised more when Tressel was lifted up on the shoulders of his former players.
Complete Game Coverage
"I just think it's a blessing to have Coach Meyer and Coach Tressel be there on my Senior Day," senior safety Orhian Johnson said on Monday. "I couldn't really have it any other way. Having those 2002 guys coming out there on the field, I think it'll be a real blessing for me."
Also present was former running back Maurice Clarett, who has had a checkered past with the university. Clarett spent one season at Ohio State, before his career took a right turn after he filed a false police report. He was suspended for the 2003 season and then accused the university of several NCAA violations. He was eventually drafted by the Denver Broncos.
Clarett served time in prison, but has become a model citizen since his release.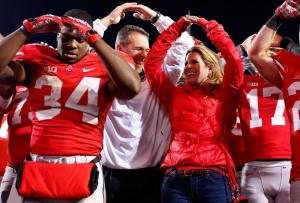 The First Time is the Best Time
Urban Meyer was emotional Friday afternoon talking about his first Michigan game, and that same emotion showed up in the final minutes Saturday as Ohio State had the game in hand.
With his family at his side – wife Shelley, daughters Nicki and Gigi and son Nate – Meyer realized a moment like this is why he returned to coaching.
"Very emotional time," Meyer said. "Obviously, this is the state I grew up in, the state that I made a comment in last November that our objective was to make the great state of Ohio proud. I imagine tonight there are a lot of people in this great state very proud of their football team.
"But to be 12-0, it really hasn't sunk in yet."
The accomplishment is somewhat bittersweet for Meyer and the Buckeyes. When the clock hit 0:00, it not only assured a victory over Michigan - it also signified the end of the season. Instead of preparing for the Big Ten championship game and a possible Rose Bowl or national title game berth, Ohio State is forced to watch the season play out from the sideline.
It is the second time Meyer has coached a team to an undefeated season. The first came in 2004 at Utah. Barring several unexpected losses, Ohio State's fate will be the same as Utah's – no national championship. Ironically, each of the Florida teams that won national championships under Meyer had one loss. 
"The quote I'd like out there is I think this team could play and compete with any team in the United States of America as of now," Meyer said. "I didn't say that several weeks ago because we couldn't. I understand, but I'm not going to get into the what ifs. You can't control what you can't control.
"We're 12-0. I'm going to see to it that when you walk into that Woody Hayes facility this team will never be forgotten, because they deserve that."