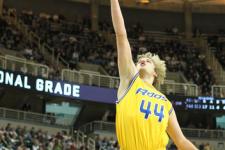 Last week, Thad Matta and Lenzelle Smith Jr. talked about Ohio State needing to find its identity. Over the weekend, the Buckeyes brought home the championship trophy from the Hall of Fame Tip-Off Classic, but the Buckeyes still weren't able to figure out exactly what this year's squad is all about.
"We all figured it out together as a team," junior forward Deshaun Thomas, the tournament MVP, said.
Ohio State only has one freshman, but a majority of the team has not played crucial minutes in big games. Evan Ravenel is the team's lone senior, but the Boston College transfer spent a year backing up Jared Sullinger before he entered the starting lineup this season.
Juniors Aaron Craft, Thomas and Smith are the team's most experienced players.
"This year we have so many returning guys, but they're returning role guys and there are voids that need to be filled," Ravenel said.
In the first three games of the season, the Buckeyes have leaned on the scoring of Thomas and Craft. Smith was averaging over 16 points a game until he scored zero against Washington. It's not inconsistency that makes Smith a bit of an enigma. He had the same sporadic scoring outputs last year.
"It's all a new feel for us right now," Smith said. "I feel after a few games in and everyone gets settled down, we'll be off on a good foot."
Ohio State will have another opportunity to get off on that right foot tonight when they host Missouri-Kansas City. It should give Matta and the Buckeyes a chance to become better acclimated with their rotation.
"If you think back two years ago, I don't think we lost until February," said Matta, about the Buckeyes' 24-0 start in 2010-11. "But there was a lot of experience on that floor for us, so we could make some mistakes and know how to cover up from them. Right now, teams are in the mode of making a mistake and they don't know what to do."
| # | Name | YR | HT/WT | PTS | REB | ASST | P | # | Name | YR | HT/WT | PTS | REB | ASST |
| --- | --- | --- | --- | --- | --- | --- | --- | --- | --- | --- | --- | --- | --- | --- |
| 4 | A. Craft | JR | 6-2/195 | 17.0 | 2.0 | 5.0 | G | 11 | E. Tyler | SO | 6-1/175 | 11.8 | 3.0 | 4.8 |
| 32 | L. Smith Jr. | JR | 6-4/210 | 11.0 | 5.0 | 2.0 | G | 0 | N. Rogers | JR | 6-1/195 | 4.8 | 2.3 | 0.8 |
| 12 | S. Thompson | SO | 6-7/200 | 4.0 | 5.0 | 2.0 | F | 23 | T. Hall | JR | 6-7/210 | 6.0 | 3.0 | 1.0 |
| 1 | D. Thomas | JR | 6-7/215 | 25.0 | 7.0 | 1.7 | F | 21 | F.  Chatmon | JR | 6-9/230 | 5.5 | 6.8 | 0.0 |
| 30 | E. Ravenel | SR | 6-8/250 | 4.7 | 4.3 | 0.3 | F | 44 | K. Korver | JR | 6-7/220 | 12.3 | 3.0 | 0.5 |
Opponent
The Missouri-Kansas City Kangaroos are coming off a 10-21 season and sit at 2-2 through four games of the 2012-13 campaign. UMKC returns four starters but doesn't figure to be a contender in the Summit League.
Junior forward Trinity Hall is the most productive of the returnees, having averaged 10 points and four rebounds per game a season ago. Junior forward Kirk Korver has paced the 'Roos this season, averaging 12.3 points per game. Fred Chatmon, also a junior forward, is the team's leading rebounder with nearly seven per game.
The biggest hole on UMKC is the absence of leading scorer Reggie Chamberlain, who averaged more than 17 points per game last season. He graduated as the school's all-time three-point and free-throw shooter.
"Reggie was obviously a great shooter, and it will be difficult to replace a guy like that." UMKC head coach Matt Brown said. "The good news is I think we will be much more balanced this year. On any given night, we could have four to five guys in double figures."
UMKC brought in a five-man recruiting class. But it's the veterans that will be the focal point. Chatmon, Korver, Brad Reid and Nate Rogers are all key for rebounding and defense, two areas that were lacking last year.
"Defensively we want to be better and be able to get key stops." Brown said. "Rebounding is something we really needed to improve upon as well."
Point guard Estan Tyler is coming off a productive freshman season, and his first four games this year have been even better. Tyler is a distributor of the basketball, averaging almost five assists per game, but he is also scoring 12 points, up from five last year.
Hall and Rogers are solid supplemental pieces, but Korver and Chatmon are the meat and potatoes. Korver had to play out of position some last year, but he was able to develop an outside game that cold pose matchup problems for bulkier players trying to guard him.
"The biggest change here is being able to move Kirk to his natural position at forward." Brown said. "He will be much more effective in that role."
Chatmon, meanwhile, is playing more minutes than he has in his career due to chronic injuries. He has been a rebounding force, while Ohio State has struggled on the boards. Like the Buckeyes, the 'Roos have a game plan of getting out in transition and moving the ball quickly down court.
"We will be able to play faster with more opportunities in transition." Brown said, "We will also be able to get the ball inside a lot more now that we have the pieces to do so."
Buckeye Breakdown
In Ohio State's first two games, the Walsh exhibition included, Ravenel and Amir Williams left a lot to be desired on the glass. They rebounded – pun intended – last weekend in Connecticut. But that doesn't mean Matta's Buckeyes are anywhere near the level of production needed to truly be a top-five team.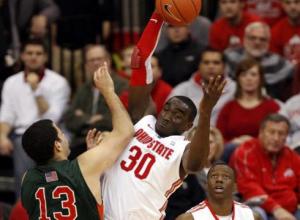 The past two seasons, Ohio State had Jared Sullinger and his paint prowess. Over his 74-game career, Sullinger averaged 17.3 points per game and 9.7 rebounds. Through four games this season, Ravenel and Williams have combined to average 7.4 points and 6.6 rebounds.
"Being an aggressive post presence is a scary thing," Ravenel said. "If you can come out in the first minute and you're the more aggressive one, no one wants to go against an overly aggressive guy for 40 minutes in a basketball game."
Rebounding and shot-blocking can improve. Both players, especially Williams with shot-blocking, have showed promise throughout their careers. But the lack of low-post scoring could be Ohio State's undoing.
The duo has only attempted 14 shots.
With Thomas and Craft as the clear – and only – offensive threats (so far), an off night by either could spell disaster for Ohio State. Ravenel and Williams' skill set is closely lined to what the Buckeyes want to accomplish on offense: rebound and run in transition.
"The personnel we have on this team and the athleticism we possess, it doesn't mean anything if we can't rebound the basketball," Ravenel said. "First, we've got to secure it and then we can run."
Etc
Kirk Korver is the brother of Kyle Korver.
Deshaun Thomas is 28 points shy of 1,000 points for his career.
This is Ohio State and Missouri-Kansas City's first meeting.
Fred Chatmon is a native of Cleveland and graduate of Garfield Heights.
Wayne Larivee, Shon Morris and Katie Withem have the call on Big Ten Network.
Ohio State's senior football players and Urban Meyer will be honored at halftime.