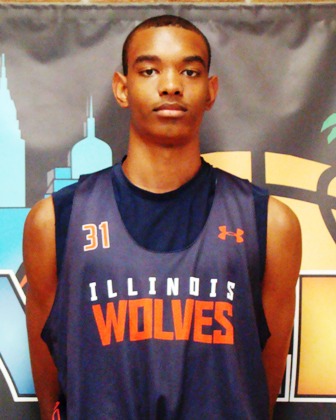 It was very important that Thad Matta and the Buckeye basketball class get off to a quick start on the 2014 class, after what many consider being disappointing classes in 2012, with just one commit, and in 2013, with two verbals so far.
Matta did just that today by getting a verbal pledge from Normal (IL) University SF/PF Keita Bates-Diop.
At 6-7/185, Diop is the first member of the 2014 hoops class, which figures to be an extremely important group for the future of the Ohio State basketball program.
In getting the commitment from Diop, the Buckeyes have established a good base, which will be important in recruiting other 2014 targets such as Tyus Jones, Jahlil Okafor, D'Angelo Russell, Jae'sean Tate, and many others.
Diop was on campus for the Ohio State vs. UCF football game and obviously liked what he saw on campus and in the basketball program as he pulled the trigger on the OSU offer this afternoon, which was a surprise to many.
We caught up with Diop to get the scoop on his commitment to the Buckeyes and much more.
Keep reading to learn more about the newest Buckeye basketball player, Keita Bates-Diop.
Why did you decide to become a Buckeye?
I felt really good about it. I had really good relationships with the coaches, and felt it was the right time, so I committed.
How did your commitment go down?
I called Coach Matta yesterday and told him I was going to be a Buckeye. I told him I was going to make it public today. Today my AAU coach publicly announced it on Twitter.
Which other schools did you consider?
I also considered Michigan, Illinois, Michigan State, Florida, and Purdue.
What do you like most about Ohio State?
The overall atmosphere – it's a great town, a great campus, and will be a great place to play.
What were the biggest factors in your decision?
A lot of little things like my relationships with the coaches, the atmosphere, and the people are great.
Will you be at any games this year?
Yeah, I will definitely be at a couple of games. I'm not sure which ones I'll be attending just yet.
Who was your primary recruiter at Ohio State?
Coach Boals. We have a good, casual relationship, and talk about a lot of things that aren't related to basketball.
How does OSU plan on using you?
Coach Matta told me he sees me playing the 3 position.
Do you have relationships with other top recruits in Illinois (Okafor)?
I talk to a few of them every once in a while, but I don't have a really close relationship with any of them.
How is basketball season going so far?
It's going really well. We've been practicing for a couple of weeks and we have our first game tomorrow.
What is the strongest part of your game?
My versatility. I have good size for my position so I can shoot over people. I'm also a good shooter for my size.
What would you like to say to Buckeye Nation?
I'm just looking forward to getting on campus and becoming part of the team. I'm excited to be a Buckeye.