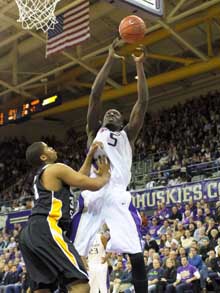 Ohio State will play for a tournament championships today, something that has acted as Final Four springboards in the past for the Buckeyes. The 2012-13 squad has played sloppy in its first two games, but that doesn't mean it won't be humming in March.
Thad Matta has built Ohio State into one of the premier basketball programs in the country. A national championship banner is still missing, but in eight seasons Matta has won numerous Big Ten championships and appeared in two Final Fours.
He's done it by surrounding himself with quality assistant coaches and recruiting top-notch talent. But in recent years, criticism has grown in regards to Matta and the Buckeyes' recruiting philosophy.
After years of landing McDonald's All-Americans, the fans expected it to happen year-in and year-out. Last season, Ohio State only secured the services of Amadeo Della Valle. On Wednesday, Matta inked Marc Loving and Kamren Williams.
All three players are solid in their own right, but they don't elicit the excitement of a Greg Oden or Jared Sullinger. That drumbeat of criticism has grown old with Matta, especially considering the recent success Ohio State has been able to sustain. 
"Look at the last six years," Matta said, "I think we're No. 3 in total wins in college basketball. We're trying to get our fourth straight Big Ten championship and get to our fourth straight Sweet 16."
"We know what we're doing," he said to emphasize his point.
Where most of the angst comes from with Buckeye Nation is getting shut out by several big-name national recruits in the past year. But that's the hand Matta was forced to play as the talent level inside the state was lacking in recent years.
"I'd love to recruit Upper Arlington or whatever is on my way home, but we have to go where the players are," Matta said.
"That's been the hardest part. It's having vision for your program."
The past eight years, that vision has been close to 20-20.
| # | Name | YR | HT/WT | PTS | REB | ASST | P | # | Name | YR | HT/WT | PTS | REB | ASST |
| --- | --- | --- | --- | --- | --- | --- | --- | --- | --- | --- | --- | --- | --- | --- |
| 4 | A. Craft | JR | 6-2/195 | 16.5 | 2.0 | 5.5 | G | 23 | C. Wilcox | JR | 6-5/195 | 14.7 | 5.0 | 1.0 |
| 32 | L. Smith Jr. | JR | 6-4/210 | 16.5 | 4.5 | 1.5 | G | 15 | S. Suggs | SR | 6-6/195 | 10.0 | 2.0 | 1.0 |
| 12 | S. Thompson | SO | 6-7/200 | 4.5 | 5.5 | 1.5 | F | 0 | A. Gaddy | SR | 6-3/195 | 16.3 | 3.0 | 3.3 |
| 1 | D. Thomas | JR | 6-7/215 | 22.0 | 6.5 | 1.0 | F | 33 | J. Jarreau | FR | 6-10/220 | 5.0 | 3.7 | 0.7 |
| 30 | E. Ravenel | SR | 6-8/250 | 1.0 | 4.5 | 0.5 | C | 5 | A. N'Diaye | SR | 7-0/260 | 12.3 | 12.0 | 0.7 |
Opponent
Washington won the Pac-12 last year and just missed a fourth straight trip to the NCAA Tournament. Head coach Lorenzo Romar has built one of the best programs west of the Mississippi in his time in Seattle. But this season's Huskies squad featured a rebuild.
NBA defections have left the Huskies without their top-two scorers from last season's team, and it has shown so far this season. Washington is 2-1, but the lone loss came to UAlbany, 63-62.
The Huskies shot 41.5 percent from the field in the defeat, 25 percent from three-point range and only converted 58 percent of their free throws in the upset.
Four Washington players average double figures scoring with guard Abdul Gaddy leading the charge at more than 16 points per game. C.J. Wilcox is another scoring threat. Wilcox is one of the top three-point shooters in program history and could stretch the Ohio State defense away from the basket.
The part of Washington's game that should give Ohio State the biggest fit is rebounds. The Huskies feature 7-foot center Aziz N'Diaye, who is averaging 12 rebounds per game. He's had two double-doubles already this season.
N'Diaye's production doesn't just come from rebounding, either. He can block shots, and his mere presence and intimidation factor plays into how opponents handle the ball on offense. N'Diaye was named to the Pac-12 All-Defense team a year ago.
Shawn Kemp Jr. was expected to make an impact for the Huskies this season, but a knee injury ended those hopes. But it did thrust freshman Jernard Jarreau into the starting lineup. Jarreau isn't much of an offensive threat, though his 6-foot-10 frame doesn't match up for the Buckeyes when paired with a 7-footer down low.
In its overtime win against Seton Hall on Saturday, Washington was boosted by the performance of Scott Suggs. In the Huskies' loss to UAlbany, he suffered a concussion but showed no ill effects in leading the Huskies to victory with two clutch threes.
Washington has lost six of its past seven non-conference games away from home. Saturday's win broke a five-game losing streak.
Buckeye Breakdown
If the Buckeyes want to advance to a third Final Four under Matta, rebounding will be one of the keys. In the season-opening win over UAlbany, the Buckeyes were outrebounded for large swaths of the game before evening it up at the end, 33-33.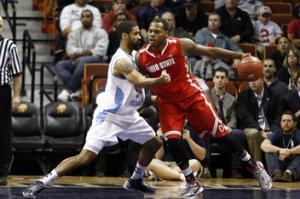 Jared Sullinger made it easy to get rebounds in the post the past two seasons, but Evan Ravenel and Amir Williams have found that task tough in the first two games.
Ravenel and Williams combined for six rebounds against UAlbany and seven against Rhode Island.
"Jared had the ability to box out two or three people at a time," junior guard Lenzelle Smith Jr. said.
Five rebounds led the Buckeyes in the opener, while junior forward Deshaun Thomas' 10 was the team high against Rhode Island. Thomas showed his rebounding prowess last year, especially on the offensive glass. But Ohio State needs rebounds to come from the guys down low.
"It's something we're taking a look at and studying and trying to get a better appreciation for," Matta said. "One of the greatest luxuries of coaching a guy like Jared Sullinger was that every time the opponent shot, I knew he was going to get the rebound if they missed. We've got to get something of that nature back."
Ravenel and Williams are the two that can set the tone for the Buckeyes. They want to get up and down the court as quickly as possible, but if they are outrebounded at the other end of the floor, an up-tempo offense predicated on easy baskets in transition wouldn't be coming.
On Sunday, the Buckeyes will have to deal with a 7-foot center on Washington.
"Rebounding is our biggest concern," Ravenel said. "We've got to find a way to rebound the ball. We can't just depend on one person to grab 10 or 15 rebounds. It's got to be all of us. We've got to gang-rebound because that's just the team we are."
One person securing 10 rebounds a game might be unrealistic on the current team, but exerting effort is another. Ravenel alluded to the Buckeyes' desire to want to play offense more than defense before the Rhode Island. LaQuinton Ross and Thomas, who's improved on his defense, don't always concentrate on that end of the floor like the other.
"It's a hustle thing," Ravenel said, "We've got to pick it up and take it to another level."
N'Diaye should be a good barometer.
Etc
This is the championship of the Hall of Game Tip-Off Classic.