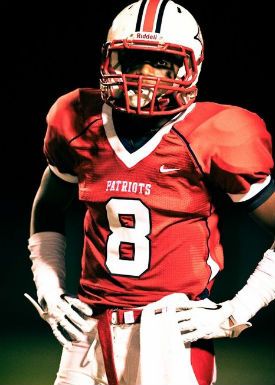 It's not hard to notice the Buckeyes are in need of playmakers at the wide receiver position.
The staff is out on the recruiting trail trying to bring offensive weapons to Columbus for the class of 2013 in the form of James Quick, Shelton Gibson, MarQuez North, and other top prospects at the position.
While the class of 2013 is expected to finish strong when it comes to receivers, the 2014 class is loaded at the position and one of the country's best was recently offered by Ohio State: Tyrone (GA) Sandy Creek's Demarre Kitt, a recent Georgia de-commit.
At 6-1/180, Kitt boasts offers from some of the top colleges in the country including Alabama, Auburn, Arkansas, Clemson, Florida, Georgia, Miami, Ohio State, USC, and many others. He is rated as a consensus four-star prospect and had a 247 composite ranking as the seventh best wide receiver in the country and 91st best player overall.
Alex spoke to Kitt earlier this year when he took a visit to Ohio State and enjoyed his time on campus despite most of the Buckeye coaches being on vacation. Now with an offer in hand, he is looking to make a return visit to Columbus in 2013, naming the Bucks among his top five along with Georgia, USC, Clemson, and Florida.
We caught up with Kitt to get the scoop on his offer from the Buckeyes, why he's interested in Ohio State, what will factor into his decision and more.
Keep reading to find out more about one of the country's fastest rising prospects in the class of 2014, WR Demarre Kitt.
You were just offered by Ohio State. How did that go down?
I called them about two weeks ago because I was interested in the program. They told me they would get back to me on [last] Tuesday. I talked to them on Tuesday and they offered me on the phone.
Who offered you? Who is your primary recruiter at Ohio State?
Coach Withers offered me. He's going to be my primary recruiter. We're just starting to build a relationship.
Why are you interested in Ohio State?
Just the history and tradition of the school and the way Coach Meyer coaches. Those are a few of the things that really matter to me.
Do you think you'll visit OSU in the near future?
I'm probably going to get out there for a visit sometime this spring.
What would you like to see on your future visits to Columbus?
I want to see the game atmosphere, the family type environment, and get to talk with the coaches.
Which schools are standing out?
My top schools are Ohio State, USC, Clemson, Florida, Florida State, and Auburn. Georgia is not completely out of the picture either.
When would you like to make a decision?
Probably at the Army All-American Bowl [January 2014] next year.
What will be the biggest factors in your decision?
The coaching, the type of offense the team runs, and the relationships with the coaches.
Describe your relationship with fellow Georgia recruits Nick Glass and Raekwon McMillan.
I've known Nick since 8th grade. I talk to him almost every day. I've also known Raekwon for quite a while. We all talk about Ohio State and other schools we like.
What goals do you have throughout the rest of the recruiting process?
I just want to enjoy the process and work hard so I can get better on the field.