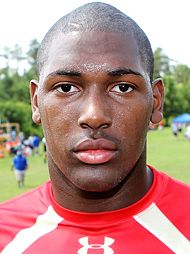 The tight end position continues to evolve at Ohio State under Urban Meyer and as the spot becomes a more important one in the offense, the need for big-time prospects at the position grows as well.
Having already secured the commitment of Riverside (CA) John W. North TE Marcus Baugh in the 2013 class, the Buckeyes appear to be setting their sights toward a small group of talented 2014 tight end prospects.
One of the players the Bucks have already reached out to and offered is Oradell (NJ) Bergen Catholic's Garrett Dickerson, who fits the athletic mold Urban Meyer and Tom Herman are looking for in their offense.
The 6-3/225 Dickerson is being recruited at both tight end and defensive end by colleges. Ohio State is interested in the four-star prospect at tight end, as are many of the other 10 schools that have offered him a scholarship.
Dickerson took a trip up to Michigan on November 10 to see his brother Cameron and the Northwestern Wildcats take on the Wolverines, as well as check out Ann Arbor. After the day on Saturday, Garrett and his mother drove down to Columbus to check out Ohio State, in what was his first visit to OSU.
Dickerson enjoyed his time in Columbus, where he got to bond with the coaches and see everything the university has to offer. He came away very impressed with what he saw and following the trip, is very interested in the Buckeyes.
We caught up with Garrett to get the scoop on his visit to Ohio State, what he looks for when on recruiting trips, what schools are recruiting him, and more.
Keep reading to find out more about one of the East Coast's top players in the class of 2014, TE/DE Garrett Dickerson.
Describe what you did on your visit to Ohio State.
We toured the campus and got to see the area. We went to the academics office and spoke with one of the people there. Then we went over to the stadium and checked that out and then finally we met with Coach Hinton, Coach Warinner, and Coach Meyer.
What was your favorite part of the visit?
I would say it was definitely getting to meet with Coach Meyer. I had gotten to speak with a few coaches prior to the visit and they would say Coach Meyer really likes your tapes and things like that, but it was just an honor to meet him. A football legend would like me to play for him so it was truly an honor to get to sit down and talk to him.
What did the coaches tell you when you spoke to them?
They really just talked to me about their philosophies and how they like to run practice and things like that. They talked about how I'd fit in with their system and how I could make an impact. Finally, the told me how they're a program that is on the up and coming, trying to get back to the top.
Which schools have offered and which others are expressing interest?
Ohio State, Stanford, Boston College, Rutgers, Toledo, UConn, Syracuse, Maryland, Vanderbilt, Northwestern, and Pitt have offered me. Some that are expressing interest are Michigan, Alabama, Georgia, South Carolina, and Michigan State. Those are just a few that come to mind, but there are many others.
What other visits have you taken? How did they go?
I went to Michigan this past Saturday and it went very well. I got to see the game against Northwestern and tour their facilities, along with meeting with some coaches.
Are any schools standing out right now?
No, not any in particular right now.
When would you like to make a decision?
I'm not going to be making a decision anytime soon, so I'll take my time.
Do you plan on/want to take any other visits this winter/spring? If so, where?
I know I'm going to take a lot of visits this winter and spring, but right now I just don't know where yet.
What do you look for when you are on a visit?
I just look for a place with great people to be around. People that are ready to work hard to be at the top. People that will do whatever they need to in order to make sure their team is on top.
What do you consider to be the strongest parts of your game?
I definitely think I have a high motor so I take no plays off and give everything 110%. I think I run good routes and get myself open at tight end and on defense I get off the ball very well so it makes the big, slower guys jobs that much harder.
What goals do you have for the next year?
I want to win a state title this year and follow it up again with another next year.