Dating to the days of Alan Ameche, Wisconsin has been a "running back school." What started in 1951 has continued more than 60 years later. Names like Ameche, Dayne and Clay are still revered in Madison.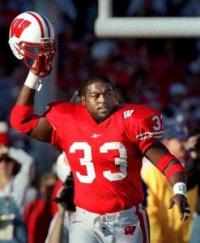 During his years at Wisconsin, Ameche amassed 3,212 yards, then the NCAA record, and 25 touchdowns. He won the 1954 Heisman Trophy, leading the Badgers to a 7-2 record and top 10 ranking.
Dayne won the Heisman in 1999 after 1,834 yards and 19 touchdowns during his senior season, capping off a 6,397-yard career, the all-time NCAA record.
Needless to say, Wisconsin can lay claim to being Running Back U. On Saturday, Ohio State will face a heavy dose of the latest two power backs – Montee Ball and James White.
"They're known for running the ball," senior linebacker Zach Boren said about the Badgers. "They're known for just going and going and finally breaking one or breaking a couple. They have the offensive line to do it and they have the running backs to do it."
Ball has had success against the Buckeyes during his career, but he has not rushed for 100 yards in a game versus Ohio State. Last season, Ball finished the season with 1,923 yards and an NCAA record-tying 39 touchdowns. He was named a Heisman Trophy finalist and finished fourth.
After mulling his professional options, Ball decided to return for his senior season. But the offseason was bad news followed by more bad news. Offensive coordinator Paul Chryst left Wisconsin for Pitt and his first head-coaching job. But Chryst didn't leave empty-handed – he took several assistants with him.
Then, in August, Ball was the victim of an assault near the Wisconsin campus. Five men attacked the running back, leading to a hospital stay. Ball was diagnosed with a concussion and was limited to non-contact drills the first 10 days of fall camp.
Ball was healthy once the season started, but that bevy of new assistants on offense led to an uncharacteristic start for Wisconsin in a season of high expectations. The Badgers lost two of their first five games and first-year offensive line coach Mike Markuson was fired two games into the season.
Markuson implemented a new blocking scheme that proved disastrous, Russell Wilson's exit had a much bigger impact than people imagined and three new offensive linemen were in the starting lineup.
In the first two games, Ball rushed for 181 yards and just one touchdown. In the two early losses and a close win over UTEP, Ball rushed for 194 yards total yards, never eclipsing the century mark in any of the three games.
"He started slow, and I don't put that on him," Ohio State head coach Urban Meyer said. "I thought they had a lot of transition in the coaching staff. Their coaching staff has been together for a while, and you can tell. Probably a little more creative in the run game than they were earlier in the year."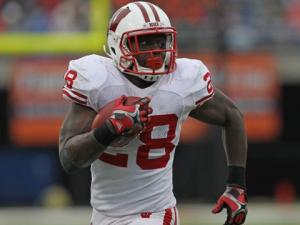 It may have taken longer than anticipated, but the old Montee Ball has returned. During a three-game stretch in October, Ball rushed for 529 yards and seven touchdowns. In the past five games, he's totaled 773 rushing yards and 10 touchdowns. The Badgers' rushing offense ranks 17th nationally, averaging 219 yards per game.
"I cherish this season more than I do last year because I've always been taught growing up, my parents made sure to teach me that everything's not going to go your way," Ball said. "That basically the definition of a man is how he overcomes adversity, and I overcame a lot of it.
"Everything that had happened to me in the summer, coming out of the gates real slow, personally I kind of felt it was way out of reach. I'm really glad I stuck with it and kept fighting, kept pushing, kept working hard with my teammates in practice."
A week ago, Ball ran for 198 yards and three touchdowns against Indiana. But that was only part of the story. As a team, the Badgers gained 564 yards on the ground, sixth-most in Big Ten history. Ball was named the conference's offensive co-player of the week. He is one touchdown shy of the all-time NCAA record and one rushing score away from breaking Dayne's career Big Ten record.
"I tell myself, I don't want to finish a drive out with a field goal," Ball said. "I believe you make a huge statement when you finish a drive out with a touchdown."
It's not just the Montee Ball Show, though. White remains one of the best backups in the country. He has more than 700 total yards and nine touchdowns on the season. During a freshman year that resulted in over 1,000 yards rushing, White totaled 84 all-purpose yards and a rushing touchdown in a 31-18 upset of No. 1 Ohio State.
Ball's NFL future is on hold for now. Until then, he has his sights set on a third straight Rose Bowl appearance. Due to Ohio State and Penn State's postseason ineligibility, Wisconsin has already clinched a Leaders Division championship and a berth in the conference title game in Indianapolis.
However, the standings show Ohio State with a two-game lead over the Badgers and Nittany Lions. A win Saturday would give Ohio State the championship trophy to itself.
To do so, the Buckeyes must stop Ball, White and whoever else carries the football. In the Badgers' three losses this season, the most obvious indicator has been rushing yards. Ball has averaged less than 70 yards in those three contests, while the team gained less than 100 in all three losses. But they've gained nearly 300 in the seven wins.
"If we can stop that run, that will be big for us," senior defensive end John Simon said.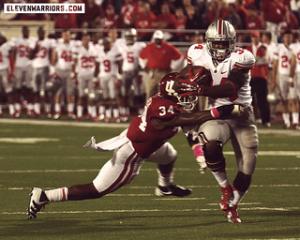 Said Meyer: "There's ways to stop the run. What they do a nice job is just these multitude of shifts, formations and motions that are hard to get gap control or gap security. The good thing is we've had a bye week. A lot of time's been spent on that."
Not being gap sound could lead to being embarrassed, Meyer added. He compared it to facing the wishbone.
The absence of Wilson had led to inconsistency throughout the season for Wisconsin's quarterbacks. Maryland transfer Danny O'Brien was supposed to be the answer, but he's been passed over twice by less experienced players.
As a team, Wisconsin has completed 59 percent of its passes for more than 1,600 yards with 10 touchdowns and four interceptions. The Badgers' 167 passing yards per game is 11th in the conference, ahead of only Northwestern.
Ohio State has played down to its competition much of the season, but in the three marquee games – Michigan State, Nebraska and Penn State – the team has risen to the occasion.
Michigan State running Le'Veon Bell was limited to just 45 yards, 73 of Rex Burkhead's 119 yards came on one carry, Taylor Martinez only gained 40 rushing yards and Penn State totaled 32 rushing yards on 28 carries.
The Ohio State defense ranks 16th nationally against the run and second in the Big Ten – Wisconsin is first. The Silver Bullets have allowed 108 rushing yards per game and just 11 rushing touchdowns in 10 games.
"Their strength is their run game and their power game, and it's our job to stop that," Simon said. "What we did in the past isn't going to help us this week. We're going to have to go out and do it again against a very tough team."
On the flipside of that is Ohio State's rushing attack, which is eighth in the country, gaining 256 yards per game. Ohio State's run offense is second in the conference, and Wisconsin isn't first – that would be Nebraska. Quarterback Braxton Miller and running back Carlos Hyde have gained more than 1,900 yards combined and 26 touchdowns.
"Against spread offenses, you need as many zone eyes as possible, especially against athletic quarterbacks," Wisconsin defensive coordinator Chris Ash said. "If you're getting run off down the field every play and you've got your backs to the ball and the quarterback is scrambling, you've got problems."
Come Sunday, after a physical, 60-minute battle, the most popular stop in each locker room will be the cold tubs.
"At the end of the day, both sides are going to be beat up a little bit," Simon said.