Revenge has been one of the themes of Ohio State's season. Coming off a 6-7 campaign, the Buckeyes are now four for four in games this season against opponents they lost to in 2011.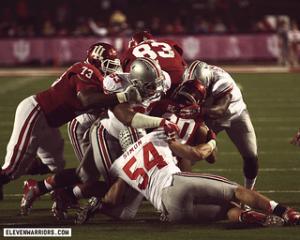 Last year didn't provide too many highlights, but one game that did was the late October date with Wisconsin. The Badgers entered Ohio Stadium as one of the top teams in the country, despite losing on a Hail Mary the previous week at Michigan State.
An overwhelming favorite, Wisconsin fell behind by two touchdowns with less than five minutes to play in the game. But quarterback Russell Wilson rallied the Badgers and tossed two touchdown passes two and a half minutes apart, and Wisconsin took the lead with just more than one minute remaining.
Then Braxton Miller engineered a play that will forever live in Buckeye lore. Chased from the pocket, he lobbed the ball to Devin Smith, who got behind the defense and was open in the end zone. Forty yards later, Ohio State had a touchdown and a signature victory in an otherwise forgettable season.
Now it's Wisconsin that's looking for revenge. Two years ago, Ohio State ventured to Madison unbeaten and ranked No. 1 in the country. It left with a loss and slim hopes of winning the national championship. It was the fourth time since 1992 that Ohio State entered a game against Wisconsin with a perfect record only to suffer a loss or tie.
Saturday is another chapter in an increasingly exciting series.
The Buckeyes might be 10-0, but head coach Urban Meyer wouldn't term the season as fun. It's still a job, though he did say he's enjoying it.
Being gap sound is paramount for Ohio State on defense this weekend. If it isn't, Meyer said they could get embarrassed.
One thing that could help in that area is the return of senior linebacker and captain Etienne Sabino. Meyer said Sabino gives the defense a sense of stability.
Former Florida State head coach Bobby Bowden was in Columbus recently. Meyer said he and Bowden grew to be good friends in Florida. During offseason events the two were at, Meyer said he would always try to get together with Bowden to get any sort of info out of him.
Ohio State has no injury concerns heading into the game.
Tight end Nick Vannett said Wisconsin, as it's been in recent seasons, will be Ohio State's biggest test of the season so far.
Cornerback Bradley Roby said it's tough preparing for Wisconsin quarterback Curt Phillips because there is limited film on him.
From what the Buckeyes have seen, Phillips is mobile. But Roby said the Badgers will have to pass to win the game.
The defense expects Wisconsin to bring out some plays that haven't been run all season.
Wide receiver Jake Stoneburner said he feels like Ohio State has been shunned from the media because of the postseason ban. For being 10-0, he said they haven't received much attention. But he added it's no big deal.
Safety Orhian Johnson said Wisconsin has more than Montee Ball in the backfield. James White is a versatile playmaker.
Ohio State is focusing on the run this week, but Johnson said play-action passes will be in the offense.