The 1995 season was one of high expectations for Ohio State football, and also one filled with great performances. In the end, the team disappointed their fans and themselves, but for much of the season there was no better team in college football. And there was one star on this team of stars who shined brighter than the rest.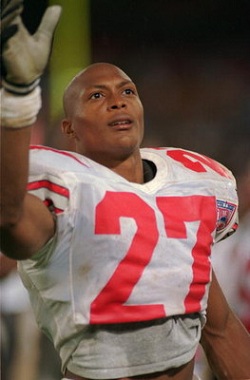 Senior running back Eddie George had rushed for over 1,400 yards the previous season, and senior quarterback Bobby Hoying had passed for over 2,300 yards. The return of both of them fueled a powerful offense that would be augmented by a new short-passing attack under the direction of quarterback coach Walt Harris. Head coach John Cooper believed in a balanced attack, and the new angle would mean fans would see a lot more of George catching the ball out of the backfield.
Some of that was a necessary adjustment, since Ohio State had lost both of their starting wide receivers from the previous season. In particular, big-play threat Joey Galloway had left for the NFL and no one was certain who would play that role in the new offense. However, the coaches were raving about junior Terry Glenn in practice, and fans would soon find out what kind of player he was. Buster Tillman took over at the other receiver spot and former Buckeye hoops stalwart Rickey Dudley turned his attention to football and earned the starting nod at tight end.
The offensive line was anchored by outstanding left tackle Orlando Pace. Three other starters returned, and former center Eric Gohlsten moved from center to right tackle to replace the departed Korey Stringer. Bruising blocker Nicky Sualua returned to open holes for George in OSU's power-I running attack. The offense was loaded and poised to spark the team to great heights.
On defense, the defensive line returned intact with tackle Matt Bonhaus, noseguard Luke Fickell, and ends Matt Finkes and Mike Vrabel. However, the secondary and linebacker corps would need to be reloaded as only two starters returned among the back seven. The lone secondary returnee was cornerback Shawn Springs, an outstanding cover man who was also extremely dangerous as a kick returner.
The defense would need to grow up quickly, as Ohio State faced a difficult early schedule. First they would head to East Rutherford, NJ to face Boston College in the Kickoff Classic, then return home to take on a Washington team that had vanquished them in Seattle the previous season, 25-16. That would be followed by a road trip to Pittsburgh, a home date with Notre Dame, then successive road trips to conference rivals Penn State and Wisconsin. This team was going to have to get moving early or else it could be a long season.
The Kickoff Classic was the official first game of the college football season from 1983 to 2002. Ohio State was the event's second choice after Penn State dropped out. As it turned out, the Buckeyes were a great choice. They rolled over Boston College, 38-6, in a game that they dominated right from the start. Springs returned a kickoff 97 yards for a touchdown and George was named MVP after having a great game both rushing and receiving. 
Twenty days later, OSU welcomed Washington for the home opener, and again the Buckeyes dominated on their way to a 30-20 triumph. George vaulted himself into the Heisman Trophy conversation by rushing for 212 yards and 2 TDs on 36 carries. It was his third 200-yard game as a Buckeye, but it wouldn't be his last. The nationally televised victory moved Ohio State up to #8 in the rankings and another dominating performance in their next game against Pitt (a 54-14 win) moved them up to #7.
The best was yet to come. 15th ranked Notre Dame came to Columbus for the first time since 1935, led by former OSU assistant coach Lou Holtz. They left humbled and defeated, 45-26. After that, the Buckeyes traveled to Penn State and pulled out a dramatic 28-25 victory to go to 5-0 and improve to #4 in the rankings. This would set up a trip to Madison, WI to take on Wisconsin, a team that had ruined Ohio State's unbeaten season only two years before. 
Wisconsin had started the season ranked #21, but they were drilled at home by Colorado in their opener, 43-7, which dropped them from the rankings. They then traveled out to Stanford and forged a tie with the Cardinal, 24-24. They rebounded at home with a 42-0 drubbing of SMU and then they upset Penn State, 17-9, in the conference opener (the week before Ohio State played them). The win moved them back to #21 in the rankings, and they enjoyed a week off while Ohio State traveled to State College.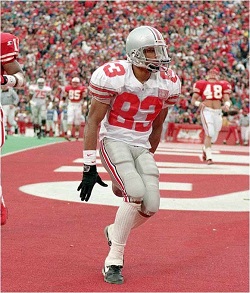 Playing at home for the third game in a row, the Badgers (OSU's fifth ranked opponent in six games) were sure to be tough. Not only that, but they were eager to atone for a 24-3 stomping that the Buckeyes had given them in Columbus the previous season. Their defense held OSU in check early, and they drove the ball well on offense but stalled out and had to settle for 3 field goals to take a 9-7 halftime lead. Unfortunately for them, their luck ran out in the second half.
The 3rd quarter started badly for the Badgers, as Ohio State linebacker Ryan Miller intercepted a pass and returned it to the Badger 5-yard line. OSU scored a couple plays later on a 2-yard pass from Hoying to George and just like that they led, 13-9. Undaunted, Wisconsin took the ball down the field on their next possession and scored on a 14-yard run by tailback Carl McCullough to take a 16-13 lead. The two teams traded possessions and punts after that until the 4th quarter. For OSU, it was looking eerily similar to the 13-13 tie of 1993, but George and the running attack would make the difference this time.
In the first three quarters, OSU's vaunted offense had hardly been stellar. They had fumbled the ball away twice and thrown an interception. They also shanked a punt 7 yards. The Badgers had bottled up the passing attack for the most part and George had yet to break a big run. But now it was crunch time, and OSU would go with their "bread and butter". Taking the ball in good field position, the Buckeyes drove 46 yards on 8 plays for the go-ahead touchdown, with George carrying for 35 yards on the last six plays including the 1-yard TD run.
After forcing a 3-and-out, OSU got the ball again in good field position at their own 46. George carried for 3 yards on first down, and then on second down he busted through the line and raced 51 yards for another touchdown to put Ohio State up 27-16. George had rushed for only 33 yards in the first half, but he finished with 141 yards and 3 TDs on the day. Wisconsin never recovered from those two drives and OSU held on for the win.
They would keep on winning for the rest of the season until losing on the road to Michigan in the finale. Another loss in the Citrus Bowl meant a sad end to a great season. But several Buckeyes would re-write the OSU record books and take home post-season hardware. Hoying would set a new school record for passing yards in a season with 3,269 and for touchdowns with 29. Glenn would set single-game and season school records for receiving yards with 253 (Pitt) and 1,411, respectively, on his way to winning the Fred Biletnikoff Award for best wide receiver in college football. 
Best of all, George would set new single-game and season rushing records with 314 (Illinois) and 1,927, respectively, on his way to winning the coveted Heisman Trophy award. George would be selected in the first round of the NFL draft (14th overall) by the Houston Oilers and go on to have a long and successful career with the Oilers/Titans franchise. Glenn would leave school early for the draft and was selected in the first round (7th overall) by the New England Patriots. Hoying would be selected in the 3rd round by the Philadelphia Eagles.