Michigan week is still four days away. But that doesn't mean Ohio State has to wait to take on a rival. The budding distaste Ohio State and Wisconsin share for one another has given the Leaders Division showdown more flavor in recent years.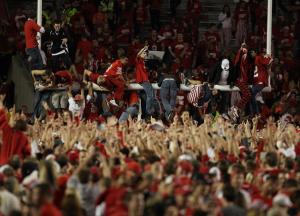 Historically, a one-sided affair – Ohio State leads the series, 54-18-5 – 1981 signaled a shift. Prior to that season, Earle Bruce's third at Ohio State, the Buckeyes held a 39-7-4 advantage in the Wisconsin series and had not lost since 1959. In other words, the Badgers were a pushover, a welcomed Homecoming opponent.
But things have changed dramatically since the '81 Badgers, coached by the late Dave McClain, upset the nationally-ranked Buckeyes. While the Ohio State-Michigan rivalry has featured one team dominating the other the past 25 years, the Wisconsin series has been relatively even. In the past 27 meetings, Ohio State holds a modest 15-11-1 lead over Wisconsin. Since 1999, Ohio State is just 6-5 against the Badgers.
Three times in the past 20 years Wisconsin has spoiled perfect seasons for the Buckeyes. In 1992, 2003 and 2010, it came in the form of a loss. The 2010 game featured the Badgers upsetting No. 1 Ohio State. The Buckeyes and Badgers tied in a memorable game in 1993. A win would have sent Ohio State to the Rose Bowl.
Now matched up in the same division, the intensity of the Ohio State-Wisconsin rivalry is almost certainly going to heat up. The other four teams in the division – Illinois, Indiana, Penn State and Purdue – aren't likely to be a threat anytime soon, meaning Ohio State and Wisconsin will likely represent the Leaders Division in the Big Ten championship game for the foreseeable future. The past two games – Wisconsin disrupting a perfect season in '10 and Ohio State winning on a Hail Mary in '11 – has added extra oomph, as well.
"It's always a physical war," junior center Corey Linsley said. "It's always decided who is going to be the Big Ten champion. The Team Up North has kind of been out of the picture for a while. Penn State has come in and out. But the last couple years it's been Wisconsin and Ohio State. That's the same thing this year."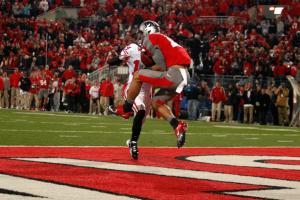 Wisconsin has already clinched a return trip to Lucas Oil Stadium in the first week of December. Ohio State is the "real" first-place team, but due to a postseason ban, the Buckeyes can't appear in the conference title game. One look at the standings, though, shows Ohio State holding a two-game lead over Wisconsin. Win Saturday and Ohio State has the trophy to themselves.
That alone should act as motivation for the Buckeyes. Keeping an unblemished season intact is another selling point. But even if both teams had multiple losses and pride was the only thing at stake, Ohio State and Wisconsin would be up for the action come 3:30 Saturday afternoon.
"I'm sure they hate us," senior linebacker Zach Boren said. "I'm sure they're sitting there saying the same thing, about how it's such a big rivalry."
That's not to diminish a certain game played two days after Thanksgiving on the banks of the Olentangy. The Game stands alone.
"It's in a different ballpark," Linsley said about Michigan, a word not uttered in the Woody Hayes Athletic Center.
But playing Wisconsin gives players a different feeling than lining up across from Youngstown State.
"We've had such big games against them," Boren said. "I would say after that 2010 game where we were No. 1 in the country and went up there and got beat, there was just a bad taste in our mouth."
"There's just something we don't like about them," junior defensive lineman Johnathan Hankins said. "That's the way it's going to continue to be."
Told Wisconsin probably doesn't like Ohio State either, Hankins responded, "I don't care."
"I don't want to go on record saying I hate Wisconsin more than Michigan, but I hate Wisconsin just as much as Michigan," junior wide receiver Corey Brown said. "Every year since I've been here, they've been a nightmare. They ruined our perfect season (in 2010)."
Said Meyer: "I'm learning about it. I think they stole a season. (The players) were telling me that story a little bit. But it's interesting hearing our players talk about it, especially the guys that have been in some of those big games. This is a rivalry game, and it's a rivalry game because you have to understand who you're playing and what they've done the last few years. They're a very good team."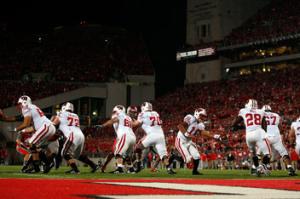 It also might be a rivalry for the head coaches.
During the thick of recruiting season, less than three months after Meyer took the Ohio State job, he was the target of a barrage of negative comments and complaints from Wisconsin head coach Bret Bielema. Big Ten commissioner Jim Delany eventually got involved and settled the matter with both parties.
At Big Ten media days in July, the coaches spoke glowingly of one another and did so again this week. But many believe there is still a silent feud, or Cold War if you will, between the two.
"We're fine," Meyer said on Monday. "That was kind of a lot of stuff that was blown up. I've never had any issue other than they're a good team."
Bielema echoed Meyer's comments on Monday and added that he learned early in his coaching career that friends are lost along the recruiting trail.
"Bad blood," Meyer said inquisitively. "I think whenever you have two good teams that have played for a lot in the past three, four years, if that's considered bad blood – it's an intense respect. 
"I always worry about the ones they don't have respect for. That's when we have to rah rah and cheer them on and scream and yell and throw things and all that. 
"Other than teaching technique, we didn't have to teach them to go hard (Monday), and that's an indication of the respect they have for the team they're playing."
On the field, Wisconsin and Ohio State have played a similar brand of football since they first started handing off pigskins. It's Midwestern football at heart – big linemen, physical running backs and hard-hitting defenses.
When the Buckeyes and Badgers get at it, collisions are the norm.
"Every time you play Wisconsin you're going to be beat up at the end of the day," senior defensive end John Simon said. "We're going to find out who's tougher."
More often than not, you'll also find out who's the Big Ten's best in a rivalry that's developed into a barometer of conference supremacy.