This coming Saturday the Bucks will take on the Badgers of Wisconsin in what should be a physical, classic Big Ten game. The only difference this year is that Urban Meyer's spread offense will put a twist on things and the Buckeyes have had an extra week to prepare for Bucky thanks to the bye and it's healing wonders.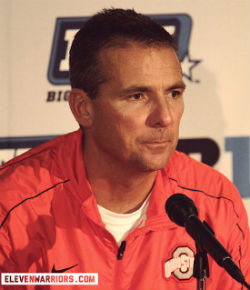 Preparing for Bret Bielema's team isn't all the Ohio State staff did during the bye week, though, as they were out and about across the country on a recruiting mission, checking in on as many prospects as possible.
The Buckeye coaches hit at least 16 states during their time off from play, visiting mostly prospects from the 2013 and 2014 recruiting classes, but also getting a look at some super 2015 prospects that are already on the radar.
In this edition of the 11W Recruiting Notebook we take a look at some of the news emerging from the last week, as well as see how future Buckeyes fared on the gridiron in the high school football playoffs.
Join us after the jump to get the latest scoop on Ohio State recruiting with this weekly segment of the 11W Recruiting Notebook.
The Buzz
As mentioned above, the staff was all over the country this weekend and one of the states they stopped in was Georgia.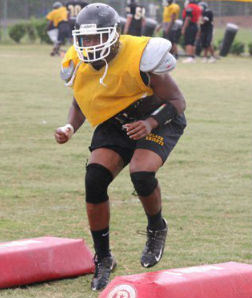 Urban Meyer made the most out of his trip to see his daughter Nicki on her volleyball senior night at Georgia Tech last Saturday, checking on multiple prospects in the Atlanta area on Friday.
One of his stops was Central Gwinnett, where LB Trey Johnson, a current Auburn commit, plays his high school football.
Johnson has long been committed to Auburn, but word from the program is that head coach Gene Chizik may be on his way out, a factor that is causing the four-star linebacker to more seriously look into other options. He has already had some official visits set up to ensure he makes the right college choice and has trips booked to Florida, USC, and of course, Ohio State, which will come next weekend for the Michigan game.
While many felt getting Johnson was a long shot, that apparently couldn't be further from the truth. The standout linebacker thinks very highly of OSU, especially after Meyer's recent visit to his school. Johnson's high school coach, Todd Woofford, got to sit with Meyer during the trip and had this to say about the pop-in and Trey's interest:
"It went great. Ohio State is coming all-out after Trey to get him. They don't have any linebackers committed right now, and that's a priority position for them. They're undefeated, and they're going to win every year and always be in the BCS picture. That's really appealing to Trey, and (Meyer's) record speaks for itself. He's a top-notch guy."
It's too early to get too excited about Johnson, but with additional news coming from 247 Sports that someone close to the prospect thinks he will end up at OSU or USC, this is definitely a situation to keep an eye on up until Signing Day.
Trey Johnson may be trending up, but another committed prospect is trending down.
News coming out of the bye week is spreading that Ohio State has cooled on USC commit WR Sebastian LaRue and that the speedster's official visit to Columbus for the Michigan game is no longer happening. 
While this is not completely dead yet, it appears that the staff feels they are in good shape with other wide receiver prospects at this time, and with limited space, decided to devote their time to other prospects who they feel they have a more realistic chance with.
With that said, as one USC commit looks to be off the Buckeyes' big board, a former USC commit may be coming on.
Mission Viejo (CA) S Max Redfield, who decommitted from the Trojans last week, had opened things back up in his recruitment and has started to take official visits to other schools. 
The four-star prospect was in Seattle this past weekend visiting the Washington Huskies and following that trip told 247's Justin Hopkins ($) that he will take official visits to Ohio State, LSU, and Arizona State, with other trips, both an official and unofficials, being sorted out. Redfield says his current top three consists of Oregon, Notre Dame, and USC.
It is unknown when any trip to Columbus would be, but this is just another example of how Mark Pantoni and Urban Meyer leave no stone unturned.
Finally, the Buckeyes hosted a 2014 prospect this weekend when Oradell (NJ) Bergen Catholic TE Garrett Dickerson came to check out campus this past Sunday.
Dickerson, a 6-3/224 TE/DE, was in Ann Arbor on Saturday watching the Wolverines take down Northwestern (as a guest of UM, although his brother plays for Northwestern). After his Michigan trip, his mother and he rented a car and drove to Columbus before heading back to New Jersey.
While on campus, the four star got to spend time with tight ends coach Tim Hinton, his area recruiter Ed Warinner, and of course, Urban Meyer. Garrett and mom were also able to see Ohio Stadium, the Woody Hayes Athletic Center, and get a tour of campus.
Dickerson, who is being recruited as a tight end by the Buckeyes, had a great time overall on his trip to OSU. He's not ready to get serious about recruiting just yet, but his offer from the Buckeyes is one of the eleven he currently holds that is standing out right now.
High School Football Recap
High school football rolled on last week and while many prospects' seasons have ended with playoffs beginning all over the country, there are still a number of prospects who are in action.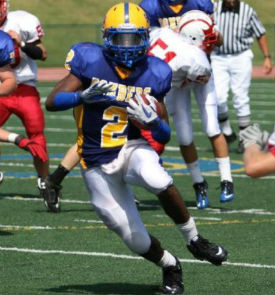 Ezekiel Elliott had two games last week, with his team taking down Soldan International Studies, 50-6, on Monday and then coming back to beat Park Hills Central, 24-0, on Saturday to advance to the semifinals this coming week.
Elliott shined in both wins, recording 57 rushing yards and 4 scores on the ground, with 105 receiving yards and 2 touchdowns through the air on Monday. He then followed that up with 189 rushing yards, finding pay dirt 3 times in the team's quarterfinal win on Saturday.
Taivon Jacobs and Suitland got a 21-14 win over DuVal in the first round of the playoffs, but the future Buckeye didn't put up his usual numbers. He had a key interception on defense and had 2 carries for 21 yards on offense, but did not record a reception as his team attempted just 2 passes in the game.
Darron Lee had a big game in leading New Albany to a 42-35 win over previously unbeaten Dresden Tri-Valley in the OHSAA DII Region 7 second round game. Lee rushed the ball 10 times for 152 yards with 2 touchdowns in the victory.
Cam Burrows and Trotwood Madison pulled off an upset, as the defending state champs took down Winton Woods, 27-20. Burrows had 3 tackles in the contest.
Toledo Central Catholic is looking very good this year and their season carries on as they downed Madison Comprehensive, 45-7. Buckeye commit Jayme Thompson did his part in the win, making 7 tackles and recovering a fumble.
Tyquan Lewis and Tarboro advanced to 12-0 with a playoff win over Kinston by the score of 48-14. Lewis is one step closer to getting his fourth straight state title and pitched in to the victory by making 4 tackles and a sack in the game.
James Quick and Trinity took down Madison Central, 62-8, last weekend. Quick had a 43-yard reception for a score in the win and now he gets to square off against rival St. Xavier next weekend.
Vonn Bell helped Ridgeland get a 48-14 win over River Ridge. Bell had 6 tackles on defense and scored a touchdown on offense, quite the show to put on in front of OSU co-defensive coordinator Everett Withers, who was in attendance.
Finally, 2013 ATH Ryan Timmons and his Franklin County team took down 2014 QB Drew Barker and Conner in a 62-59 barnburner. Timmons was everything he was cracked up to be, touching the ball 16 times for a total of 251 yards with 5 touchdowns. Barker wasn't too shabby himself, completing 16 of 20 passes for 250 yards and 3 scores through the air, while also tallying 25 rushes for 95 yards and a touchdown just hours after receiving a visit from Ohio State wide receivers coach Zach Smith.