At one point in time, this award was known as the Buckeye NFLer of the Week. Thanks to a typo and the ensuing LOLsession from the commentariat, it was renamed as the Houndie. Same intent, but now with a better name.
As the current Buckeyes prepared for the final two games of 2012 by taking a week off, the former Buckeyes played some key roles in big victories for their respective teams.
Every team has now played nine games and the jockeying for playoff positions is in full effect as we enter the last week for byes.
With losses by Atlanta, Chicago and NYG, along with a tie by San Francisco, the NFC is wide open with every team except Carolina within three games of a divisional lead.
In the AFC, some nice winning streaks by Denver, Indianapolis, New England, Pittsburgh and Houston have pushed those teams, along with Baltimore, to the front of the pack.
We start down in Cincinnati, where the Bengals ended their four-game skid with a dominating 31-13 win over the Giants. Andy Dalton had a career-high four touchdown passes, allowing the Bengals to still retain hope for a playoff push. The win kept them within two games of the final postseason spot and they face off against AFC West teams not named Denver over the next three weeks.
Nate Clements and the Bengals' defense held Eli to 218 yards passing while picking him off twice in the third quarter, leading directly to 14 points for Bengals and an insurmountable lead. Clements had one of those picks, snagging a Manning pass at the NY 37 and returning it 21 yards to the 16. Three plays later, Dalton found Mohamed Sanu for his fourth TD and a 31-3 lead. 
Clements finished the day with three total tackles, while Mike Nugent connected on all four of his XPs and a 28-yard FG.
In Miami, the Dolphins laid an egg and let the Titans steal one on the road, 37-3. Ryan Tannehill was intercepted three times, but managed to find Brian Hartline eight times for 79 yards, which led all receivers in the game. The yardage snuck Hartline back in the top 10, two yards behind Victor Cruz, who has played in one more game.
Sticking with wideouts, Michael Jenkins and the Vikings got a must-win at home against Detroit, 34-24. The win, coupled with that Bears loss, put Minnesota two games back as they head into their bye week. The passing game was better for Minny, as Christian Ponder went 24/32 for 221 and 2 TDs, but Jenkins only caught two of those passes for 12 yards, giving him just four catches for 20 yards over the last two weeks.
On defense, Antoine Winfield made a play for another Houndie, as he led the Vikes with 10 tackles, including seven solo stops and one for a loss. He also recovered a Calvin Johnson fumble in the fourth quarter, helping preserve the win. Winfield still leads all corners in tackles this year with 74 and sits 14th overall in the NFL.
The nightmare season for Philadelphia continued with their 38-23 home loss to Dallas. Michael Vick sustained a concussion and we thought the start of the Nick Foles era was set to begin, as Philly was leading by seven late in the third, but Dallas scored three defensive touchdowns in the final quarter to seal Andy Reid's fate.
Kurt Coleman had a decent game with 8 total tackles, including one behind the line, while the Eagles' D held Tony Romo to 209 yards passing. Philly has now lost five straight and it's hard to imagine either Reid or Vick back next season.
The best game of the day was on the West Coast, as San Fran lost Alex Smith early and had to settle for a 24-24 tie against the now competitive St. Louis Rams. Jeff Fisher's squad took a three-point lead by scoring a TD with just over a minute left, but David Akers nailed a 33-yard FG with three seconds left to send the game into OT.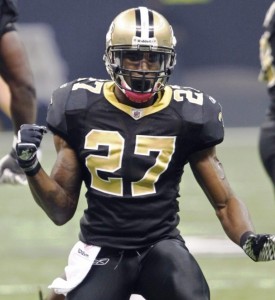 James Laurinaitis had a slower day than normal for him, finishing second on the Rams with seven total tackles. His 81 tackles on the year tie him for fourth in the league and puts him on pace to equal his career high of 142 last year.
For the Niners, Ted Ginn returned five kicks for an average of 23.6 yards, including a long of 28, while also returning two punts for 23 yards. Donte Whitner had five solo stops for the Niners, who hold a two-game lead over Seattle and face off against Chicago on Monday night this week.
This week's Monday night game looked like a mismatch on paper, but Kansas City knocked out Big Ben and hit a last-second FG to send this game into overtime, too. However, this one lasted just 51 seconds, as Dick Lebeau's D picked off Matt Cassel on the second play and Pittsburgh kicked a FG on the next play for the 16-13 win.
Will Allen continued to get PT, notching three total tackles, as the defense held KC to just 148 yards passing.
This week's award goes to a fellow safety, whose team is starting to gain momentum and improve their defense every week. The Saints have now won four of five and sit just one game out of the final playoff spot after handing Atlanta their first loss, 31-27.
Malcolm Jenkins is a big reason the Saints' D has shown improvement over the last few games and some of you thought he should have taken home the Houndie last week, but their defense had been so bad up to that point, it was tough not to classify it as a fluke. However, Jenkins once again led the Saints in tackles with 10 this week, giving him 23 in the last two ball games. Malcolm also knocked down three passes from his free safety spot, equaling a career high he set three times in 2010.
Jenkins and the Saints did give up 411 passing yards to Matt Ryan, but Will Smith and his five tackles helped hold Atlanta to 46 rushing. With his strong play over the last two weeks, Jenkins takes home his first Houndie on the season and first since week 14 of the 2010 season. His 78 tackles is already a career high and puts him in the top 10, leading all safeties and giving Ohio State 3 of the top 14 tacklers in the NFL.