If you've tuned in to Ohio State football this year, you've been subject to having to listen to ESPN announcer Beth Mowins do play-by-play for a couple of Buckeye games this season.
While Mowins has gotten plenty of criticism for the less than stellar job she does behind the mic, the positive, if you're an OSU fan, for getting her assigned to your games is that you get to see her partner in crime, Joey Galloway, evolve in his budding color commentary career.
Galloway, a native of Bellaire, Ohio, came to Ohio State in the fall of 1991 after racking up 108 catches for 2,332 yards and 27 touchdowns during his career at Bellaire High School.
In addition to starring on the gridiron, Galloway was also an All-Ohio selection at point guard for basketball, lettered as an infielder on the baseball team, and won the state title for both the 100 and 200 meter dashes in track during his high school career. He is a member of the Ohio Valley Athletic Conference Hall of Fame for his accomplishments, which also included a state football title and three OVAC titles in basketball.
John Cooper knew he was getting a superb athlete on his team in Galloway, but things weren't automatic right away. It took about two years for everything to fully click (thanks to a knee injury) when it came to the college game for Galloway, but when it did, the results were dangerous for opponents, as the speedster finished his career in Columbus ranked in the top five in many of the school's receiving categories, en route to making himself a first-round pick in the 1995 NFL Draft.
In this edition of "Where Are They Now", we take a look at Galloway's time in Columbus, his lengthy career in the NFL, and his current life after football. Join us after the jump to hear more about one of the greatest receivers in Ohio State history, Joey Galloway.
Making A Name In Columbus
As previously mentioned, Galloway's first two seasons in Columbus weren't all glitz and glam.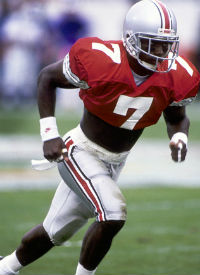 His freshman season showed promise as he notched 14 receptions for 255 yards and a score, but he took a big step backwards in year two, tallying just 3 catches for 24 yards and 0 touchdowns (although he did have a rushing score) after suffering a knee injury, leaving many wondering what the future would hold for the 5-11/195 receiver.
The proverbial light came on, and health back, during his junior season, as Joey became a household name in the 1993 season. Galloway earned First Team All-Big Ten honors when he caught 47 passes for 946 yards with 11 touchdowns on the season, while also carrying the ball 9 times for 58 yards and 2 scores. The 11 receiving touchdowns tied Cris Carter for the school mark and set Galloway up for a big senior season.
With defenses now well aware of the Bellaire native, yards didn't come as easily for Galloway, but he still connected with QB Bobby Hoying on 44 passes for 669 yards and 7 touchdowns, earning him Second Team All-Big Ten honors and bringing his career numbers to 108 catches (fourth all-time upon departure) for 1,894 yards (fourth) with 19 touchdowns (second). He also added 4 touchdowns on the ground during his time with the Scarlet and Gray on 25 carries for 191 yards, showing his tremendous versatility and athleticism.
While many players have passed Galloway's numbers on the all-time ranks, he still goes down as one of the best receivers and overall players to ever come out of Ohio State, a place that helped him have one of the more successful NFL careers in the last two decades.
The NFL Years
The Seattle Seahawks were in need of some playmakers on offense and made Galloway one of them, taking the receiver eighth overall in the 1995 draft.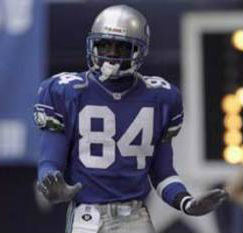 Joey was instant offense for Seattle, setting a rookie franchise record with 67 receptions for 1,039 yards and 7 touchdowns. He also starred as a return man, taking back 36 punts for 360 yards and a touchdown in his first year, while returning 2 kicks for 30 yards, and chipping in on the run game with 11 carries for 154 yards and a score.
Galloway played for the Seahawks for five seasons, finishing his stay there with 283 receptions for 4,457 yards and 37 touchdowns through the air in 71 games. While he enjoyed his time there, he began to feel that he was being underpaid by the organization and staged a holdout during the 2000 offseason. The Dallas Cowboys, in need of a wide receiver to play across from Rocket Ismail, traded two first-round picks for the former Buckeye, putting him on America's biggest stage at the time.
Joey's start in Dallas was great as he caught 4 passes for 62 yards and a score in the first three quarters of the opener. Unfortunately, the fourth quarter did not go as planned, as the star receiver tore his ACL at the end of the contest and missed the rest of the season. 
In year two for the Cowboys, Galloway bounced back in a big way, starting all 16 games and catching 52 passes for 699 yards and 3 touchdowns. He followed that up by once again starting all 16 games in his third season with the team, and starting 15 games in his last and final season in Big D during the 2003-2004 season. In four seasons with the team, Galloway played in 48 games, registering 151 catches for 2,341 yards, and 12 touchdowns, providing a solid playmaker to the team's offense and establishing himself as one of the league's most reliable receivers.
In 2004, the Cowboys wanted to go big and shipped Galloway to Tampa Bay for Keyshawn Johnson. Tampa Bay turned out to be Joey's last big stop, as he played five seasons with the Buccaneers before coming somewhat of a journeyman during the end of his career.
During his stint in Tampa, Galloway played in 66 games, catching 248 passes for 3,912 yards and 28 touchdowns. With the Bucs, he registered his best season in 2005, catching a career-high 83 passes for 1,287 yards and 10 scores, while also recording 1,000+ yard seasons the two years following that. 
Unfortunately in 2008-2009, Galloway hurt his knee which caused him to miss the team's last seven games, ultimately resulting in his release following the season. He spent the 2009-2010 season with New England and Pittsburgh and the 2011-2012 season with Washington, totaling just 19 receptions for 240 yards during that time, before deciding to hang it up.
All in all it was a great NFL career for Galloway that lasted 16 seasons. He finished his playing days with 701 catches for 10,950 yards and 77 touchdowns, also adding 496 rushing yards with a score, and 1,417 return yards and finding pay dirt 5 times, making those at Ohio State extremely proud and being one of the players commonly named when talking about the great fraternity of former Buckeye receivers to go on and have success in the NFL.
Life After Football 
Galloway planned to take year off from football to enjoy life and evaluate what he wanted to do now that his playing days were over.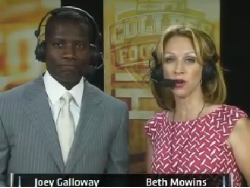 What he didn't realize was that he didn't have to look far past the sport, and his time at Ohio State ultimately played a factor in his next career move coming sooner than expected.
After he announced his retirement from the NFL, Galloway's old friend and college teammate, Kirk Herbstreit, reached out to him about his potential interest in moving to the announcer's booth.
Galloway wasn't sure if that's what he wanted to do at first, but eventually conceded to the idea, telling the Times Leader, "It was probably more Kirk's plan than mine. My idea was to be prepared if I ever chose that, but he really talked me into it. He put me in touch with the right people and (ESPN) called me and I thought I'd give it a shot. I guess the process was pretty simple."
The former receiver's first gig came via ESPN, when he landed in the studio last season during college football Saturdays. His first true broadcast came later in the season, when he got the opportunity to call the Capital One Bowl for ESPN Radio, and it was there he learned he liked being a part of the game experience rather than being in the studio.
Galloway acted on that and fast forward to this year where he is placed alongside Beth Mowins on the ESPN2 weekly college football noon telecast. After calling the Ohio State-Central Florida game earlier this year, Joey was asked by the Times Leader about the move to the booth and said, "During the offseason, (ESPN) approached me about calling games. It's exciting for me because I'm able to get to the stadium and be part of the atmosphere. It's been a lot of fun."
Now almost through his first full season as a color commentator, Galloway is working to get better each week. Despite your thoughts about Mowins, it is nice to hear Galloway's insights on the game each Saturday and while he certainly has a way to go before he hits prime time, you can tell the potential is there for him to be very good in this business for years to come.