Highlight after highlight of the 2012 Ohio State football season will show spectacular plays made by quarterback Braxton Miller. The exhilarating one-yard touchdown run at Penn State, the stutter-step against Miami (Ohio) and the gazelle-like 72-yard mad dash against Nebraska.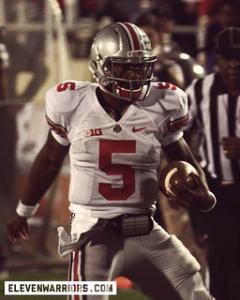 Each play could be used to define Miller and his Heisman hopeful season. The common denominator in each of them is that they include running the football. That's not to say Miller can't pass, because he can, but clearly he is a run-first threat.
Perhaps no play better encapsulates that threat than his touchdown at Penn State, when he reversed five yards then put it in drive while stepping to the right and left and then leaping into the end zone.
"It wasn't a designed quarterback read," Miller said. "It was a jet handoff to Carlos (Hyde), and they bull-rushed. Some guy came through and hit Carlos. I just pulled it in my arm as Carlos got tackled and made some type of move and made someone miss, and I dove into the end zone."
Some type of move indeed. 
Miller has reached the end zone 13 times on the ground and rushed for 1,166 yards. That total is most ever for an Urban Meyer-coached player. In fact, Meyer had never had a 1,000-yard rusher prior to this season.
Now he could have two on the same team. Hyde sits at 737 yards, needing to average 131.5 over the final two games to reach the millennium mark.
"I run with a passion, and I run with aggression," Hyde said. "I run with attitude. I feel like I can't be brought down. I run with that in my mind. That allows me to run hard."
Together, Miller and Hyde have not been strange at all. Instead, they've been a perfect blend of finesse and power. The duo has rushed for nearly 2,000 yards and scored 26 touchdowns. They average more than 200 yards per game.
Miller ranks 15th nationally with 116.6 rushing yards per game and is averaging more than six yards per carry. He flashed potential of that type of production in his rookie season a year ago. Before Miller even enrolled at Ohio State the expectations were raised. Once Meyer referred to him as the most dynamic quarterback he'd ever coached, the outlook was elevated even more.
But what happened in Miller's first game with Meyer and offensive coordinator Tom Herman wasn't expected. At least not out of the gate.
A single game Ohio State quarterback rushing record was attained that afternoon against Miami (Ohio). And Miller broke it again against Nebraska with 186 yards, including that 72-yarder.
Huge numbers have raised Miller's profile.
"A lot of guys talk to me about it," said Miller, about his Heisman status. "I try not to talk about it because I don't really like talking about myself. I've just got to keep working hard and get better at what I want to get better at. Whatever happens, happens."
The improving starts with his passing. Miller has thrown for 1,753 yards and 14 touchdowns against six interceptions. Not bad through 10 games. But he'll be the first to diminish what he's accomplished in the passing game, as will Meyer.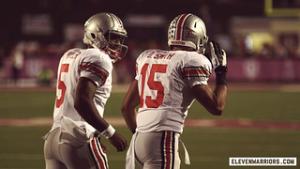 "We worked so hard at trying to develop a passing game, and I can't say that we did it successfully," Meyer said after Ohio State's 52-22 win over Illinois. "It's still a work in progress.  We'll still working and grinding and pushing because at some point we have to be a balanced team.  We're not there yet.
"The area we're not efficient enough is the dropback pass. It's not acceptable."
Said Miller: "I would agree. I've got to get better at that aspect of the game. I'm working real hard."
Footwork is the area receiving the most attention. Miller and Herman have worked on the issue all season, but it has gained steam the past few weeks. 
"Last week I was rushing things, my feet were jittery, I was elongating on my steps," said Miller, after completing 12 of 20 passes for 226 yards with two touchdowns and an interception against Illinois. "But I was compact throughout the whole week. Coach (Herman) got me together and I could tell when the ball was coming out of my hand it was going to be good."
For Herman, the process of quieting Miller's feet is a full-time job – literally – along with his offensive coordinator duties.
"I wish I could jump out there sometimes and stand there and hold his feet down," he said earlier this fall. "I've coached mobile guys before. It's a double-edged sword. If you tell him to slow his feet down, now you've taken a little bit of his escapability out of the equation. He just has to be smart when there is no pressure. We call it being sunny and clear. When there's chaos, hey, go ahead and move around."
Twenty-two games into his career, Miller is quickly becoming one of the best quarterbacks in program history. And the potential is there to get so much better.
"There is no ceiling," Meyer said. "I hate to say it like this, but I'm very disappointed. He could be better than he is. But, fundamentally, he gets so tied up in knots."
Miller has said throughout the year that he's confident he can make defenses pay with his arm, and he's proven it on several occasions. Late in the fourth quarter against California, he connected with Devin Smith on a 72-yard touchdown pass that served as the game-winner. Another long heave to Smith at Michigan State decided the ballgame. Smith was the recipient of two more deep balls at Indiana.
"I think we have to take shots," Meyer said. "Defenses are forcing us to do that."
It's all added up to an unbelievable statistical year for Miller. His 27 total touchdowns is four shy of the Ohio State record held by Troy Smith and Bobby Hoying. Miller is also on pace to shatter the school record for total yardage per game. He's averaging 292, 22 yards clear of the previous record set by Joe Germaine in 1998.
Smith said during the Illinois game that Miller has an opportunity to be the greatest Ohio State quarterback of them all. Coming from a guy who won the Heisman Trophy by the largest margin in history lends credence to the discussion. And while Jim Tressel was the perfect coach for Smith, Miller was born to be tutored by Meyer.
"I think Braxton Miller is a difference maker at quarterback," said Meyer.