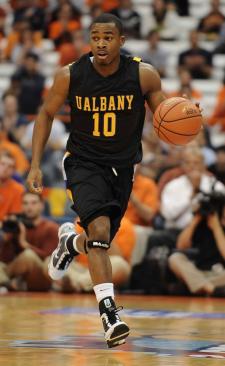 This time Ohio State might actually play its season opener.
In what was supposed to be a memorable start to the 2012-13 season, Ohio State and Marquette instead were left wondering what could have been. The second edition of the Carrier Classic was still memorable but for all the wrong reasons. At least in regards to the game that wasn't meant to be.
As the teams were about to tipoff on the flight deck of the USS Yorktown in Mt. Pleasant, S.C., Friday night, condensation appeared in several areas of the court nearest to the ocean. After an hour of attempts to wipe up the moisture, the game was cancelled.
Two hours later, further down the Atlantic Coast, in Jacksonville, the Florida-Georgetown game onboard the USS Bataan was halted at halftime for the same issue.
Extra mops aren't likely to be needed this afternoon in Value City Arena when Ohio State finally begins its season versus UAlbany. Nor is condensation expected to be an issue in San Diego today when Syracuse and San Diego State play on the USS Midway.
Still, the objective of the event was completed. Two basketball games – the Ohio State women lost to Notre Dame in the first game – were playing second fiddle to raising money and honoring United States servicemen and women.
"We'll play anywhere, anytime in this type of event for this type of purpose," Marquette head coach Buzz Williams said.
After two days filled with thanking troops for protecting the country and allowing the teams to play the very game they love, Ohio State and Marquette return to normalcy. The Buckeyes must do their best to compensate for the wacky schedule.
In the chaos after Friday's cancellation, Matta said he didn't know when Ohio State would practice on Saturday, but that the team would definitely be in the gym.
They'll be indoors today, too. And the only time they'll be on their hands and knees is when they go after a loose ball.
| # | Name | YR | HT/WT | PTS | REB | ASST | P | # | Name | YR | HT/WT | PTS | REB | ASST |
| --- | --- | --- | --- | --- | --- | --- | --- | --- | --- | --- | --- | --- | --- | --- |
| 4 | A. Craft | JR | 6-2/195 | 8.8 | 3.2 | 4.6 | G | 10 | M. Black | SR | 6-0/175 | 13.4 | 2.8 | 4.3 |
| 32 | L. Smith Jr. | JR | 6-4/210 | 6.8 | 4.6 | 2.0 | G | 0 | J. Iati | SR | 5-10/175 | 4.5 | 1.1 | 0.4 |
| 10 | L. Ross | SO | 6-8/220 | 2.0 | 0.4 | 0.1 | F | 30 | J. Gurrier | SR | 6-4/205 | 6.5 | 3.5 | 0.6 |
| 1 | D. Thomas | JR | 6-7/215 | 15.9 | 5.4 | 0.9 | F | 44 | J. Puk | JR | 6-10/235 | 2.2 | 2.7 | 0.3 |
| 23 | A. Williams | SO | 6-11/250 | 1.7 | 2.1 | 0.1 | C | 21 | B. Metcalf | SR | 6-9/240 | 4.4 | 5.4 | 0.7 |
Opponent
Whether UAlbany benefits from having a game under its belt remains to be seen. But the Great Danes are not the usual opening-season mismatch Ohio State is used to.
UAlbany is an America East Conference contender and expected to make a run at its first NCAA Tournament since the 2006-07 season. The Great Danes did lose its top two scorers from last year, similar to Ohio State, which lost two of its top three. The expectations are also high.
In its season opener Friday night, UAlbany knocked off Duquesne, 69-66.
Returning from last season's team is senior guard Mike Black, the league's active leader in scoring and assists. That combination has led NBA scouts to Albany. If they were in upstate New York Friday, they saw Black finish with 15 points and four assists.
The biggest missing ingredient from last season's 19-15 squad is Gerardo Suero, who went pro after scoring 21.5 points per game, seventh-most in the country.  
Another big blow came when Logan Aronhalt transferred to Maryland. If both had decided to stay, UAlbany would return all five starters. With those losses, Black's role grows even more. Already a defensive stalwart, it's the offense of Black's that will now grow. He averaged more than 13 points per game last year, but that number will have to go up this season.
The health of Luke Devlin is a big plus for the Great Danes. Devlin was an all-rookie selection during his first season in Albany. But he was slowed last season by multiple injuries. The back and knees are healthy now, though.
Black, Devlin and Luke Metcalf each help the defense, which was UAlbany's Achilles' heel last season. The Great Danes gave up nearly 70 points per game. Ultimately, it was the defense that kept them from having a chance to reach the NCAA Tournament.
"Defense on the perimeter was our weakness last year," head coach Will Brown said prior to the season. "We allowed the ball in the paint too easy. We have guys out front now who will keep the ball in front of them."
The Great Danes limited Duquesne to 38 percent shooting from the field and just 25 percent from beyond the arc.
John Puk, a 6-foot-10 center, lost 30 pounds during the offseason and was active in the weight room, adding muscle to his svelte frame. It was a dunk from Puk Friday that put the dagger in Duquesne's hopes of winning. But his performance over the previous 39 minutes also hampered Duquesne's chances.
Puk had a career night, finishing with 14 points on 7 of 9 shooting and eight rebounds in 17 minutes of play. His new playing weight is 230 pounds. The drop should also lead him to being more active on the glass.
Together, Puk and the 6-foot-8 Metcalf should be one of the top lines in the America East. But Amir Williams and Evan Ravenel will be a stiffer test.
The perimeter shooting will get a boost from the tandem of Jacob Iati and Jayson Guerrier. The pair combined to make almost 45 percent of their three-point attempts a season ago on a team that shot poorly from long range. Iati and Guerrier made 5 of 10 three-point attempts in Friday night's game.
As a decided underdog, three-pointers could be an equalizer against the Buckeyes.
Buckeye Breakdown:
Friday night was the supposed to be a barometer. Matta and the Buckeye coaching staff were going to have a gauge of what the Buckeyes had at both ends of the floor. Instead, the only thing they had was condensation.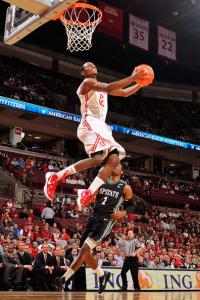 So Ohio State was forced to go with Plan B. The team flew back to Columbus late Friday night and practiced Saturday, though Matta didn't even know when that would be a possibility.
"I haven't even thought about what I'm going to do in practice yet," he said. "I was planning on resting. We don't even know what time we're practicing. We're waiting to see what time we get home."
The starting lineup entered into the official gamebook Friday featured Aaron Craft, Lenzelle Smith Jr., Deshaun Thomas, Sam Thompson and Evan Ravenel. The first three were no surprise, but the final two were where the focus went.
In the first "postgame" press conference of his career that didn't involve a game, Matta said he went with Thompson and Ravenel because of the atmosphere. The five most experienced players on the roster were going to start, he said.
In the Buckeyes' lone exhibition game, a sloppy win against Walsh two weeks ago, LaQuinton Ross and Amir Williams started in place of Thompson and Ravenel to start the game.
So where does that leave Ohio State today? In flux, one would think.
Matta told a group of media that he would probably go with the same lineup from the Carrier Classic for this afternoon's game. Regardless, it will be tough for Ohio State to get in a rhythm the first two weeks of the season.
The Buckeyes play today, then have a week off before playing in the four-team Hall of Fame Tipoff in Uncasville, Conn., and then another week off follows because of Thanksgiving.
Etc
Ohio State will wear its military-themed uniforms today.
UAlbany sophomore guard Gibson Tanner is a graduate of Zanesville High School.