Ohio State, coming of a Final Four season, returns the most exciting player from last season's team – Deshaun Thomas – and the fan favorite – Aaron Craft. Still, all the attention is turned to someone who played 35 minutes in nine games.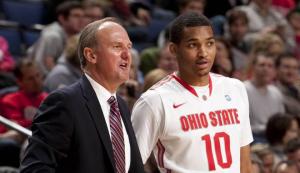 LaQuinton Ross came to Ohio State a season ago as one of the top recruits in the nation. The 2011 Ohio State recruiting class was loaded with talent and many pointed to Ross as the crown jewel. The Mississippi native averaged 25 points and 11 rebounds per game as a senior at Life Center Academy in Burlington, N.J.
Ross enrolled at Ohio State during the summer of 2011, taking part in open gyms and other basketball-related activities. He made a name for himself with his bevy of offensive skills and was thought to be a candidate for the Buckeyes' rotation.
But as classes were set to begin in September, it was ruled that Ross was an NCAA academic non-qualifier. He went back to Mississippi, where he continued training for the season and completed the necessary coursework to become eligible to play for Ohio State.
Ross returned to the team on Dec. 11 but never became a part of the rotation. At the time of his return, Ohio State was undefeated and ranked No. 2 in the country. Matta cited two-plus months away from the team as the main reason why Ross didn't play many minutes. Ross didn't return in tip-top shape, his handle of the offense was lacking and he wasn't a very good defensive player.
The Buckeyes' three-point shooting was a black hole last year, and when Ross returned, fans began clamoring for him. Then in his first career game, the first shot he put up – a three-pointer – hit nothing but net. But he played in only eight games the rest of the season, never more than seven minutes in a single game.
Ross finished the season making 5 of 15 shots from the field and 2 of 8 three-point attempts. He scored 18 total points.
"Last year was very frustrating," Ross said. "You think you can help the team win, but I learned a lot from it. Being able to play on a Big Ten championship team – I got a ring for that and I got a Final Four ring – so it was a great experience."
For the second straight summer, Ross' offense was on full display inside the practice gym at Value City Arena. He also turned heads at the Kevin Durant Skills Academy in Chicago.
"LaQuinton Ross is his own person," senior forward Evan Ravenel said. "He can do a lot of things people wish they could do. He's 6-foot-8, he can handle the ball, he's athletic, he can run, jump, pass, shoot – all of that.
"LaQuinton is a specialized scorer. He can score in so many different ways."
Last Tuesday, in the Buckeyes' exhibition game against Walsh, fans finally saw the level Ross can play at. In 21 minutes, he had 13 points, five rebounds and a block. Ross made 4 of 9 shots from the field, including two three-pointers, and was 3 of 4 from the free throw line.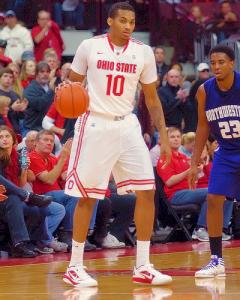 In the starting lineup together, Ross and Thomas combined for 38 points, 11 rebounds, two steals and a blocked shot. That production led many to see why the duo wasn't allowed to be on the same team in summer pickup games.
"We're both scorers that can score inside and out," Thomas said. "We're a mismatch nightmare out there. It's good to have another player like that on the side that can score within this offense."
Thomas is the clear No. 1 scoring option for Ohio State this season. It's a position he hasn't been in since high school, when he could take over games with sheer talent. That isn't the case in the Big Ten. With Jared Sullinger missing from the low post, Thomas is in need of another scorer to keep defenses honest and allow him to avoid double teams. 
He believes Ross' presence, as well as Lenzelle Smith Jr., Sam Thompson and Aaron Craft will lead defenses to play more one-on-one.
Despite the hype surrounding himself, Ross believes the virtual one-year hiatus will help him because opponents will be unaware of his strengths and weaknesses. 
"They won't be able to put me on the scouting report until late in the season," he said. "They can't go back and watch tape from last year. They have no idea."
The limitations on offense might be few and far between, but even in one exhibition game, Ross' defense was less than stellar. He looked confused at times on help defense and was caught out of position.
Matta has made his name on defense in Columbus, and that won't change anytime soon. But Ross isn't all offense and no defense. He's bought into the team-first mentality and stated that selfishness is not a part of his game.
"(Ross) wouldn't be here if he didn't play great defense," Ravenel said.
Ravenel isn't the only teammate that has been impressed with Ross. Thomas thought the sophomore played like a seasoned veteran, playing within himself and not forcing difficult shots. That's something that can be difficult for a player who is a natural scorer.
"For LaQuinton, this was a little bit of a test for him tonight, in terms of people in the stands, playing against somebody different," Matta said. "The big thing is on the defensive end. We did not guard the ball effectively."
It remains to be seen whether Ross starts Friday when Ohio State opens the season in Charleston, S.C., on the deck of the USS Yorktown against Marquette. Matta has tinkered with several different lineups and could go with Thompson, though he said he likes the idea of Thompson coming off the bench. 
The topsy-turvy past year and high expectations have left Ross unfazed, though, according to one teammate.
"I've seen him grow a lot that past year," Craft said. "The experience of sitting out a year has really motivated him. I think sitting back and watching everything last will be a benefit."
Said Ross: I've been dealing with pressure my whole life. I just have to go out there and perform."