At one point in time, this award was known as the Buckeye NFLer of the Week. Thanks to a typo and the ensuing LOLsession from the commentariat, it was renamed as the Houndie. Same intent, but now with a better name.
The NFL is officially halfway through the season, as every team has played at least eight games. Just two weeks left until byes are over and then the playoff races rev up, in both fantasy and real life.
Atlanta is the only undefeated team, but they aren't getting much respect due to their recent playoff failures. They'll have to get through the foursome of Chicago, NYG, Green Bay and San Francisco, who are all playing well and possess recent playoff victories.
The AFC is completely up for grabs, with Houston leading the way at 7-1. They take on the Bears and 49ers over the next two weeks, so we'll get a good indication of how good they actually are. Baltimore is right behind them at 6-2, but every other team has as least three losses.
Once again, injuries and bye weeks limited the selection of Buckeye performances; however, one player has played exceptionally well this season and he shined once again on Sunday.
We start down in Cincinnati, where the Bengals lost their fourth straight to fall to 3-5. The Peyton Manning road show continued the hot streak with 292 passing yards and 3 TDs in the Broncos 31-23 win.
The good news for Bengals fans is they are still in the playoff hunt, but the Giants come to town this weekend and a loss could send them reeling.
Nate Clements had a quiet day, registering three tackles and a PBU, while NUUUUUUUGE made three of four FGs, connecting from 28, 41 and 49 yards, but missed from 46 to close out the first half. Nugent now stands at 14/16 on the year, which puts him outside the top 15 in both makes and percentage.
Over in Green Bay, the Packers won their fourth straight, taking down the Beanie-less Cardinals, 31-17. The Packers defense held Arizona to 56 yards rushing on 18 carries, while the Packers may have found a running game with 176 yards on the ground.
A.J. Hawk was limited to four tackles on the day, while Ryan Pickett chipped in with two, as the Pack sit two games behind the Bears heading into their bye week.
Speaking of the Bears, Dane Sanzenbacher was again inactive, as they blew out the Titans, 51-20. It's too bad Dane was sitting; there was plenty of playing time available after halftime.
In Seattle, the Vikings fell further behind the Bears after a 30-20 loss to the Seahawks. Christian Ponder and the passing game continued to be woeful, throwing for just 63 yards, while giving up four sacks. Michael Jenkins hauled in both his targets, going for only eight yards, while Antoine Winfield posted five tackles for the second straight week, after he went for double digits in the previous two.
The Steelers stayed within a game of Baltimore with a tough 24-20 road win against the Giants. Last week's winner, Will Allen, had five total tackles, as Dick LeBeau and the Steelers' D held Eli Manning to 125 yards on 10/24 passing.
On Monday night, Kurt Coleman and the Eagles are in serious trouble, after they lost at New Orleans, 28-13. Once again, the Eagles were their own worst enemy, giving up seven sacks, turning it over twice and going 0/5 in the red zone.
The loss drops them to 3-5 and it looks like the beginning of the end for the Vick/Reid combo, which can only mean one thing: #bringbackbrianrolle.
Kurt Coleman tied a season low with five total tackles, while Malcolm Jenkins and Will Smith both made a bid for this week's Houndie.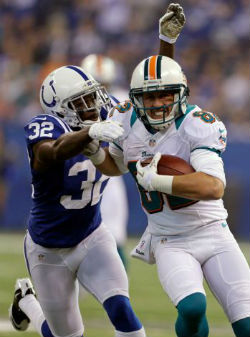 Jenkins went for a team-high 13 tackles, including seven solo stops, as the Eagles were forced to pass for most of the second half, while Smith got to Vick twice and hit him three other times.
While those two performances were nice, we have to give this week's Houndie to a guy who has to be mentioned in the discussion for most improved player.
Brian Hartline and the Dolphins traveled to Indy in what was a pivotal playoff positioning battle of 4-3 teams. It also pitted two rookie QBs against each other in Andrew Luck and Ryan Tannehill.
Luck stole the show with an NFL rookie record of 433 passing yards and two TDs, but Hartline and Tannehill did their best to not be outdone in the 23-20 loss.
Hartline caught eight of the 12 targets thrown his way for 108 yards, as Tannehill threw for 290 yards on 22/38. Hartline had been quiet the last three weeks, catching a combined 8 balls for 100 yards, including being shut out against St. Louis.
Despite his recent pace, the big Sunday propelled Brian into 11th in yardage at 662, while his 16.1 YPC average ranks him third amongst the top 11 yardage leaders. This is the third Houndie for Hartline this season, as he continues his climb towards 1,000 yards and a potential Pro Bowl invite.