In May of 2009, then-high school standout Aaron Craft was verbally committed to Tennessee. Craft had already turned into a small-school legend in Ohio, helping lead Findlay Liberty-Benton to a state runner-up finish as a freshman point guard.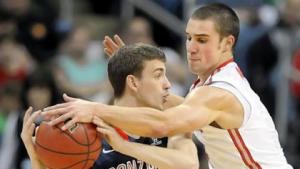 But his skills weren't limited to the hardwood. Craft was a two-time All-Ohio quarterback and the Division V player of the year as a junior, the same season he led Liberty-Benton to a runner-up finish in the state football playoffs. As a senior, however, Craft dropped football to concentrate on his budding basketball career.
It was during the summer between his junior and senior seasons that Craft re-evaluated his college decision. Wanting to stay closer to home, he de-committed from Tennessee, and one month later he was a Buckeye. Ironically, one-time Ohio State commit Trae Golden de-committed and chose Tennessee.
As legend has it, Jared Sullinger, Craft's AAU teammate, urged Ohio State head coach Thad Matta to offer Craft a scholarship.
"I like to give him a hard time because he didn't want me at first when they were recruiting me," said Craft, with a wide grin across his face. "But he had his excuses. It's amazing to be a part of a university like Ohio State and the tradition that's there. To have his trust and everyone else understand we have a good backing and we want to continue to try and be a great basketball team. It's just really humbling."
In the past 41 months, the fortunes of both programs – Tennessee and Ohio State – have changed dramatically.
It was a picture of Craft and then-Vols head coach Bruce Pearl at Pearl's house on an unofficial visit that eventually led to the head coach's firing. Meanwhile, Craft has thrived at Ohio State since he stepped foot on campus.
During his freshman season, Craft was essentially the team's starting point guard, entering games at the first TV timeout and then rarely seeing the bench from then on. He was named the Big Ten's sixth man of the year and was selected to the conference's all-defensive team. The once-promising year ended in heartbreak, however, as the Buckeyes, ranked No. 1 for much of the season, lost to Kentucky in the Sweet 16.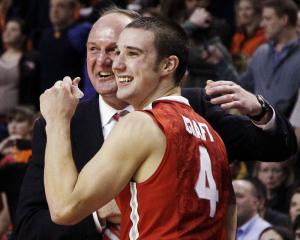 Three seniors were lost off that squad and many believed a golden opportunity at the Final Four, and possibly the national championship, had slipped through the Buckeyes' grasp.
But with a veteran core of Craft, Sullinger and William Buford returning, Ohio State completed a memorable March journey that culminated in a Final Four berth. Even that had a sour end, though.
"(The pain is) still there today," Craft said. "Not that we want to dwell on it, but that should affect us. That should be a driving force. We didn't come here to just play in Final Fours. You want to play in that next game, you want to play for a national championship. Year to year the people change, but the expectation is to get back to Atlanta and win two more games."
Craft becomes an even bigger piece to Ohio State's success this season without Sullinger, his running mate since their days at All-Ohio Red, and Buford's shooting prowess. Forward Deshaun Thomas, a preseason All-American, and guard Lenzelle Smith Jr. also return to the starting lineup.
"It's going to be interesting," Craft said about the Sullinger-less Buckeyes. "It was weird in the summer not having him around. He came back around every once in a while. I think we have adjusted well to it. We will be a different team. We can't expect to do the same things we did as last year because we have different people."
Known primarily for his defensive skills, Craft led the Big Ten with 2.5 steals per game last year and was named the conference's defensive player of the year. But his offense is undervalued. Craft shot 50 percent from the field, averaging nine points, 4.6 assists – third-best in the Big Ten – and 3.2 rebounds per game last season.
Surgery to repair a broken bone chip in his ankle limited Craft's summer schedule, but once he was cleared to practice, the shooting commenced.
"At the core of it all, I have the same role as I've had ever since I got to college," Craft said. "The only thing that might change a little bit is becoming more aggressive on offense.
"Coach (Matta's) biggest thing is finding a way for us to win. If that means me shooting the ball more at times, then so be it. When push comes to shove, as long as the ball goes in the basket he doesn't care as long as we play well."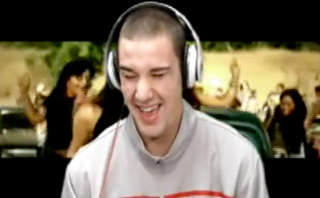 In Ohio State's lone exhibition game last week versus Walsh, Matta used a variety of different rotations, including pairing Craft with sophomore guard Shannon Scott. But it was Scott who handled the ball while Craft dallied at the two.
Matta said he liked that duo, believing two point guards that can defend well should create more baskets in transition. They're also able to get the ball to scorers such as Thomas and LaQuinton Ross.
"It doesn't matter if I'm handling the ball or Shannon is," Craft said. "Not too much changes. With the offense we run, a lot of guys are interchangeable."
Scott, the son of former NBAer and North Carolina star Charlie Scott, came to Ohio State as a high school All-American. But he saw his minutes rapidly decline in February and March. In the NCAA Tournament, though, he played 47 minutes in the first three games, including 16 crucial minutes against Cincinnati in the regional semifinal. Scott had three assists in the win over the Bearcats.
Then when Craft fouled out in the final minute of the regional final against Syracuse, it was Scott that came in to handle the ball with Ohio State clinging to a four-point lead. The Buckeyes would win 77-70 to punch its ticket to the Final Four.
"It is good to have someone who can help the team like that," Thomas said of Scott following the Walsh game. "He played really well and did not have to force anything through the offense. That is what we need."
Scott finished with six points, two rebounds, two assists and a block. But the Buckeyes were generally a sloppy group. Laziness on defense and a lack of rebounding highlighted – or lowlighted – the night.
"I can tell you we're not the No. 4 team in the country right now," Craft said. "We have the potential maybe by the end of the year. We have some great guys. We don't have it figured out yet, but we're getting there.
"We will figure out our identity as a basketball team."